Monday was Thanksgiving up here in Canada. I baked not one, but two pies (never mind that only two people were going to be eating those pies… Thanksgiving is all about excess, right?). We had prime rib and Yorkshire puddings and mashed potatoes and gravy and veg and I ate WAY too much. I also hung out with my family and wrote a little and went to bed thinking about how lucky I am.
(The rest of this post is likely going to get pretty fucking sappy, so if that kind of thing makes you want to vomit, you might want to skip to the end… there's a giveaway)
2017 marked five years as a published author for me. Thinking about where I was five years ago… it feels like another lifetime.
I was working at a job I hated with the most misogynistic asshole boss I've ever encountered (Seriously. He cut the woman's wages in half, but kept paying the men the same rate, and because I needed the money, I had to wait until I was in a better financial place to tell him to go fuck himself). I lived in a 5oo square foot apartment in a building that was falling apart. We were so broke all the time that we had to get creative every month with which bills we paid and we took a calculator with us when we went grocery shopping to make sure we didn't bounce the payment when we checked out.
I'm not complaining. Things were tough, but we were still happy.
And then I got the email from Dreamspinner Press that they wanted to publish Keeping Sweets. That moment will be cemented in my brain for all of eternity. I sent off the submission, fully expecting to get a rejection letter a few weeks later, and they shocked the hell out of me. It was a dream come true, and I walked around for WEEKS in a daze. The whole process was surreal. The first thing I learned about publishing was how little I knew about publishing. But I figured it out as I went. That doesn't mean it was all smooth sailing… I was so nervous about the release that the day before it was set to come out, I drafted an email to Elizabeth asking her to pull the book. But I deleted the draft and the book came out and changed my life.
On the heels of that release, I dove into writing more books. Eventually, I was able to tell my boss to kiss my ass and left that job. I went back to school. Xto and I stood on a beach in Oregon and promised to love each other forever and ever. Got a job working at a hospital far enough from home that I had to drive an hour and take a two and a half hour ferry to get there. I stayed with my aunt, and at the time, Xto was working at a station in a small town two and a half hours from home. We met in the middle on the days we had off that matched up, which were few and far between.
It took months, but I was able to find a job closer to home. And then we got pregnant. The baby's imminent arrival forced us to move and we bought our very first home. I'd been at my new job for two months, and figured I could work until my due date, but Nugget had other plans. My doctor had me on bedrest from three months and I had a thousand doctor's appointments, several trips to the emergency room, and constant worry that we were going to lose him. But he arrived in June with a head of thick red hair, kicking and screaming, and just like that, our family of two became three.
The year after he was born, I was the most productive ever. I used to snuggle him in against my chest with the fabric wrap and he would sleep there while I wrote and wrote and wrote. A little over two years passed. He hit a thousand milestones. I took a million photos and wrote a bunch of books. And then we decided we wanted another child.
We got pregnant quickly and we were over the moon. I'd always wanted two children, and I knew that once this little one was born, our family would be complete. I was hit with morning sickness, something I'd never experienced during my first pregnancy, and then two months in, a trip to the emergency room confirmed that we'd lost the baby. Devastated didn't begin to cover how I felt. I remember sitting in that waiting room, counting the minutes that went by as I waited for the doctor to come in and confirm what I already knew. It took a long time for me to stop feeling hollow, and one of the things that helped me work through the loss was the trip I took to Camano Island with the Heartsville ladies. I will be grateful forever for those friends and how they helped me through.
A couple of months after getting home from the trip, I found out I was pregnant for a third time. I was both elated and terrified all at once. I think I spent the first half with my breath held, hoping everything would go smoothly. But of course, nothing ever goes perfectly according to plan, but this baby was a fighter. We two-thirds of the way through with careful monitoring when something showed up on the scans. There was a growth in her belly and the doctors at the hospital couldn't tell us what it was. I have never been so scared. We had appointments with specialists and geneticists at the best children's hospital in the province. We were in great hands, but the unknown was terrifying.
Without getting into the nitty gritty (and splashing my daughter's personal details all over the internet), everything turned out okay and in February, she came into this world much like her brother did–kicking and screaming, but with much less red hair.
And now here we are, five years, twenty+ books, and two children later. I've never been happier, never been more satisfied with my life, and writing has afforded me so much of that. I belong to an amazing community of readers and other authors. The best friendships I have were forged through a mutual love of writing and reading.
And I am so grateful. Eternally grateful. Some days I still can't believe this is actually my life.
(Wow. That was long and rambling. Now onto the giveaway!)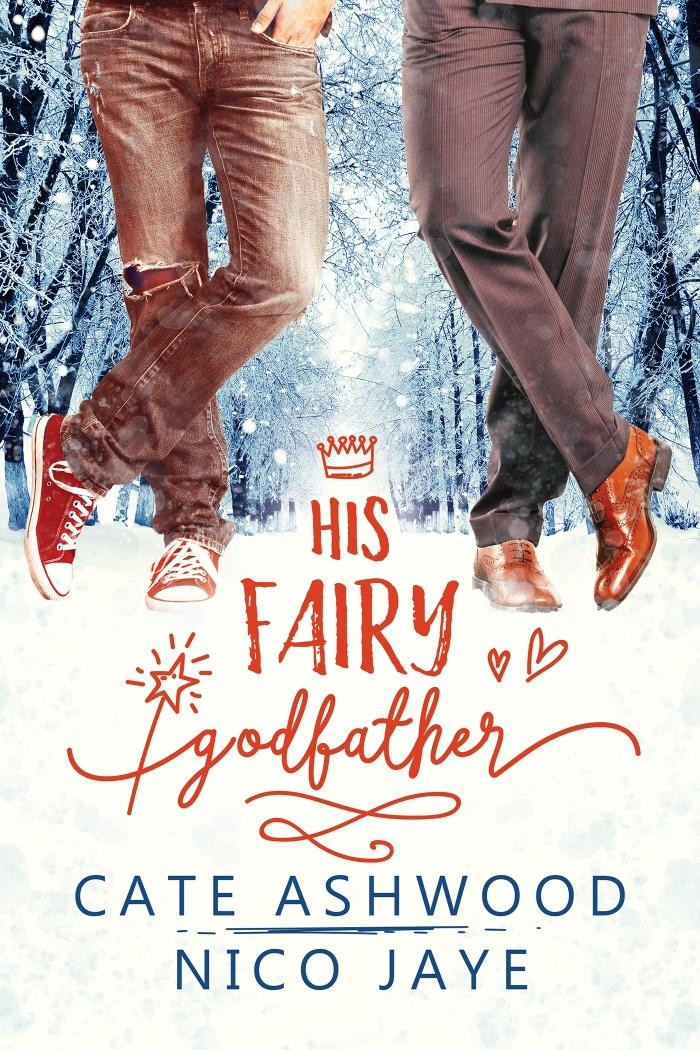 Since the death of his father, Trick Grigsby has fought to keep his head above water. Following in his father's footsteps as a talented architect, he hopes to work his way up at the firm. Unfortunately, the company's new owner barely resembles the man who was once Trick's father's best friend. Trick's days are filled with drudgery and cruel remarks from the man who was supposed to be his mentor—along with his two sons, whose only jobs seem to be making Trick's life miserable.
But all that is about to change.
Edwin Goodmaker struggled through his fairy godparent curriculum, but his mother—the reigning Fairy Queen—has a simple solution: Edwin will go to New York City and get some practical experience. When he meets Trick, Edwin knows he's found a worthy charge, and he's sure he can help Trick achieve all of his heart's desires. Edwin falls for Trick, but with everything standing in their way, a fairy-tale ending might remain nothing more than a dream.
Comment below with something you're thankful for and I'll pick a random commenter to win an ebook copy of His Fairy Godfather (the Thanksgiving scene in that book is one of my favourites and was so much fun to write)