Reviewed by Becca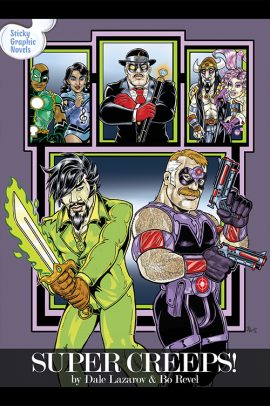 TITLE: Super Creeps
AUTHOR: Dale Lazarov
ILLUSTRATOR: Bo Revel
PUBLISHER: StickyGraphicNovels.com
LENGTH: 66 pages
RELEASE DATE: August 2017
SUMMARY:
A crew of super-villains comes together to relieve a series of banks of their bank vaults. Everything goes to masterplan…except that the hired muscle of the team — a sharp-shooting leather daddy musclebear and the swordmaster of a weapon haunted by jing líng — start hooking up on the down low.
Will fucking a partner in crime interfere with their larceny? Will the love of a bad hombre change them for good? Such sexual banditry has to be seen to be believed! All this man-on-man action and more in…SUPER CREEPS!
Script and art direction by Dale Lazarov, Linework and colors by Bo Revel.
REVIEW:
It's hard to write a review about a book with no words but this book was smoking hot. You definitely don't need words to figure out what is going on here.
The storyline is simple but what makes this book so hot is the sex. It is in graphic detail and you can imagine whatever isn't being shown. It's like having your own porno without the actual movement.
But it's more than just sex. It's falling in love and changing your life. It's the tender moments in between and after. And for those kinds of moments….words are definitely not needed.
The author and illustrator take you on and incredible journey into a graphic world that will leave you going awwwwwwwwww and then taking a cold shower lol. I loved graphic novels before but this just makes them even better.
RATING: 
BUY LINKS: