Reviewed by Amber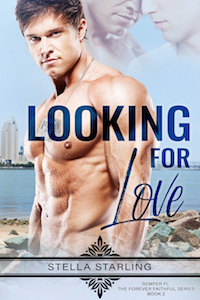 TITLE: Looking For Love
SERIES: The Forever Faithful #2
AUTHOR: Stella Starling
PUBLISHER: Self Published
LENGTH: 386 Pages
RELEASE DATE: July 23rd, 2017
BLURB:
Micah Finn Rawlings has lived most of his life blind, sheltered, and craving adventure. Now, at twenty-two, an operation has given him his sight back and he's ready to take on the world.
Well, sort of.
His newly restored vision isn't exactly all that he'd hoped it would be, but he's definitely not going to let that stop him…. even if he does tend to trip over his own feet, have a slight problem with depth perception, and occasionally (okay, maybe a lot) get himself into situations that result in public embarrassment. Still, a few scrapes and bruises are a small price to pay for finally getting out there and living, and given that he has the best luck ever, even the most awkward moments tend to turn out pretty well in the end.
Proof? Tripping and falling at the feet of the hottest man he's ever seen. A man who's definitely interested in him, too.
Well… probably.
Maybe?
Actually, Micah has no experience whatsoever with such things and isn't really sure, but a boy can hope, right
HMC Zach Hunter, Medical Corps, U.S. Navy is many things. A patient man. An adrenaline junky. A bisexual serial dater going through an extended dry spell.
Losing a few good men to an IED inspired a come-to-Jesus moment of clarity for Zach, and ever since, he's been looking for love. Dating any- and everyone who sparks his interest in the hope of finding something that, frankly, he's not entirely sure exists.
At least, not for him.
The only problem? There hasn't been a spark. At least, not the kind Zach's holding out for. He's not discouraged, though. Zach has no problem putting in some effort for the things that matter, and he knows that all good things are worth the wait.
Besides, it's not like he can expect love to just fall at his feet… right?
Looking For Love is a gay romance novel of approximately 107,000 words that contains a hot Navy medic who always does the right thing, a clumsy optimist who has more enthusiasm than experience, some sneaky references to classic movies from the eighties, tacos, tamales, and all the shades of blue. Oh… and "yes." Lots and lots of "yes." Every Stella Starling romance can be read as a standalone and takes place in the same interconnected, contemporary world. Looking For Love is the second book in the Semper Fi series, which is a spin off from At Last, The Beloved Series.
REVIEW:
There is something so cheesy, ooey gooey, super sweet fantastic about this Stella Starling series that is making me a complete sap.  Oh MY GOSH…these endings are KILLING me. Killing me!!! I swoon every time…and my face hurts from smiling. I'm turning into one of those…you know….one of those who have feelings…ugh, shoot me….but wait, I want to read the ending one more time….
Looking For Love is Zach from Ready For Love's book which I was totally excited about. Zach was such a cool, easy going, fun loving, equal opportunity lover in book 1 and I just knew I'd love reading more about him.
Serial dater Zach knows he's ready for something more serious than just casual dating but he knows he just has to find the right person.
Micah Rawlings wants to be that person. From the moment Zach and Micah meet there's a spark and I want to emphasize this felt really natural. A lot of times with "love at first sight" scenarios it can get really weird and not believable. This is not the case with Zach and Micah…everything between them flowed perfectly and their chemistry, attraction, and connection were very real and intense.
LOVED their first date…LOVED!
Micah, having just gotten his sight back after being blind the majority of his life is very touchy feely because that's what he's use to. Zach loves it and encourages Micah to learn him any way he'd like to. These two grow together throughout the story and again I have to stress, it is so friggin cute and sweet and friggin HOT.
Lies and crazy ex's try to destroy what Micah and Zach have built. Another author could have taken this to crazy angst town which I wouldn't have hated but that would have been predictable. There's nothing predictable about Micah and I found that refreshing.
This is another great story from Stella Starling and a perfect addition to the series.
Recommend.
RATING: 
BUY LINK: