Reviewed by Amber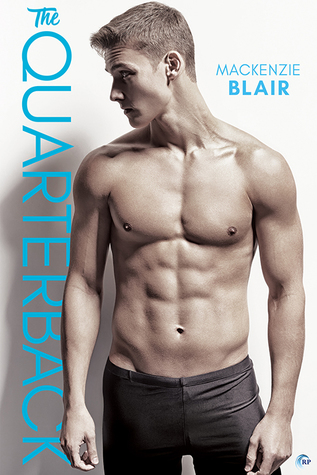 TITLE: The Quarterback
AUTHOR: Mackenzie Blair
PUBLISHER: Riptide Publishing
LENGTH: 330 Pages
RELEASE DATE: September 11th, 2017
BLURB: 
Matt Lancaster is the star quarterback at Bodine College, a small Southern Division II school with an ultra-conservative Dean of Athletics. Matt is also very much in the closet, and he thinks he's kept his secret well hidden. Until his best friends take him to a happy endings massage parlor and request a male masseuse for him.
In walks Trevor Kim, a gorgeous, pierced, tattooed fellow Bodine student who does massages—without happy endings—to pay for school after his family kicked him out for being gay. Trevor takes one look at Matt and breaks all his own rules about mixing business with pleasure.
Matt needs to keep his scholarship, win the National Championship, and survive his asshole father. Instead, he falls in love. Trevor needs to accept that the football god is meant to end up with him rather than a perky cheerleader. It's time for a happy ever after for both of them.
REVIEW:
I SO needed this book. I have been in the biggest book rut. I've read pretty good books but nothing that really awakened that, "ah, this is why I love to read…" feeling until The Quarterback. This book and author surprised the heck out of me in the absolute best possible way. I really loved the writing. This is one of those books that really grabs your attention and holds it. This wasn't too much of any one element…it was really well done. This had all the right amounts of college football, angst, firsts, drama, cutesy, and love…Matt and Trevor killed me…so perfect for each other while being different as well. Great story.
Matt Lancaster has it all planned out. Ride the high of being the star quarterback of his college football team, keep his head down, and stay deep in the closet. He can't afford for anyone to find out that he's gay. So he on board with adding to the rumors of his many sexual conquests with girls in school even though none of them are true.
Trevor Kim knows the only person he can count on is himself. Being kicked out of his house for being gay Trevor uses college to get to where he needs to be so he can start his life without his homophobic family. Trevor isn't into sports but you'd have to be dead no to know who the start quarterback is. After a massage that's gone terribly wrong Trevor is now on Matt's radar.
Matt and Trevor decide to explore their attraction to each other even though it has to stay a secret. Trevor agrees because like Matt he believes it'll only be physical…with no emotions involved.
Homophobia and college sports politics push and pull at Matt's and Trevor's already rocky foundation. I really liked how Matt and Trevor worked together. Matt wasn't just a jock and Trevor wasn't just a bad boy…these two really worked together and the progression was awesome.
This story really had it all…great characters, perfect setting….interesting twists, and excitement. I will be searching out books by this author in the future.
Recommend
RATING: 
BUY LINK: