Reviewed by Caroline
TITLE: The Alpha Heir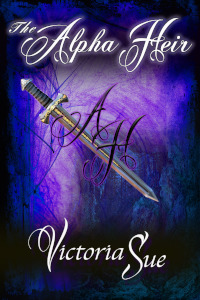 SERIES: Kingdom of Askara Book 2
AUTHOR: Victoria Sue
PUBLISHER: Self Published
LENGTH: 191 Pages
RELEASE DATE: September 4, 2017
BLURB:
Man and wolf. Sworn enemies in the battle for Askara. Can hate and betrayal ever lead to love?
Caleb Harken has spent six years wrongfully imprisoned for his father's treachery. Tortured and reviled by the very wolf pack he should have been leading as Alpha, he is not surprised to learn he's finally to meet his death at the hands of the human rebel leader, Taegan Callan.
Taegan gave up his dreams of a life-mate and a family after seeing too many humans butchered at the hands of the wolves—even if Caleb doesn't seem to be the bloodthirsty savage he expects, and even if he starts to long for a different kind of future with the wolf.
Can Caleb become the Alpha he was always meant to be and lead his pack, or will he finally realize that winning his freedom means nothing when he has already lost his heart?
REVIEW:
The Alpha Heir is book 2 in the Kingdom of Askara series and although it features a new couple, Caleb and Taegan, I would personally advise you read book 1 first. Victoria Sue has created an interesting and quite substantial world around the wolves in this series and a lot of that world building happens in book 1 around Luca and Kit's story.
Caleb, an alpha wolf, is the character that will pull at your heartstrings and the author pulls no stops with the abuse he has had to endure during the last six years whilst he has been unfairly imprisoned. Caleb hopes every day for death but each day just brings more pain and loneliness. His family are evil and they are determined to grab power any way they can.
Taegan is the leader of a group of human rebels and he despises everything to do with the wolves. Most of his hate comes from personal experience and devastating loss so when he takes Caleb prisoner he should readily hate the man – but he doesn't, this brings out a range of emotions and not all of them are good. Taegan was a difficult character to like initially and I guess that came from the knowing what Caleb had gone through as a reader whilst waiting for Taegan to catch up. Compassion for the battered man almost comes involuntarily as Taegan is finding it difficult to understand why he cares – and he cares a lot it would seem!
As always with a Victoria Sue book you will run a gamut of emotions before reaching 'The End'. This is slow burn and it takes forever for this pair to first get their act together and then be brave enough to go after what they want. The Alpha Heir moves this series forward once again, dismissing myths and creating new legacies. There is as usual a good support crew of secondary characters and I am very much looking forward to the third book in the series to see where we go next.
RATING: 
BUY LINK: