Reviewed by Cinnamon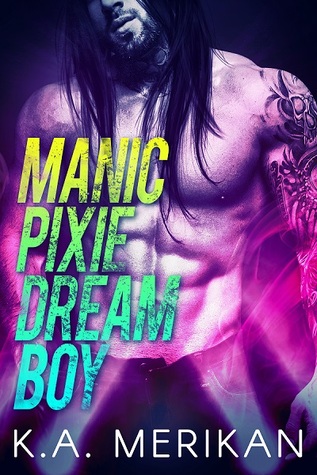 TITLE: Manic Pixie Dream Boy
SERIES: The Underdogs Book #1
AUTHOR: K.A. Merikan
PUBLISHER:  Acerbi & Villani Ltd.
LENGTH: 143 pages
RELEASE DATE:  September 10, 2017
BLURB:
You can't hide the cracks under the spotlight .
Dusk. Leader of The Underdogs. Destined for greatness. Lives in the now.
Abe. AKA Lolly. Iridescent. Unicorn.
All Dusk wants out of life is for his band to become world famous. He also wants to have a lot of fun along the way. And to get his rocks off. When he wants something, he goes for it, consequences be damned.
So when he sees a gorgeous pink-haired guy who is the human equivalent of tattooed cotton candy, he can't help but have a taste. But it's when Lolly ends up on their tour bus that Dusk knows their meeting was destiny.
Abe is the kind of guy who goes with the flow. He was hitchhiking anyway, so why not spend the week with a hot piece of rocker beefcake, getting smothered by his sexy long hair? And why not play the part of the supportive cutie while he's at it? It's not like he'd be sticking around for long anyway.
All plans hit a wall when photos of Abe and Dusk emerge online, suddenly pushing the band into the spotlight. To take advantage of the sudden popularity, the band offers Abe money for staying.
Which means money for being in a fake relationship with Dusk.
Which isn't even fake.
Or is it?
REVIEW:
Manic Pixie Dream Boy got me with its title. I was intrigued and couldn't wait to start reading it. This is an absolutely cute love story about two guys who find love (they do not recognize at first) in the most unexpected place and time. About two guys who go with the flow of their emotions and sizzling chemistry even if they have no idea what it means for their future or how they can make it work. I really enjoyed Abe and Dusk's fun and entertaining journey.
The story has a great dynamic, unique and quirky characters and some really hot sex scenes. If you like rock star stories make sure you give this one a try.
Dusk and his band is on the verge of making it in the big league. They are on a tour when at a gas station Dusk lays eyes on a pink haired wonder and falls in lust at first sight. Their ride together has its ups and downs but it leads to an absolutely satisfying ending.
The conflict was bit forced and it made no sense to me. I get the idea, I just didn't feel anything leading up to it. On the other hand the following sexual tension was palpable and just emphasized the amazing chemistry between Abe and Dusk. The tension building between them was so real and sensual even the forced conflict was worth it. I know we need a bit of bump on the road to bring out all the emotions and the great feels. We got them in spades in the final chapters.
This book is the first in The Underdogs series and I cannot wait to read the next stories and to see my favorite characters again. I just wonder who gets his story next. Make sure you check this one out. Hope you enjoy it.
RATING:
BUY LINK: 
Save