Welcome to the June 2017 Audio Book of the Month Poll!
Here are all our Audio Reviews from the previous month, in no particular order.  Please vote for your favorites. As with all of our Polls, you can vote for as many as you want, but you only get one visit, so make it count!
The top two will go through to the Audio of the Year Poll!
POLL SCHEDULE:
This poll will remain open until at least 6PM, Amsterdam time next Friday. The actual closing time will vary depending on blog staff schedules…
---
Until You (At First Sight #3) by TJ Klune (Author) & Michael Lesley (Narrator)
Reviewed by PizzyGirl
TITLE: Until You
SERIES: At First Sight #3
AUTHOR: TJ Klune
NARRATOR: Michael Lesley
PUBLISHER: Dreamspinner Press
LENGTH: 5 hours, 4 minutes
RELEASE DATE: May 2, 2017
BLURB:
Sequel to The Queen & the Homo Jock King
Together with their families and friends
Paul Auster
and
Vincent Taylor
request the honor of your company at the celebration of their marriage. Read more.
---
Stage Two (Lexington Lovers #3) by Ariel Tachna (Author) & John Solo (Narrator)
Reviewed by PizzyGirl
TITLE: Stage Two
SERIES: Lexington Lovers #3, Dreamspun Desires #33
AUTHOR: Ariel Tachna
NARRATOR: John Solo
PUBLISHER: Dreamspinner Press
LENGTH: 6 hours, 13 minutes
RELEASE DATE: May 15, 2017
BLURB:
Lexington Lovers
Love has a steep learning curve.
Assistant high school principal Blake Barnes has everything he wants—a chance to help troubled students and an outlet for his passion for theater. Well, almost everything—he still goes home to an empty apartment. Then his high school crush explodes back into his life, the unexpected guardian of two boys in Blake's care.
Thane Dalton has always been a bad boy through and through. Not much has changed, including his mistrust of authority figures, and no amount of institutional bureaucracy will keep him from protecting his nephews from the bullies terrorizing them. If that means butting heads with Blake, so be it.
Blake and Thane have lessons to learn: that they both have the boys' best interests at heart, that the tension between them isn't just confrontational, and that sparks can fly when opposites come together. Read more
---
Salvation (The Protectors #2) by Sloane Kennedy (Author) & Joel Leslie (Narrator)
Reviewed by Alexander
TITLE: Salvation
SERIES:  The Protectors #2
AUTHOR: Sloane Kennedy
NARRATOR: Joel Leslie
PUBLISHER: Sloane Kennedy
LENGTH: 7 hours, 56 minutes
RELEASE DATE: May 1, 2017
BLURB:
Trauma surgeon Ronan Grisham lost everything the day the man he loved was stolen from him in a brutal attack. Driven by a thirst for vengeance, he turns his hatred into building an underground group that can do what he couldn't that fateful day…take the lives of the guilty to save the lives of the innocent. But years later, he's forced to confront the one link to his past that he can't sever.
Seven years after the loss of his parents in a violent home invasion that left him permanently scarred both inside and out, 21-year-old Seth Nichols is trying to put his life back together so he can take over the reins of his father's global shipping empire. But the last person he expects to come back into his life is the man he drove away with one innocent, stolen kiss.
With one brush of his lips, Seth managed to do to Ronan what no other had since the day Ronan watched the light in his fiancé's eyes go out forever. He made him need again. But Ronan can't need anyone, least of all his dead fiancé's younger brother. Because even one touch from Seth could shatter Ronan's carefully constructed world and Ronan knows there's no coming back from that a second time.
But when a series of escalating attacks against Seth forces Ronan back into his life, Seth knows it's his last chance to show Ronan he can be the man the broken surgeon needs. Only the Ronan who returns isn't the Ronan Seth fell in love with so long ago…
Can Seth be Ronan's salvation or will he end up destroying them both? Read more
---
Imperfect Harmony by Jay Northcote (Author) & Mark Steadman (Narrator)
Reviewed by PizzyGirl
TITLE: Imperfect Harmony
AUTHOR: Jay Northcote
NARRATOR: Mark Steadman
PUBLISHER: JayBird Press
LENGTH: 7 hours, 6 minutes
RELEASE DATE: June 12, 2017
BLURB:
Imperfect harmony can still be beautiful….
John Fletcher, a former musician, is stuck in limbo after losing his long-term partner two years ago. He's shut himself off from everything that reminds him of what he's lost. When his neighbor persuades him to join the local community choir, John rediscovers his love of music and finds a reason to start living again.
Rhys Callington, the talented and charismatic choir leader, captures John's attention from the first moment they meet. He appears to be the polar opposite of John: young, vibrant, and full of life. But Rhys has darkness in his own past that is holding him back from following his dreams.
Despite the 19-year age gap, the two men grow close and a fragile relationship blossoms. Ghosts of the past and insecurities about the future threaten their newfound happiness. If they're going to harmonize in life and love as they do in their music, they'll need to start following the same score. Read more
---
There's This Guy by Rhys Ford (Author) & Greg Tremblay (Narrator)
Reviewed by PizzyGirl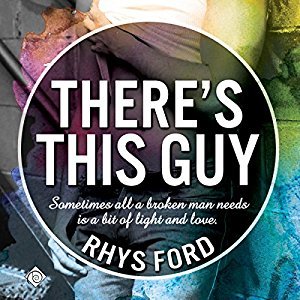 TITLE: There's This Guy
AUTHOR: Rhys Ford
NARRATOR: Greg Tremblay
PUBLISHER: Dreamspinner Press
LENGTH: 7 hours, 30 minutes
RELEASE DATE: April 10, 2017
BLURB:
How do you save a drowning man when that drowning man is you?
Jake Moore's world fits too tightly around him. Every penny he makes as a welder goes to care for his dying father, an abusive, controlling man who's the only family Jake has left. Because of a promise to his dead mother, Jake resists his desire for other men, but it leaves him consumed by darkness.
It takes all of Dallas Yates's imagination to see the possibilities in the fatigued art deco building on WeHo's outskirts, but what seals the deal is a shy smile from the handsome metal worker across the street. Their friendship deepens while Dallas peels back the hardened layers strangling Jake's soul. It's easy to love the sweet, artistic man hidden behind Jake's shattered exterior, but Dallas knows Jake needs to first learn to love himself.
When Jake's world crumbles, he reaches for Dallas, the man he's learned to lean on. It's only a matter of time before he's left to drift in a life he never wanted to lead and while he wants more, Jake's past haunts him, making him doubt he's worth the love Dallas is so desperate to give him. Read more
---
Submission by Jodi Payne and Chris Owen (authors) and Maxx Power (narrator)
Reviewed by Caroline
TITLE: Submission
SERIES: Deviations Book 1
AUTHOR: Chris Owen and Jodi Payne
NARRATOR: Maxx Power
PUBLISHER: Tygerseye Publishing
LENGTH: 8 Hours 56 Minutes
RELEASE DATE:  May 17, 2017
BLURB:
Tobias is a skilled Dom, able to bring even the most hesitant submissive around. Noah is a man in need of just that. He wants to sub badly, but has yet to find someone he believes can take him where he needs to go. Through a series of encounters in the world of bondage and discipline, Noah reveals why he has trouble trusting, why he needs such a firm, steady hand. Tobias may allow himself to dominate, but he has trouble letting himself love. Still, Tobias can't resist Noah's charms, and the two of them set about making a scene for themselves, one that works for them and their unique set of problems. They learn to love, but can they stay together while they explore each others' secrets, in a world where all is laid bare and emotions run high?
From authors Chris Owen, writer of the popular "Bareback", and Jodi Payne, writer of "String of Pearls" comes a romance on the deviant side, where love is all tied up with the need to submit, the need to dominate, and the need to share a life of exploration and care.
These two skilled authors create a world that's hard to resist, and a book that's even harder to put down. Read more
---
Practice Makes Perfect (Housemates #3) by Jay Northcote (Author) & Michael Steadman (Narrator)
Review by: Alexander
TITLE: Practice Makes Perfect
SERIES:  Housemates book 3
AUTHOR:  Jay Northcote
NARRATOR: Mark Steadman
PUBLISHER:  Jaybird Press
LENGTH: 5 hours, 27 minutes
RELEASE DATE: April 19, 2017
BLURB:
Getting experience with the guy next door seems like a great idea – until the lines blur.
Dev, a geeky first year physics student, has zero sexual experience and he's determined to change that ASAP. After a bad time in halls of residence, he's starting the summer term with different housemates and a new plan of action.
Ewan lives in the house next door to Dev. He's young, free, and single, and isn't looking to change that anytime soon. When awkward circumstances throw them together, Ewan offers to help Dev out in the bedroom in return for math tutoring, and Dev jumps at the chance.
They work their way through Dev's sex to-do list, but what starts as a perfect no-strings arrangement gets more complicated as their feelings for each other begin to grow. If they're going to turn their lessons in lovemaking into something more permanent, they need to work out how they feel about each other – before they get to the end of Dev's list. Read more
---
Don't Twunk With My Heart by Renae Kaye (Author) & Joel Leslie (Narrator)
The Alpha King by Victoria Sue (Author) & Joel Leslie (Narrator)
The Virgin Manny (Dreamspun Desires) by Amy Lane (Author) & John Solo (Narrator)
As You Wish (Shatterproof Bond #1) by Isobel Starling (Author) & Gary Furlong (Narrator)
The Deep of the Sound (Bluewater Bay #8) by Amy Lane (Author), Nick J. Russo (Narrator)
Save
Save