Reviewed by PizzyGirl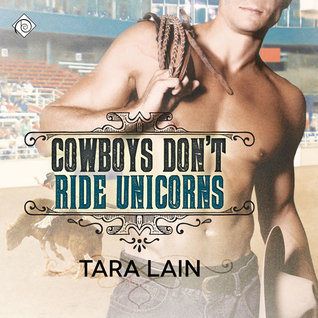 TITLE: Cowboy's Don't Ride Unicorns
SERIES: Cowboy's Don't #2
AUTHOR: Tara Lain
NARRATOR: K.C. Kelly
PUBLISHER: Dreamspinner Press
LENGTH: 8 hours, 34 minutes
RELEASE DATE: July 21, 2017
BLURB:
A Cowboys Don't story.
Cowboy Danny Boone – a name he made up one drunken night and has regretted ever since – harbors a big past and yearns for a small future. A short, bright career as a champion bull rider almost ended in his death when his homophobic father discovered Danny was gay. Now Danny longs for a plot of land he can build a ranch on, enough money to make up for some of the education he missed, and, secretly, a beautiful femme who likes to top – a combo rarer than a unicorn.
Then, onto the guest ranch where Danny works, drives San Francisco decorator Laurie Belmont, a young man so gorgeous he makes the horses gasp, and so ballsy he almost kills Danny's attacker. Laurie's trying to find his way out from under the thumb of a domineering mother, helpless father, and rich, privileged boyfriend. But no matter the attraction, their lives are worlds apart, and cowboys don't ride unicorns.
STORY REVIEW:
I am a big fan of Tara Lain, which I am sure you are aware if you read my reviews. I love the way she gives her readers absolutely adorable stories while also providing characters with a depth that never fails to surprise me. This story was exactly why I love Ms. Lain. It had to characters who stole my heart with thief fragility while also providing me with an adorable romance that left me feeling lighthearted and content.
Laurie and Danny were great characters with flaws and who were both being held down due to family. Danny had such a good heart but was so afraid because in his lifetime the hate was strong. Seeing him battle himself and those around him was heartbreaking because I yearned to see him succeed! And Laurie, sweet Laurie was so sad deep inside. All he ever got was shame and judgement and I just wanted to reach into the book and BEAT HIS MOTHER for being a righteous bitch and BEAT HIS FATHER for not standing up for Laurie or himself. God Laurie deserved so much more than he had in life and I am soooo glad these two men got together. They fit perfectly and I loved their chemistry.
I did wish the men were together more after they were "together." There was a lot of time for these men to be apart and honestly, while I understood the rationale, I didn't really understand why it had to be the way it was. Granted, I never once didn't believe in the love or the attraction or the fact that these men would work it out. I just wish they had done more soul searching and healing together instead of apart.
Overall, I loved this story. Laurie and Danny are up there as some of my favorite characters and I will most definitely be revisiting their story in the future.
NARRATION REVIEW:
K.C. Kelly is hit or miss for me but I like him for stories like this one where the voices need to be so different. He did Laurie well and he really nailed the tone and emotions. This was a good fit for him as a narrator.
RATING: 
BUY LINKS: