Reviewed by Tori (Vicki)
TITLE: Three Player Game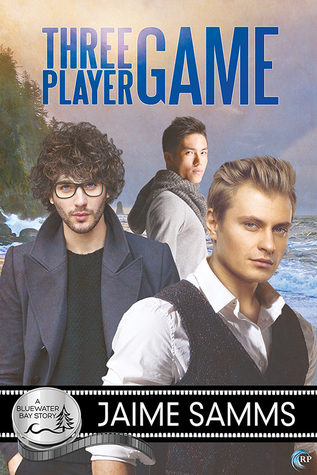 SERIES: Bluewater Bay #20
AUTHOR: Jaime Samms
PUBLISHER: Riptide Publishing
LENGTH: 263 pages
RELEASE DATE: August 14th, 2017
BLURB:
Vince's life has improved immeasurably since he moved to Bluewater Bay two years ago. He's gone from working for a man he hated, to helping found a company he believes in. And he and boyfriend, Pete, have built a delicate balance of power between them that keeps them both grounded and thriving.
Almost, anyway.
Pete's job on the set of Wolf's Landing is demanding. He needs lots of downtime off set, and that's where Vince's firm but gentle control isn't always enough. And for Vince, Pete's constant high-energy needs are turning out to be more than he can handle alone.
It's no surprise to either of them, then, that sparks fly when Vince's coworker Lee enters the picture. Outwardly, Lee is tough and confident, but when a bad back confines him to Pete and Vince's spare room, the cracks start to show and his desire for connection begins to peek through.
Pete and Vince both like what they see under Lee's prickly outside, but now the three men must learn that love isn't about beating the game—it's about balance, trust, and letting each other in.
REVIEW:
This is the story of how Vince and Pete, a committed couple, attempt to tame Lee, and bring him in to their relationship.
Vince and Lee are characters we first met in another book in this series called How the Cookie Crumbles. They were side characters, and honestly I don't remember enough of that story to really understand what happened. Other than Blaire, half of the couple in that book, left his father's company and opened his own company, and took Vince and Lee with him. They have settled in Bluewater Bay, and at the time of this book, are working on developing a video game based on Wolf's Landing. Vince's boyfriend Pete, works on the set, and is involved in their new game adventure. Vince and Pete are also involved romantically. There is a little BDSM in their relationship, Pete appears to be quite high-strung, and Vince uses some domination to calm him down.
While Vince and Lee are on a work trip to Vancouver, Lee re-injures his back, and Vince stays to care for him for a few days. Much to the annoyance of Lee, who is a stubborn asshole, and treats Vince like crap. Vince eventually gets Lee home, and takes him to the house he shares with Pete. Pete has met Lee before and found him attractive. Vince and Pete contemplate inviting Lee in to their relationship, but soon realize Lee has some deep-seated issues and will take lots of work. While this is going on, we get glimpses of the business venture, both from Vince and Lee's side, and from Pete's as well, as Pete begins to work with some of our favorite actors from past books, getting them started doing voice work for the game.
So I had a really hard time with this book. I didn't like Lee at the beginning, I didn't like Lee in the middle, and unfortunately I didn't like Lee at the end. He spends the entire book trying to get away from Vince and Pete, and show them that he's not interested. They spend the entire book trying to convince him they want him. I spent the entire book not giving a shit if they got him or not! It's way late in the book before we find out what his past issues are, and by then I didn't have much sympathy. Maybe if we had seen that part sooner, or had even been in his head when some of it was going down, I would have understood. Maybe it's because I don't remember much about the book we first met him and Vince in. I don't know….. I just didn't like him. I loved Pete and Vince, and their quirky relationship. I loved the TV show part of this story, and liked the video game business part. But way too much time was spent on Lee being an asshole.
There are several very nice sex scenes, one between Pete and Vince, and a couple with all three of the men. Those were great. When Lee wasn't being a jerk, I liked the three of them together. I liked the emotional connection between Pete and Vince, and the way they worked out their issues. A little bondage, a little meditation, and all was well. I could see that a less-asshole-ish Lee could have fit in, and could have brought something to the relationship. But the way Lee was written was just too much for me. He needed some lightening up, a redemption moment earlier in the story, a way to get me to feel some sympathy and understanding.
I did like the book, mostly, but not liking one of the main characters makes it hard to give this one a higher rating! So three stars for liking Pete and Vince, and for getting to see other characters I like, and for another story in a world that I do like.
RATING: 
BUY LINKS:
Amazon