Reviewed by Louisa
TITLE: Love at the Right Tempo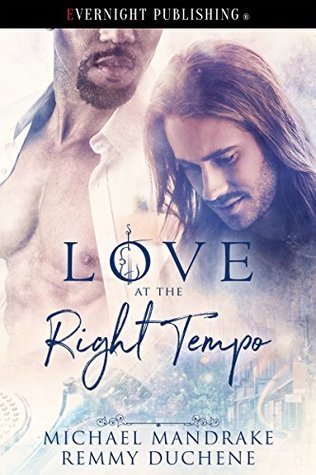 AUTHOR: Michael Mandrake & Remmy Duchene
PUBLISHER: Evernight Publishing
LENGTH: 234 pages
RELEASE DATE:  July 25th 2017
BLURB:
Violinist Frederick Tremblay is one of the biggest names in classical music. When it comes to work, he's all in with no time for love. Hell, he barely makes time to eat. When he agrees to play at an acquaintance's son's birthday party he figures he'll go in, make his rounds, then go home—but his plans change when he walks into the path of Vaughan Singleton.
Vaughan "Sin" Singleton is the disowned heir to a candy empire. Joining the military was the thing to save him and also the one thing that brought him to his knees. Forced to retire, slinging alcohol wasn't his dream but he needs something to pay the bills and to assist with easing back into civilian life. Vaughan isn't looking for love, but one unguarded moment with Frederick changes everything.
REVIEW:
The story is about violinist Frederick Tremblay and ex-marine, now bartender Vaughan Singleton. I like them as a couple, they are cute and sweet. But for me there was way too many 'wow is me' moments in this book. Them together got too much, but apart they were worse. Worried that the other wouldn't still want them because they fell in love so fast, worried that they would be separated too much and worried that they wouldn't work out. It was just a little bit never ending. There was also a lot of sex that I felt didn't do anything for the story.
There was a lot of unanswered, unsolved things for me. Things were brought up and then not resolved. And while I don't think everything can be resolved in one book, in this case it felt like they were introduced and then forgotten.
There are things I liked about Love at the Right Tempo. I could feel the strain between Fredrick and his parents, it came out so well in the story. I also like that an eating issue had some light put on it, even if I don't feel it was well resolved or spoken about. I really liked that Vaughan spent time with the son of one of his fallen brothers. It was a very nice touch to the story. Vaughan and his brother reconnecting was great. But yet again, it didn't really go anywhere.
Love at the Right Tempo is a cute story. It is full of sex and the plot is interesting. The two female best friends are a good addition and different from each other. The star for me is Nefertiti, the puppy. The Queen as they call her is adorable. Overall this is a light, fairly fluffy read that was enjoyable.
RATING:
BUY LINKS: