Reviewed by Dan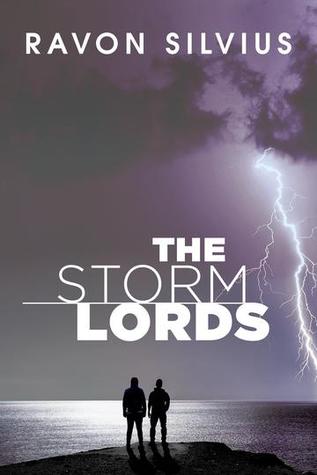 TITLE: The Storm Lords
AUTHOR: Ravon Silvius
PUBLISHER: DSP Publications
LENGTH: 263 Pages
RELEASE DATE:  August 8, 2017
BLURB:
The heat took everything from Rowen: his parents, his voice when the local cure for heatstroke poisoned him, and the trust of his fellow villagers, who branded him a water thief. It would have claimed his life when he was deemed unworthy of precious resources and left in the sun to die, had not a strange man named Kristoff ridden in on the wind and told Rowen he had power.
Rowen works hard to become a Storm Lord, one of a secret magical group that brings storms to break the heat waves overtaking their world. But Rowen is starting his training at a disadvantage since he cannot speak and is much older than the other novices. The desire to please Kristoff inspires him to persevere even more than the threat of being sent back to his village to die should he fail. Still, he cannot gather rain, and when his abilities manifest, they are unlike anything known to the Storm Lords. Unless Kristoff can help him control his deadly powers, the entire world will be in danger.
Kristoff might be among the mightiest of the Storm Lords, but he's never been a mentor before. For a chance to be with Rowen, he's willing to risk everything.
REVIEW:
I really enjoyed this story. I woke up early yesterday morning and started reading it at about 4 in the morning. I read until I had to leave for work, and thought about the book all day while I was working… wondering what was coming next. Then when I got home I fell right back in and finished it.
I'm going to start by saying that I really liked Rowen, the MC in the story. He is a young man thrown out by his village because of some confusion related to Rowen's parents' deaths, and Rowen losing the power of speech. When he is 'sacrificed' by his village to bring rain and end to the current heat wave, he is rescued by a Storm Lord named Kristoff and flown off to a secret island where the Storm Lords live and train.
Rowen has power, but not like anyone has ever seen before.  Ok, so most of that was in the blurb. Now let me talk about the story's execution. I think the author did a good job in describing and building the details of Rowen's odd power, building to an ending where all is revealed. But, and it is a huge but, like another book I read and reviewed from this author, the grand finale happens in like the last 5% or so of the book, and is all neatly wrapped up in a very short "five years later" epilogue. I wanted more. There was so much potential story between the last page of the full story and the first page of the epilogue that I felt a little cheated. There could easily be an entire book there.
I very much liked the story and I'm recommending it to anyone who likes an alternate world type story with a downtrodden MC who fights to be understood. Others might think it is complete and doesn't need any more to the story, let me know what you think when you read it.
RATING:
BUY LINKS: