IT IS THAT TIME AGAIN!
Welcome to our Book of the Month Poll for June 2017!
Here are your voter chosen top two from each week in no particular order.  Please vote for your favorites and you can vote for as many as you want, but as with our Book of the Week Poll you only get one visit, so make it count!  
Remember, the top two go through to the Book of the Year Poll!
POLL SCHEDULE:
This poll will remain open until at least 6PM, Amsterdam time next Friday. The actual closing time will vary depending on blog staff schedules…
---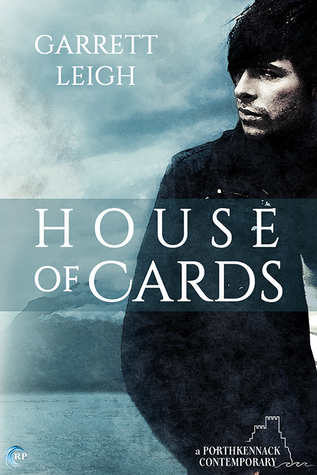 Reviewed by Chris
TITLE:  House of Cards
SERIES:  Porthkennack #4
AUTHOR:  Garrett Leigh
PUBLISHER:  Riptide Publishing
LENGTH:  249 pages
RELEASE DATE:  July 17, 2017
BLURB:  
Calum Hardy's life has unravelled. Reeling from the betrayal of a man he once loved, he boards a train heading south, with no real idea where he's going except a world away from London.
Brix Lusmoore can hardly believe his eyes when he spots one of his oldest friends outside Truro station. He hasn't seen Calum since he fled the capital himself four years ago, harbouring a life-changing secret. But despite the years of silence, their old bond remains, warm and true—and layered with simmering heat they've never forgotten.
Calum takes refuge with Brix and a job at his Porthkennack tattoo shop. Bit by bit, he rebuilds his life, but both men carry the ghosts of the past, and it will take more than a rekindled friendship and the magic of the Cornish coast to chase them away...Read More »
---
Reviewed by PizzyGirl
TITLE: Cutie and the Beast
SERIES: Fae out of Water #1
AUTHOR: E.J. Russell
PUBLISHER: Riptide Publishing
LENGTH: 303 pages
RELEASE DATE: July 24, 2017
BLURB:
Temp worker David Evans has been dreaming of Dr. Alun Kendrick ever since that one transcription job for him, because holy cats, that voice. Swoon. So when his agency offers him a position as Dr. Kendrick's temporary office manager, David neglects to mention that he's been permanently banished from offices. Because, forgiveness? Way easier than permission.
Alun Kendrick, former Queen's Champion of Faerie's Seelie Court, takes his job as a psychologist for Portland's supernatural population extremely seriously. Secrecy is paramount: no non-supe can know of their existence. So when a gods-bedamned human shows up to replace his office manager, he intends to send the man packing. It shouldn't be difficult—in the two hundred years since he was cursed, no human has ever failed to run screaming from his hideous face.
But cheeky David isn't intimidated, and despite himself, Alun is drawn to David in a way that can only spell disaster: when fae consort with humans, it never ends well. And if the human has secrets of his own? The disaster might be greater than either of them could ever imagine….Read More »
---
Reviewed by Amber
TITLE: Heart of the Steal
AUTHOR: Avon Gale & Roan Parrish
PUBLISHER: Philtre Press
LENGTH: 304 Pages
RELEASE DATE: July 11th, 2017
BLURB:
Responsible, disciplined William Fox channeled his love for art and his faith in the rules into being an FBI Art Crimes agent. Right and wrong, justice and injustice—the differences are clear, and Will has spent his career drawing a line between them. Maybe his convictions have cost him relationships, but he's not willing to compromise what he knows is right. Until the night he meets Amory Vaughn.
As the head of his family's philanthropic foundation, Vaughn knows very well that being rich and powerful can get him almost anything he wants. And when he meets endearingly grumpy and slightly awkward William Fox, he wants him more than he's wanted anything. Vaughn is used to being desired for his name and his money, but Will doesn't care about either.
When Vaughn falls back on old habits and attempts to impress Will by stealing a painting Will admires, their nascent bond blows up in his face. But Vaughn isn't willing to give up on the glimpse of passion he saw the night he took Will apart. Before Will knows it, he's falling for the man he should have arrested, and Vaughn has to realize that some things can't be bought or stolen. Love has to be given freely. But can a man who lives by the rules, and a man who thinks the rules don't apply to him, ever see eye to eye?
Heart of the Steal is a standalone romance with a happy ending. It features a Southern gentleman who thinks he's always right, a buttoned-up FBI agent who secretly likes his buttons unbuttoned, and wall sex. And desk sex. And picnic blanket sex. Read more 
---
Reviewed by PizzyGirl
TITLE: Unscripted Love
SERIES: Road to Blissville #1
AUTHOR: Aimee Nicole Walker
PUBLISHER: Self-Published
LENGTH: 235 pages
RELEASE DATE: July 11, 2017
BLURB:
Kyle Vaughn had three goals in life: become a vet, find the man of his dreams, and start a family. He easily checked off the first item on the list when he took over his grandfather's veterinary practice. Too bad he wasn't as lucky in love.
Chaz Hamilton took a leap of faith when he decided to pursue a career in writing, but one best seller didn't mean he could quit his day job. All work and no play threatened to make Chaz a very dull man when the only romantic action he saw was in the pages of his manuscript. Too bad he couldn't write his own happily ever after.
Circumstances pushed the two men together, and one magical kiss beneath fireworks and stars changed everything. Kyle knew his luck had finally turned around and Chaz found a man far better than any book boyfriend ever written. There was just one problem. Chaz has kept a secret from Kyle that could ruin their chance at a beautiful life together.
Kyle and Chaz learn that the best-laid plans often go awry, the heart has a mind of its own, and the greatest love is unscripted. Read More »
---
Reviewed by Amber
TITLE: Depth of Field
SERIES: Last Chance #1
AUTHOR: Riley Hart
PUBLISHER: Self Published
LENGTH: 230 Pages
RELEASE DATE: July 12th, 2017
BLURB:
Shane Wallace has made a decent life for himself in Last Chance. He built his own home on his mom's property to take care of her, owns an automotive repair shop, and when he wants to get laid, Portland isn't too far away. Not too shabby for the boy who spent his childhood getting bullied and feeling alone. Shane's content to leave his past behind him…until one of his childhood tormentors comes back to town.
Maxwell Sullivan never planned to step foot in Last Chance again. Here, he was Maxwell, a teen who suffered in silence while everyone thought he had the perfect life. Now, he's "Van," the erotic artist and photographer. He's only here to help his mom tie up some loose ends after his father's death and to apologize to Shane. After that, he's heading back to LA for good.
Shane never thought he'd have anything in common with Maxwell, but there's a depth to Van that surprises him. Van knows what it feels like to be alone. He sees Shane in ways no one else does. There's a shared connection neither can deny. Somehow, despite their rocky history, they get each other.
It's not long before the two are so drawn to each other that they tumble into bed—sometimes with Van's camera involved. Their chemistry in and out of the bedroom is undeniable. Except nothing is ever black and white. Shane can't leave his mom and Van's life is in LA. With two different lives pulling them in opposite directions, their picture-perfect ending might not be in the cards….Read More »
---
Reviewed by Roberta
TITLE: Sons of Earth     
SERIES: Sons of Outlaws Book 1
AUTHOR: James Cox
PUBLISHER: Evernight Publishing
LENGTH: 83 pages
Release Date: October 18, 2016
BLURB:
Twenty years after the Outlaw MC series, their children may not know the cost of war but they will know terror when Mars starts to reject humanity.
President of the Outlaw MC of Mars has a son—one that matches his temperament and the ability to find himself in trouble. Arie likes the notoriety a biker club offers, but being the oldest son of a founding member are big shoes to fill. When a quake makes the sleepy city on Mars rumble, Arie and his best friend Kavin are drinking in an off-limits spaceship. An unexpected kiss, followed by the quake, makes for one hell of a mistake. They take off without any ability to control the ship. Their destination? Earth.
There's a lack of clothing, earth animals, and a growing relationship that leaves Arie confused about his future, but none of that compares to the dangers. Arie must now face a beast that nearly killed his father, and a love he never saw coming….Read More »
---
Reviewed by Christie and Cinnamon
TITLE: Lost and Found
SERIES: Twist of Fate Book 1
AUTHOR: Lucy Lennox and Sloan Kennedy
PUBLISHER: SKLL Books LLC
LENGTH: 330 pages
RELEASE DATE:  July 2, 2017
BLURB:
He promised to never leave me. But when I needed him the most, that was exactly what he did…
From Bestselling Authors Sloane Kennedy & Lucy Lennox comes an exciting new series about how a twist of fate can change everything…
He promised to never leave me. But when I needed him the most, that was exactly what he did…
Wilderness guide Xander Reed has spent fifteen years trying to forget the night he turned to his best friend in his darkest hour, only to find the young man who'd sworn to always have his back was turning his on Xander instead. Two thousand miles and fifteen years of building a new life in the quiet backcountry of the Rocky Mountains should have been enough to put the memory of Bennett Crawford out of his mind forever, but old wounds run deep and when Bennett suddenly reappears in his life as part of a wilderness expedition Xander is guiding, the scars he thought long healed break wide open.
I'd only ever wanted to protect Xander from getting hurt again. I never considered the one he needed protection from was me…
Bennett Crawford was faced with an impossible choice the night his best friend needed him.
He chose wrong.
As the only son of one of the wealthiest families in New England, he should have had the world at his feet, but losing his best friend at the tender age of fourteen changed everything. And even though Bennett's managed to hide behind a mask of contentment as he takes his place at his father's side in the family business, inside he's searching for the piece of himself that's been missing ever since Xander Reed walked out of his life. Bennett's only saving grace is his work with a group of inner city kids, and when he's given the chance to show the troubled teens that there's a bigger world out there waiting for them if they just have the courage to reach for it, he takes it.
But when he steps off that bus for what was supposed to be a week of fun and adventure, he's instantly returned to the past when he discovers their expedition guide is none other than the boy he let go so long ago. Only, the soft-hearted, insecure little boy Bennett once knew is gone, and in his place is a brooding, bitter man who isn't interested in second chances.
People leave. I know that now and nothing Bennett has to say to me will change anything…
All Bennett wants is another chance to show Xander that friendship was only the beginning. But when a stubborn Xander refuses to even hear him out, Bennett realizes he's going to need to fight dirty.
Because now that he's found Xander again, he's not letting him go a second time… Read More »
---
Reviewed by Kat
TITLE: Rescued
AUTHOR: Dakota Storm
PUBLISHER: JMS Books
LENGTH: 134 pages
RELEASE DATE: June 17, 2017
BLURB:
Dean Montgomery loves his ranch and his family, but something is missing. When he sets out on a road trip to purchase land to expand his ranch, he finds himself stranded in a snowstorm.
When the sexy and gruff Colt James, a tracker and rescue worker, rescues Dean, both of their lives are turned upside down. Attraction sizzles, and hearts race. But then trouble brews, and Dean is needed back home. Can these two make their new relationship work? Read More »
---