Reviewed by Chris
TITLE:  House of Cards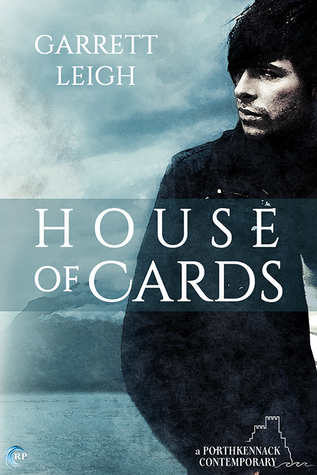 SERIES:  Porthkennack #4
AUTHOR:  Garrett Leigh
PUBLISHER:  Riptide Publishing
LENGTH:  249 pages
RELEASE DATE:  July 17, 2017
BLURB:  
Calum Hardy's life has unravelled. Reeling from the betrayal of a man he once loved, he boards a train heading south, with no real idea where he's going except a world away from London.
Brix Lusmoore can hardly believe his eyes when he spots one of his oldest friends outside Truro station. He hasn't seen Calum since he fled the capital himself four years ago, harbouring a life-changing secret. But despite the years of silence, their old bond remains, warm and true—and layered with simmering heat they've never forgotten.
Calum takes refuge with Brix and a job at his Porthkennack tattoo shop. Bit by bit, he rebuilds his life, but both men carry the ghosts of the past, and it will take more than a rekindled friendship and the magic of the Cornish coast to chase them away.
REVIEW:  
With no job, no money, no phone, no boyfriend, and absolutely no idea what to do, Calum Hardy boards a train heading south from London. He doesn't even know where the train is going, other than the hell away from his bastard ex–which is exactly where he wants to go. It isn't until he is sitting, drunk, on a bench outside of the train station in who-knows-where, that he realizes just how fucked he is, though. Amazingly he is spotted by Brix Lusmoore, a friend–and first guy-crush–that he hasn't seen in years.
Brix might have dropped out of Calum's life suddenly, but that doesn't mean he has stopped caring for the dude he was close friends with, and even helped apprentice in his tattoo shop. Seeing him slumped over on that train bench, bruised and drunk off his ass, was a shock. And while he might have a habit of bringing home "strays" till they get back on their feet, there is a lot more to his feelings than just wanting to help out Calum. Not that Brix thinks he can or should act on it. It is probably for the best anyway. Chances are trying to add anything else to the already complicated mix between them would do nothing more than send their precarious house of cards tumbling down.
I have been particularly looking forward to this fourth addition in the Porthkennack series. Garrett Leigh easily makes my top five of English-based authors, and I always look forward to discovering her rather unique characters each time I pick up one of her books.
One of the things I love about most of Leigh's books, this one included, is the easy way I am drawn into the story. From the very first page the characters here seem to exist fully and with such simple complexity that I am eager to find out more about them. Each layer added to Brix, Calum, and the varied cast of secondary characters, only enhances this feeling. No characters are wasted in this story, and I never once felt like they were there just to hold up the scenery. The local colloquialisms can sometimes be a bit confusing, but they add such a unique flair to this story, fully grounding it in reality. All the while it also more fully flushes out this fictional town of Porthkennack. The setting may play second fiddle to Brix and Calum, but it was a pleasure to read about every time we were allowed a look closer at the backdrop.
While I want to keep a few spoilers for you to enjoy for yourself as you read, I would like to mention how much I enjoyed the writing in several of the conversations in this story. Without giving anything away, I felt that the dialogue between the various characters never once felt forced or retreated into lecturing the characters or the audience. Things were talked about, but it felt like two people talking–not a PSA. It came across like the author actually knew what she was writing about, mostly because it felt like she knew what needed to be said and what could be left out of the story. I truly appreciate this. Because as much as I like seeing these thing appear in the stories I read, those conversations are always the things I dread the most.
I also applaud the author's choice regarding Calum and his ex. Again, spoilers, but I will say that there is usually an almost expected resolution to this kind of situation–and it is one that I absolutely hate (for so many reasons). Leigh choosing instead to focus on what Calum actually needs instead of bowing to the most obvious (and overused) cliche is well worth a mention.
This is a bit of a slow-burn, but sometimes the best comes to those who wait. Don't go in expecting a sex-romp, but do expect excellent characterizations, wonderful writing, charming side-characters, and several hours of just pure pleasure reading. I had a very hard time putting this story down, and I think you will too.
RATING:  
BUY LINKS: