Reviewed by Sarina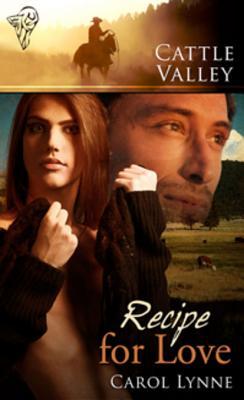 TITLE: Recipe for Love
SERIES: Cattle Valley #15
AUTHOR: Carol Lynne
PUBLISHER: Pride Publishing
LENGTH: 134 pages
RELEASE DATE: February 15, 2010
BLURB:
Book fifteen in the Cattle Valley Series
After years of living in fear, Jay De Luca has finally found a safe haven in Cattle Valley. Although he's beginning to open up around his friends, he's far from ready to get involved in another relationship. When handsome, Erico Morrelli tries to hire him away from a job he loves, Jay declines the restaurateur's offer, afraid of spending time with the town's playboy.
Ashamed to tell his friends he's sick, Erico tries to run The Canoe on his own despite protests from his physician. When he collapses at work, Erico begins to re-evaluate his future. His attraction to the one man he knows he should stay away from haunts him.
Can Erico invent a Recipe for Love or will he face his toughest challenge alone?
REVIEW:
So, while I was determined to read this next book of the series, I'll be honest and say I wasn't really looking forward to it; neither main character really grabbed my attention in a good way and I wasn't really seeing them together mentally before I'd started the book. Anyone familiar with the series should already be aware that Erico is a pretty big playboy and it doesn't set a good impression when other characters are bringing their significant others into his restaurant prepared to basically fend him off if necessary. Jay is a fairly new resident to Cattle Valley and is routinely described as 'delicate' or 'feminine'; while I have no problem with that type of character, I don't really care for them too much either so you can kind of see my reluctance to pick this one up.
Surprisingly, I liked this one more than I was initially prepared to. Neither character ended up the way I'd expected; Erico basically abandons his playboy ways when he sets his sights on Jay while Jay was the one to only want a 'benefits' kind of relationship. I also hadn't expected Jay's personality to kind of do a complete change when in the bedroom; shy and 'delicate' he certainly was not. There was an expected bit of flack given to Erico by other residents of the town when they find out that he and Jay are sleeping together but with Erico's previous reputation and Jay's past abuse, I think I would've found it less believable if no one had said anything at all.
The story overall was, as I said before, better than I'd expected though by no means my favorite in the series. The ending was decent and I liked how Jay stepped up to the plate when needed as well as how the characters were just so different than I'd pictured after having seen them previously. Anyone that enjoys May/December pairings, twinks or characters that are more than they originally appear might like this book.
RATING:
BUY LINKS: