Reviewed by Chris
TITLE:  A Destiny of Dragons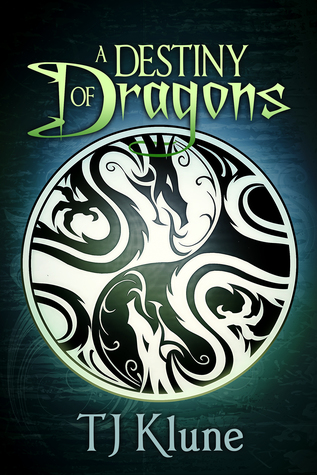 SERIES:  Tales From Verania #2
AUTHOR:  T.J. Klune
PUBLISHER:  Dreamspinner Press
LENGTH:  400 pages
RELEASE DATE:  June 30, 2017
BLURB:  
Once upon a time, the wizard's apprentice Sam of Wilds got his happily ever after in the arms of his cornerstone, Knight Commander Ryan Foxheart. A year has passed, and while Sam's been captured five or six more times since then, things are pretty great. His parents are happy, Gary and Tiggy still eat sass for breakfast, Randall is somehow alive despite being older than the gods, the King rules with a gentle hand, Kevin the dragon is as gross as ever, Morgan sighs a lot, Ryan continues to be dashing and immaculate, and Sam is close to convincing Prince Justin they will be best friends forever.
Life is good.
Until it's not.
Because Vadoma, the leader of the Gypsy clan and Sam's grandmother, has come to the City of Lockes with a dire prophecy written in the stars: a man of shadows is rising and will consume the world unless Sam faces his destiny and gathers the five dragons of Verania at his side.
And she brings along her second-in-command, a man named Ruv.
Ruv, who Vadoma says is Sam's true cornerstone.
The first book in the DESTINY FUCK YEAH! Trilogy (because sometimes, having a destiny is the stupidest thing ever).
REVIEW:  
A Destiny of Dragons is the very much anticipated sequel to A Lightning-Struck Heart. The first book in this series was a bit of a shocker for me, with an odd yet absolutely hilarious concept and execution, so I couldn't wait to see what was in store next for Sam of Wilds and his band of merry misfits.
This story picks up a little bit after the close of book one. Sam and Ryan are (finally) happy and in love, and the world seems to be coming up roses and hornless unicorns. Yet all that is thrown into jeopardy when Sam's mysterious grandmother shows up spouting prophesies and trying to convince Sam that he's got the wrong man (and cornerstone for his magic). And Ruv might seem like a nice (hot) guy, but there is nothing and no one coming between Sam and Ryan. Not even world-ending catastrophes, sparkly dragon constellations, or an ancient evil with familiar connections.
Even if everyone seems to be saying otherwise.
I'd like to say up front that I absolutely adored the first book in this series. I can't even with that book. It was so unique and funny, yet it had such heart to it, that it will probably always be one of my favorite books by Klune. However…I can't say that the second book did quite as much for me. I didn't hate it, but at the end of the day I didn't feel nearly half the connection to the characters or the plot that I did on finishing the first book.
There was something about that first story that really dug into me. Sam having to rescue Prince Justin so that he can marry Ryan, the man Sam loves, it was written so incredibly well. It was personal and heartbreaking. Even when it was also fucking hilarious. Here though, the plot reverts back to the whole "one man must save the entire world" trope, and it lost a lot of that simple, and entirely relatable, premise that made me fall in love with these characters and world. There was something about the way that this book tried to become this huge world-encompassing thing, that made it really hard for me to care about what happens. Loving someone you can't have, I think that is something everyone can relate to. Being the only one who can save the world from an ancient evil…not so much.
And the story tried to make it more personal by this whole threat to Sam and Ryan's relationship, but after everything that happened in book one, there is absolutely nothing in this universe or the next that could actually convince me that Sam and Ryan would break-up. Lightning-Struck Heart sold their love story so well that it made this whole "other cornerstone" sub-plot absolutely pointless. For all that Ruv might be an alternate, there is no way he would be. I don't and I can't buy it. So that made this whole subplot feel like an unneeded addition that helped drag the pace of the story down. Which is sad because I do think there was a good core element that could have really shone in this. Ryan is mortal, Sam is (mostly) not. I really wish they would have played up this very real problem and not wasted time on the whole "will he/won't he" angle.
There were moments, scenes in this book that really worked for me. Zero was great, and I think that scene at night when it was just Sam and him, was one the best scenes in the entire book. It felt more grounded, less jokey. It made me care about these characters in a way that had been really lacking up until that point. In fact my favorite parts of this book were when the book stopped trying to be funny, and focused on being real and honest. Klune can really bring the heart(break) and I really wished that there was more of that here, because when it did show up, it made the story like 1000 times better.
The sad fact is that for all the books attempts at being funny, I'm not sure I ever laughed more than once or twice. I honestly can't tell if that is just because I'm not in a very laugh-y mood at the minute, or it was all on the book. I will say though that I found a lot of the "funny" parts to be hugely detracting from the plot and pacing of the book. It felt like every time we got to a huge scene or to a touching moment, then it would almost instantly revert back to butthole jokes. I don't know if there was less of the whole Gary/Kevin/Twiggy sideshow in the first book, or if it was just better interwoven with the plot, but where I found these guys hugely entertaining in book one, in Dragons I couldn't wait for them to go off page. I don't mind sex-jokes, really, but not on every single page. It seriously dragged down the pace of this story; and for a book that is only really a third of an overarching story, I found that to be a huge problem.
And while the fact that this is clearly only part of a self-contained story line didn't bug me all that much, I do think that others might find the unfinished-ness of this book a bit off-putting. It did have a slight, self-contained story arc, but it wasn't something that really stood out. By the time the "climax" came around, it kinda felt out of sync with the rest of the story. It never felt like there was enough build-up to it, and so I guess I'm not sure it felt like it earned the big battle at the end. Or at least, it didn't feel like it earned the sense of dread it wanted me to have.
In the end I can't say I enjoyed this as much as I really wanted to. Maybe if it hadn't been the follow-up to the truly out-of-left-field awesome that was book one, it would have fared better. I think I came in expecting it to be just as great, and it never really reached that mark. It wasn't a bad book, though. And I certainly enjoyed it enough to go on reading the series. I just hope that the author will focus a bit more on the heart, and bit less on the laughs.
RATING:  
BUY LINKS: