Reviewed by Christine J.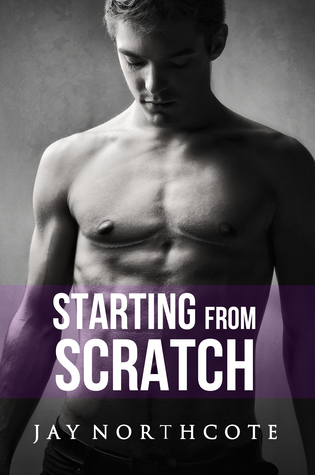 TITLE: Starting From Scratch
SERIES: Housemates #5
AUTHOR: Jay Northcote
PUBLISHER: Jaybird Press
LENGTH: 57,000 words
RELEASE DATE: April 12, 2017
BLURB:
Starting over isn't easy, but Ben is ready to live his life as the man he was always meant to be.
Ben is transgender and back at university after hormone treatment and chest surgery. His new housemates have no idea about his history and Ben would prefer to keep it that way. He's starting from scratch and his life is finally on track, except in the romance department. The idea of dating guys as a guy is exhilarating but terrifying, because if Ben wants a boyfriend he'll have to disclose his secret.
Sid is drawn to Ben from the moment they meet. He normally gets what he wants—in the short term at least. Ben's guarded at first, and Sid's not used to guys rejecting his advances. He eventually charms his way through Ben's defences and helps Ben on his journey of sexual awakening.
It doesn't matter to Sid that Ben is trans. He's attracted to the whole person, and isn't worried about what is—or isn't—in Ben's pants. They're good together, and both of them are falling hard and fast, but Ben's insecurities keep getting in the way. If Sid can convince Ben he's committed, will Ben finally be able to put his heart on the line?
Although this book is part of the Housemates series, it has new main characters, a satisfying happy ending, and can be read as a standalone.
REVIEW:
Ben is taking on life in a new way…as a man. He is transgender and, having recently recovered from top surgery, feels he may be ready to start dating men again as a man. When he meets Sid, he feels the strong pull of attraction and longs to take that step – if only his insecurities would let him. Sid is also attracted to Ben, and when he finds out Ben is trans, it simply doesn't matter. However, convincing Ben isn't that easy, and it will take a good deal of trust and communication if they are to get anywhere close to a relationship.
Starting from Scratch is a touching, sweet, and satisfying book that takes a look at the complexities of a trans person trying to establish a sexual connection as their identifying gender. It is informative, compelling, and brave as it brings Ben and Sid's journey to the reader, focusing on their fits and starts as they both try to take those first courageous steps towards a relationship.
Ben is endearing and heartbreaking as his fears, doubts, and sexual identity continually thwart his desire to be a guy with another guy. He knows who he is and what he wants, but his trust issues are a constant battle. The reader is drawn into these internal and external conflicts, gaining a clearer understanding of the struggles a trans person faces when starting over again. As Ben works to overcome his obstacles in order to get closer to Sid, his character becomes even more admirable, and the growth he makes through the course of the novel is gratifying. I like the fact that his insecurities remain throughout the book and are a part of who he is, as this feels more realistic and genuine, and not only in a trans/cis relationship. Ben feels authentic. His character brings a unique vulnerability and depth to the pages, and his leaps of faith are beautiful to watch.
Sid is honorable, kind, and perfect for Ben. His deference and sincere concern for Ben are qualities that make him a truly engaging and appealing character. Despite his lack of knowledge and doubt, he knows how he feels about Ben, and that drives his actions. I like the steps he takes, the way he communicates, and his willingness to pursue a relationship with Ben to the best of his ability.
Overall, this is a simple story about a very complex subject, low in angst and yet strong in emotion. This is not an in-depth character study with a full-blown history and backstory, but rather what seems more like a "snapshot" of Ben's life as he begins over again as the man he feels he always should have been. I particularly like the dual point of view, as it provides the reader with Sid's perspective, motivations, and commitment to learning more about Ben as a person. Additionally, the author provides a helpful glossary that explains some of the terms used in the book in the event they may be unfamiliar to the reader.
I highly recommend Starting from Scratch. As a m/m romance, it is rather light fare; however, it goes much deeper in its broadening of the reader's understanding of transgender, particularly the perspective of a trans person's identity and their wants and needs, both sexual and non-sexual. It is a story about the deepest levels of trust, understanding, and acceptance human beings can attain. Well done, Mr. Northcote.
RATING: