REVIEWED by Christie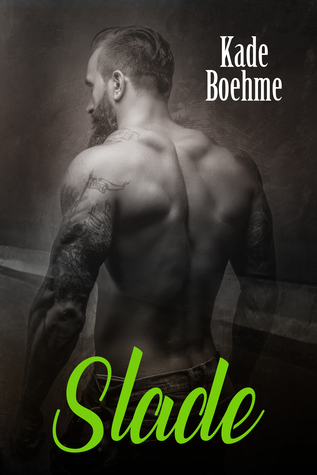 TITLE: Slade
AUTHOR: Kade Boehme
PUBLISHER: Self Published
LENGTH:  179 Pages
RELEASE DATE: January 26, 2017
BLURB:
Johnny Slade wasn't looking for a vacation, nor was he looking for love. A nomad, a journalist, an activist, a man who wants to change things for others even if he couldn't for himself, Johnny was just looking for his next story.
Shane Moore lost a chance at college, but he's never been weighed down by his lot in life. Working for his grandmother, helping his injured single father on the ranch, these are things that fulfill him. But now he wonders what his future might hold. Especially since everyone else is moving on around him.
But things happen in Abernathy, TX. Johnny gets stranded, Shane's desire to help this guy who blew his mind is strong. After a few weeks in their own bubble of sex and surprising mutual interest, one will find home, the other will find adventure, and both will find that the future is most fun when you stop trying to hold on to your own way.
REVIEW:
Okay so, whilst looking for a book to read that would suit my mood at the time, I ran across Slade and thought the premise looked promising.  Then I saw that it was written by Kade Boehme and knew that it would be fantastic.  And, it just so turns out that I was so very right.
Shane Moore's life is basically stuck in neutral right now while everyone else around him is living theirs.  His father has been recovering from a back injury he sustained two years ago (then recently aggravated again), leaving him to care for their little ranch and teach horseback riding on his own.  His grandmother has been needing him more at the family owned General Store, and his old high school boyfriend (whom he has continued to remain friends with) keeps cancelling his trips to come home and visit.  To put it mildly, Shane has dreams that he thinks are unattainable, and his heart yearns for companionship that he believes he will never have.
Then Johnny comes driving into town on his Harley Davidson motorcycle and rocks Shane's world with one amazing kiss.  Living a nomadic life, always in search of the next great story to write, newspaper journalist Johnny Slade stops for a night in Abernathy, TX on his way to his next assignment.  That's when several things happen.  He is taken off of his assignment and put on forced vacation.  While buying beers from the General Store across the street, he notices that the sexy and sweet clerk, Shane, is checking him out.  Then, after getting drunk in his motel room, Johnny decides that he definitely should make a move on Shane.  And, the next day, after delivering a sweet apology in the form of lunch to Shane, someone hits his beloved Harley, and leaves.  Effectively stranding Johnny in the small town until after his motorcycle can be repaired.
So he doesn't have to pay for a hotel room, Shane offers Johnny a room to stay at his family's ranch while his Harley is in the shop.  What's a man to do, but take Shane up on his offer and maybe see where their attraction takes them, am I right?
Slade is a sweet, very sexy story between two men whose lives were stuck on pause.  What happens when Shane and Slade essentially press play on each other's life?  What will Johnny do when his Harley is fixed and his vacation is almost over?  Will Shane go back to his old loveless life of working practically around the clock?  Make sure to get Slade by Kade Boehme and find out for yourself.  It is such a wonderful book!
Dear Kade Boehme:  Every time I finish a book of yours I think "this is the best book Kade has written."  Then, I read another and realize that I am a total liar.  Each book of yours that I read just floors me.  Thank you for making me a liar in the best way possible!
RATING:
 BUY LINK: