Reviewed by PizzyGirl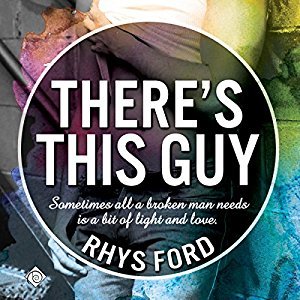 TITLE: There's This Guy
AUTHOR: Rhys Ford
NARRATOR: Greg Tremblay
PUBLISHER: Dreamspinner Press
LENGTH: 7 hours, 30 minutes
RELEASE DATE: April 10, 2017
BLURB:
How do you save a drowning man when that drowning man is you?
Jake Moore's world fits too tightly around him. Every penny he makes as a welder goes to care for his dying father, an abusive, controlling man who's the only family Jake has left. Because of a promise to his dead mother, Jake resists his desire for other men, but it leaves him consumed by darkness.
It takes all of Dallas Yates's imagination to see the possibilities in the fatigued art deco building on WeHo's outskirts, but what seals the deal is a shy smile from the handsome metal worker across the street. Their friendship deepens while Dallas peels back the hardened layers strangling Jake's soul. It's easy to love the sweet, artistic man hidden behind Jake's shattered exterior, but Dallas knows Jake needs to first learn to love himself.
When Jake's world crumbles, he reaches for Dallas, the man he's learned to lean on. It's only a matter of time before he's left to drift in a life he never wanted to lead and while he wants more, Jake's past haunts him, making him doubt he's worth the love Dallas is so desperate to give him.
STORY REVIEW:
Holy overwhelming angst Batman, that was one mighty angsty roller coaster. Jake was one hot mess. His life was a horrifically depressing ride full of emotional abuse, physical abuse, verbal abuse, and just when you thought the abuse couldn't get worse the suicidal thoughts and guilt appeared heaped with a few more servings of hatred and parental abuse. He was a broken man and it was heartbreaking and exhausting listening to his story. The angst and the emotion was so well written it threatened to drag me down into the mire with Jake. Ugh I was crying frequently.
On the other hand, Dallas was a much lighter character and he and Celeste provided much needed sarcasm and banter to break up the overwhelming sadness that threatened to overtake this story. Normally I don't care for characters like Dallas because the are rather superficially presented but in this case I am glad only jake was presented in depth because I couldn't give any more of myself to Dallas or Celeste.
I did struggle with the romance aspect of this story though. I didn't really understand Dallas's use of the word love or how he even came to see the things he saw in Jake. To me Jake was a mess and I suppose, yes he was an artist, and I knew he was supposed to be this fragile flower just needing a time to shine. But I never understood how Dallas saw those things in Jake because really, they weren't on the page.
I also struggled with the speed of the romance and with the almost too perfect quality of the 'love.' I felt like it was almost just shoved in there because it was what Jake needed from Dallas. To me, it came across more as a savior type deal with Dallas needing to fix Jake and Jake needing someone to latch onto. Oh the emotions were great and the characters themselves were mostly fleshed out, but it took a bit of a stretch for me to make that leap to love and not codependence.
However after I just rolled with it, the outcome was perfect. Jake's healing and getting all he ever wanted from Dallas was the best outcome possible for this story. But that also felt almost too easy and too fast after all the turmoil. Like a switch just flipped and bam! perfection.
Maybe it's just me thought because many many people seems to not agree. So take my review with a grain of salt and make your own decision.  
NARRATION REVIEW:
Greg Tremblay is one of my favorite narrators because he can take anything and really make it shine. In this case, he really emphasized the emotions and I felt he NAILED the characters and the overall tone of despair the author presented in this story. The sheer angst came through with every inflection or catch in the character's voice. At the same time, the moments of love and humor and snark were portrayed in such a way as to really bring them forward and cut through the heavier emotions. It all just worked really well and brought out the best in this story. Well done!
RATING:
BUY LINKS: