Something you hear over and over in the writing world is that good writers are overwhelmingly, voracious readers. As far as the writers I know, this is true. I know for myself, it definitely is. I've been a reader all my life, even from before I was officially "taught" to read, I was a reader. Stories rolled through my head all my life: those I had read, and those I made up.
I often wonder at the dichotomy, though, between the stories I used to read and the ones I now write. My book shelves are a veritable who's who of fantasy writers through the eighties and nineties, and I even have a healthy collection of sci-fi. Not a romance to be seen. Anywhere. Ever.
Until the internet, that is, when I discovered Livejournal. For a few years before I really started writing as a career, I devoured quite a lot of m/m romance and adventure, both fan fic and original fiction. By then, I was already an adult, and already had a few (dire) stories under my belt as a writer. No one has really read those outside of a rather terrific crit group who taught me a lot about the craft and cheered me on when I started to get published.
It's interesting to me that amidst all that reading over a lifetime, and all the romance I've published, I can literally think of exactly one book that was an actual heterosexual romance that I ever read. It was about a sailor (maybe a pirate?) and a lady and I think it had a raven in the title. It made a huge impact, as you can see. *runs to the bookshelf to see if I still have it* Seems not. But I did find this one. It was more like an adventure than a romance, but still good.
So how did I end up writing gay romance? No idea. But at the end of the day, I hope the idea that no matter what the adventure, or the orientation of the people involved, human experience is something universal enough to translate across genres.
Much like I ended up writing far afield from where I began my reading career, Kilmer followed his best friend across a continent, and a boarder, to play bass for him in his band. And ended up running his ranch. Just goes to show, you never know when you start out, where you'll end up. Though J.R.R. Tolkien says it better:
"It's a dangerous business, Frodo, going out your door. You step onto the road, and if you don't keep your feet, there's no knowing where you might be swept off to."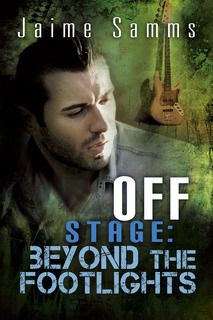 Blurb:
Kilmer and Jacko's relationship has been foundering for a long time. With the end in sight and despairing that he might never find a Dom who suits him, Kilmer heads to a local bar to drown his sorrows—and meets country singer Tanner.
Tanner feels oddly protective of the broken man and eventually convinces Kilmer to hire him to help remodel the small, sad house Kilmer once shared with Jacko. As Tanner and Kilmer get to know each other, Kilmer regains his lost independence and Tanner's dominant streak rises to the surface. But will it be a help or a hindrance to the trust they're trying to build?
The answer might lie in the music Kilmer gave up not long after he met Jacko. Music always granted him solace, clarity, and an outlet for his emotions, and with Tanner's encouragement, he picks up where he left off. Playing together eases them into honest communication, and though a happily ever after will still take patience and work, taking a chance on each other sounds sweeter with every note.
Buy Links:
About Jaime
Jaime has been writing for various publishers since the fall of 2008, although she's been writing for herself far longer. Often asked why men—what's so fascinating about writing stories about men falling in love—she's never come up with a clear answer. Just that these are the stories that she loves to read, so it seemed to make sense if she was going to write, they would also be the stories she wrote.
These days, you can find plenty of free reading on her website. She also writes for Various Publishers.
Spare time, when it can be found rolled into a ball at the back of the dryer or cavorting with the dust bunnies in the corners, is spent crocheting, drawing, gardening (weather permitting, of course, since she is Canadian!), or watching movies. She has a day job, as well, which she loves, and two kids, but thankfully, also a wonderful husband who shoulders more than his fair share of household and child-care responsibilities.
She graduated some time ago from college with a fine arts diploma, and a major in textile arts, which basically qualifies her to draw pictures and create things with string and fabric. One always needs an official slip of paper to fall back on after all . . .
Website: http://jaime-samms.com
facebook: http://www.facebook.com/profile.php?id=100000982219151&ref=tn_tnmn
Livejournal:http://dontkickmycane.livejournal.com/
Deviantart: http://dontkickmycane.deviantart.com/
Twitter:https://twitter.com/#!/JaimeSamms
Amazon Author page: amazon.com/author/jaimesamms