IT IS THAT TIME AGAIN!
Welcome to our Book of the Month Poll for May 2017!
Here are your voter chosen top two from each week in no particular order.  Please vote for your favorites and you can vote for as many as you want, but as with our Book of the Week Poll you only get one visit, so make it count!  
Remember, the top two go through to the Book of the Year Poll!
POLL SCHEDULE:
This poll will remain open until at least 6PM, Amsterdam time next Friday. The actual closing time will vary depending on blog staff schedules…
---
REVIEWED by Caroline and Jen B.
TITLE: Redemption
SERIES: The Protectors #8
AUTHOR: Sloane Kennedy
PUBLISHER: Self-Published
LENGTH:  362 Pages
RELEASE DATE: May 18, 2017
BLURB: 
My job is to save lives. But what if the one that needs saving is the one I was sent to take?
At 33 years old, Phoenix Jones once had a stellar military career ahead of him. But when tragedy struck his family, he walked away from the path he'd chosen to be there for the one who needed him most. Except fate is a bitch and when she once again takes Phoenix's future in the cruelest of ways, he must find a new path.
When a former army buddy introduces him to Ronan Grisham, the leader of an underground vigilante group, Phoenix knows he's found a new family and nothing and no one is going to take that from him again. So when Ronan asks him to shadow a young man who participated in a brutal crime against Ronan's husband, Seth, when he was a child and appears to be targeting him again, Phoenix doesn't even hesitate for a second.
Even knowing what he must do if the young man proves to have gone back to his old ways.
Because family is everything…
I can't come back from what I did. I'm not sure I even want to…
An ugly childhood left Levi Deming with little to do but dream of a day when he'd be free of his tormenters so he could carve out a simple life for himself, preferably somewhere far away from the family who never let him forget he was less than human. But one terrible choice at the tender age of 16 changed everything…
Wracked with guilt for the role he played during a home invasion gone horribly wrong, a now 24-year-old Levi is trying to piece together a life where he can maybe do a little bit of good, even knowing it won't make up for the lives he helped take and it definitely won't give back the future he stole from the young man whose agonized screams still haunt him night after night. If it were only about him, he'd walk into the nearest police station and happily tell them to lock him up and throw away the key.
But it isn't just about him anymore…
I expected to find a hardened criminal. What I found was something else entirely…
With Ronan's orders to terminate young Levi if he so much as even jaywalks, Phoenix expects an easy job with one clear outcome. But when a violent encounter forces Phoenix to interact with Levi, he quickly realizes the case might not be as black and white as he thought. Instead of finding a criminal with no conscience, Phoenix discovers a young man battling impossible odds and near crippling guilt.
When his feelings of disgust and anger begin to fade and turn into something else, the would-be hitman is forced to make a terrible decision between the family he needs and the young man more intent on seeking judgement than redemption….Read More »
---
Reviewed by Cinnamon
TITLE: Mature Content
SERIES: Cyberlove Book 4
AUTHOR: Megan Erickson and Santino Hassell
PUBLISHER: Megtino Press (self published)
LENGTH: 254 pages
RELEASE DATE:  June 2, 2017
BLURB:
My life plan is to be brutally honest all the way to the bank. Don't believe me? I run a popular YouTube channel called TrashyZane, and my claim to fame is oversharing about every aspect of my personal life. Sometimes while tipsy. Not everyone loves my style, but I have a long history of icing out people who can't handle me. I have no time for judgmental foolishness.
Except, apparently, when it comes to Beau Starr. His channel is the polar opposite of mine, and so is he. Wholesome, inspirational, and clean-cut. Everything about him should turn me off, but when we hook up following a confrontation at a convention, my world flips upside down. Not only does Beau Starr turn me on, he uses the exact combination of dirty talk and roughness needed to turn me out.
But we still hate each other. I think….Read More »
---
Reviewed by Kimberley
TITLE: Delivering Dante
SERIES: Made Marian # 6
AUTHOR: Lucy Lennox
PUBLISHER: Self Published
LENGTH: 288 pages
RELEASE DATE: April 30, 2017
BLURB:
AJ: I know Dante's story better than anyone. After all, I was the one who rescued him from his homophobic, abusive father eight years ago. Since then, I've kept my distance, but when I run into him at the Marian House gala and he doesn't recognize me, I can't resist the incredible, sensitive man he's become.
I would do anything to protect Dante Marian, but what if his past keeps me from being part of his future?
Dante: Every new relationship has obstacles, it just turns out that ours involves my bumbling inexperience (ugh), an octogenarian naughty toy party (don't ask), and being on the run in an RV with Aunt Tilly (it involves the Secret Service— no really, don't ask).
When my biological father takes his homophobic views on a national platform, the only way to stand up for what I believe in is to claim my past and confront him. So now it's time to decide: do I put the past behind me and walk away from AJ for good or face my biggest fear and fight for what's mine?
Fair warning: Dante and AJ's story contains frequent detailed scenes of man parts touching, little old ladies being inappropriate (this time with, ah, props), and two hearts finding their HEA when they least expect it.
While it can also be read on its own, Delivering Dante is the sixth in the Made Marian series. Each book tells the story of one of the Marian brothers' search for true love.
Trigger Warning: Delivering Dante includes references to domestic violence and conversion therapy....Read More »
---
REVIEWED by Caroline
TITLE: Cold Shadow
SERIES: Cold Country Book 2
AUTHOR: Mercy Celeste
PUBLISHER: Self Published
LENGTH: 308 Pages
RELEASE DATE: May 9, 2017
BLURB:
There's no such thing as a Happily Ever After.
Special Agent Drew Walker thought he'd never return to Tennessee after that horrific Christmas. Two and a half years later, a serial killer with a strange fascination with mutilation drags him into Nathan Truman's jurisdiction once again.
For Nathan Truman having the 'Feeb' around dredges up a past, he would prefer to forget. For nearly three years, he's been able to put it all behind him and focus on his career, family, and Quinn.
The past few years have done Quinn Anders a world of good. He's happy, healthy, sober, and raising his daughter with the love of his life.
As the days pass and tensions flare it becomes obvious that the events of that night, all those years ago, never truly ended for one of them.
The secrets and lies that bind the three may just destroy them all….Read More »
---
REVIEWED BY CINDY
TITLE: Blue
AUTHOR: B.G. Thomas
PUBLISHER: Dreamspinner Press
LENGTH: 240 Pages
RELEASE DATE: May 15, 2017
BLURB:
Blue McCoy has lived on the streets for a long time, surviving by his wits and doing what he must, and he's not above using his youthful appearance and air of innocence to his advantage. It's not an easy life, but he's happy. He has everything he really needs: the clothes on his back, a house to squat in, a sweet dog. Everything except that special someone to love him.
Six months ago, John Williams's wife left him because she was bored. "Even your *name* is boring" were her last words to him before she walked out. Now he's by himself in a big house, trying to figure out what direction his life should take. He's never been so alone.
A chance encounter sets John on a new path, a path that becomes clearer when loneliness sends him to a local animal shelter to get a dog—and he finds an angel instead. An angel named Blue. A crisis brings them together, but it is something else that keeps them there. Could it be love? A love that can forever end two men's deep loneliness and bring them the support and sense of belonging they've searched for all their lives?….Read More »
---
Reviewed by Danielle
TITLE: Play Chopin for Me
AUTHOR: Max Vos
PUBLISHER: Max Vos Inc
LENGTH: 216 Pages
RELEASE DATE: May 13, 2017
BLURB:
After a devastating fire, Dale Lusk shows up at his sister's door in nothing but his boxers and a raincoat, desperately needing her help. Losing both his restaurant and home has left Dale without direction or a place to live.
While pushing her handsome brother into a new wardrobe to match his model looks, Chrissie introduces Dale to Al Borkowski. Al is in desperate need of a roommate before his grandmother takes more control of his life.
Little did Chrissie know when she pushed the two men together the sparks that would fly and the changes that would happen in all of their lives….Read More »
---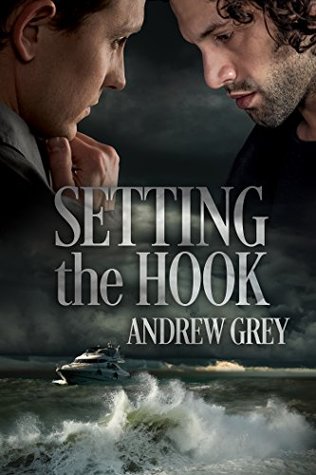 Reviewed by Tammy
TITLE: Setting the Hook
AUTHOR: Andrew Grey
PUBLISHER: Dreamspinner Press
LENGTH: 200 pages
RELEASE DATE: May 12, 2017
BLURB:
It could be the catch of a lifetime.
William Westmoreland escapes his unfulfilling Rhode Island existence by traveling to Florida twice a year and chartering Mike Jansen's fishing boat to take him out on the Gulf. The crystal-blue water and tropical scenery isn't the only view William enjoys, but he's never made his move. A vacation romance just isn't on his horizon.
Mike started his Apalachicola charter fishing service as a way to care for his daughter and mother, putting their safety and security ahead of the needs of his own heart. Denying his attraction becomes harder with each of William's visits.
William and Mike's latest fishing excursion starts with a beautiful day, but a hurricane's erratic course changes everything, stranding William. As the wind and rain rage outside, the passion the two men have been trying to resist for years' crashes over them. In the storm's wake, it leaves both men yearning to prolong what they have found. But real life pulls William back to his obligations. Can they find a way to reduce the distance between them and discover a place where their souls can meet? The journey will require rough sailing, but the bright future at the end might be worth the choppy seas….Read More »
---

Reviewed by Kimberley & Caroline
TITLE: The Vampire and the M.D.
SERIES: The Vampire And…#3
AUTHOR: J.P. Bowie
PUBLISHER: MLR Press
LENGTH: 212 pages
RELEASE DATE: April 20, 2017
BLURB:
When Dr. Blake Farnon hits a shadowy figure with his car, he is astounded when the man almost instantaneously recovers from the accident. But Daniel Vale is no ordinary man, as Blake soon discovers. Daniel is Vampire, and not only that, works for the US government in a secret department of the FBI.
At first wary of the undeniably handsome vampire, Blake cannot resist Daniel's allure for long. From the moment Daniel shows up at Blake's apartment with a poisoned silver sword imbedded in his side, Blake is hurled into an adventure he never dreamed he would be a part of.
Demons, ancient gods and a vindictive goddess determined to tear apart the fragile fabric of world peace after the Middle East War, can only be stopped by other supernatural beings–vampires. And Blake finds himself caught up in the fight, whether he wants to be or not. Can his fledging relationship with Daniel possibly survive? He'd thought it crazy enough he'd fallen for a vampire, but the rest of it? What would his mother say?…Read More »
---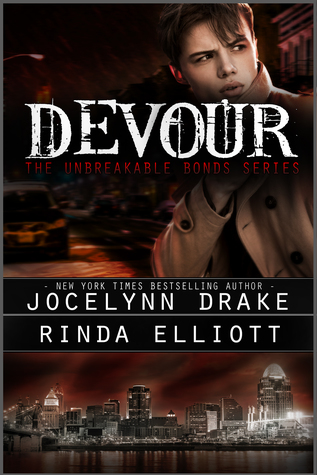 REVIEWED by Caroline and Jen B.
TITLE: Devour
SERIES: Unbreakable Bonds #4
AUTHORS: Jocelynn Drake and Rinda Elliott
PUBLISHER: Self Published
LENGTH: 249 Pages
RELEASE DATE: April 28, 2017
BLURB: 
Ian Pierce is the chef and part owner of the hottest restaurant in Cincinnati, his chosen family is full of happy relationships, and the scruffy, snarky cop who has been haunting his dreams is one step closer to being in his bed. But everything comes crashing down when the past he narrowly escaped nine years ago comes to a deadly head.
Hollis Banner was enamored of Ian at first sight. He's kept his distance, knowing the gorgeous, self-confident man is out of his league. Yet there's no standing aside when Boris Jagger escapes a raid. Jagger's world has been nearly destroyed and this time, the crime boss is coming after Ian and his friends personally.
Hollis will do whatever it takes to keep Ian safe as they escape to a safe house with a couple of Ian's overprotective friends. And Ian finds himself in a race to unlock painful memories—memories containing information that could take down the very last of Jagger's illegal operations forever….Read More »
---
Reviewed by Donna
TITLE: A Worthy Man
SERIES: The Men of Halfway House #5
AUTHOR: Jaime Reese
PUBLISHER: Romandeavor, Inc
LENGTH: 124,000 Words
RELEASE DATE: May 2, 2017
BLURB:
Vannguard Shaw has spent the last ten years serving a life sentence and adjusting to the ache of solitude. He accepts his fate, a sacrifice for the only man he ever loved and the one person who saw beyond his rough edges.
Drayton grew up with a trust fund and pre-planned future, but an unexpected encounter one night forces him to abandon everything and start from scratch. He is now a self-made man and developer of one of the most sought after electric exotic automobiles in the world with a fortune greater than that of his birthright. Yet, he'd surrender it all—again—for the only man who's still ever-present in his heart.
After a decade and entirely too much distance between them, Vann is suddenly released back into a world that has been nothing but cruel. Drayton never lost hope they would once again reunite and pick up where they left off, but Vann's stubborn nature and repeated encounters with a heartbreaking world prove to be a challenge.
Vann needs to tap into his fighting spirit's reservoir of strength and hope life doesn't punish him for taking a chance. Only then will he realize his own value and feel worthy enough to finally have Drayton's heart. And their chance at forever….Read More »
---