Reviewed by PizzyGirl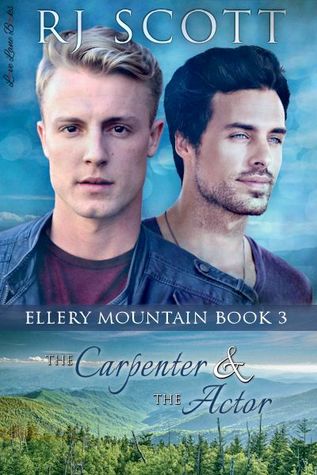 TITLE: The Carpenter and the Actor
SERIES: Ellery Mountain #3
AUTHOR: R.J. Scott
PUBLISHER: Love lane Books
LENGTH: 30,600 words
RELEASE DATE: May 9, 2017
BLURB:
NB: This book is a previously published title. This second edition features new cover art and has been re-edited.
Jason is running from tragedy, hiding in Ellery, but it's only when he meets Kieran that he finds love.
Jason McInnery, hounded by the paparazzi after his brother's death, runs to the one place where he hopes people won't sell him out. The place where he was born. Hiding in the tourist cabins at Ellery Mountain Resort out of season, he thinks he finally has room to breathe.
Kieran Dexter is a man who knows what he wants; gorgeous actor Jason tied up and begging. When the hottest sex he's ever had turns to feelings of love, he's faced with convincing Jason to give them a try and stay in Ellery.
REVIEW:
The third installment of the Ellery Mountain series felt a bit slow for me in comparison to the previous two stories but I think that is because this one was relatively plot and character development free. It felt like a quick relationship study that while satisfying, was just there with nothing to push it over into the realm of greatness because there was nothing else to support things. I enjoyed my read, and I thought Kieran and Jason were great characters, but this was just too short and there was no time devoted to anything other than the budding romance . I felt their connection and understood the lust to love but would have like more.
RATING:
BUY LINK: