Reviewed by Becca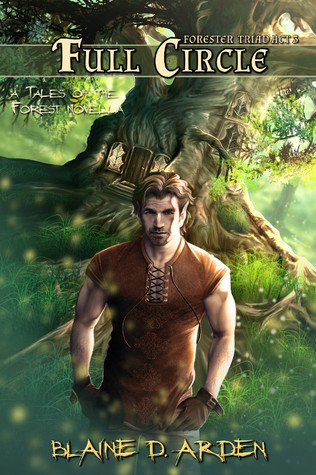 TITLE: Full Circle
SERIES: Tales of the Forest #3
AUTHOR: Blaine D. Arden
PUBLISHER: Cayendi Press
LENGTH: 131 pages
RELEASE DATE: February 14, 2017
BLURB:
"I have great responsibilities, but my path ahead is as foggy and blurred as the path behind me."
With forester Taruif freed, Kelnaht has claimed him openly at Solstice before tribe and Ma'terra as his partner, but with their third, Ianys, bound by an old promise, their triad is still incomplete. Sneaking around puts the most strain on Ianys. He and Kelnaht must keep their relationship a secret or he will lose his daughter, Atèn.
When several children fall ill with more than a summer bug, truth seeker Kelnaht is assigned once more to investigate. What he finds is deadly and threatens the life of every underage child in the tribe, including Atèn. Then a wounded traveller is found in the forest, left to die after a vicious attack.
With Taruif and his apprentice on the hunt for a cure, Kelnaht focusses on the attacks, but the clues are few and more children are infected. Nothing seems to connect until both the traveller and Atèn dream of the same grey-haired elf. Driven by fear for his daughter, Ianys pulls away from his lovers. Kelnaht can only pray Ma'terra will guide him to a solution that brings them all together and keeps Atèn safe from harm.
REVIEW:
I'm honestly not sure what to think of this book. It was a murder mystery of sorts with some menage mixed in. That wasn't the problem, but I wish I could explain what the problem was. To be honest, I just really didn't care for the book that much. This can be read as a standalone but reading the first two helps understand background more. That may be the problem for me as I haven't connected with these characters from the start.
As a murder mystery of sorts it was fine. People in the village are being murdered and the truth seeker Kel is on the hunt to find out what is going on and who would do such a heinous crime. His vowed, Forester Taruif, is trying to find a cure as well as help seek this person down. But it hits close to home when their lovers' daughter becomes sick like the other children. Ianys is overwrought with grief as they try to heal her and the others and solve this mystery before other are hurt. This part is the intriguing part of the story. The whole whodunit.
Out of all the characters, I think I liked Kel the most, though I still didn't really connect with anything as a whole. He seemed the most relatable as you can feel his empathy with the parents and his people as they struggle and grieve with sickness and death. Plus he isn't afraid to be strong and do what needs to be done. When they capture who has been doing these things, he has to see some nasty things in the mind of the evil person. And although he has to be strong to do his job, he also isn't afraid to cry. That takes real strength.
I wish I could say more about this book, but it left me feeling blah. It was hard for me to get into. I tried to highlight the finer points for anyone who wants to read it but it's not a book I would put on my to be read list.
RATING:
BUY LINKS: