Book of the Week Winners!
Here are the winners of this week's Book of the Week Poll.
Both will go through to the Book of the Month Poll!
---
The winners are:
FIRST PLACE: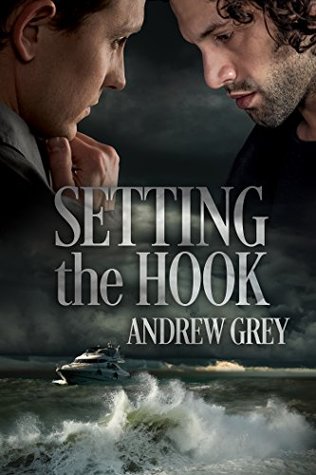 Reviewed by Tammy
TITLE: Setting the Hook
AUTHOR: Andrew Grey
PUBLISHER: Dreamspinner Press
LENGTH: 200 pages
RELEASE DATE: May 12, 2017
BLURB:
It could be the catch of a lifetime.
William Westmoreland escapes his unfulfilling Rhode Island existence by traveling to Florida twice a year and chartering Mike Jansen's fishing boat to take him out on the Gulf. The crystal-blue water and tropical scenery isn't the only view William enjoys, but he's never made his move. A vacation romance just isn't on his horizon.
Mike started his Apalachicola charter fishing service as a way to care for his daughter and mother, putting their safety and security ahead of the needs of his own heart. Denying his attraction becomes harder with each of William's visits.
William and Mike's latest fishing excursion starts with a beautiful day, but a hurricane's erratic course changes everything, stranding William. As the wind and rain rage outside, the passion the two men have been trying to resist for years' crashes over them. In the storm's wake, it leaves both men yearning to prolong what they have found. But real life pulls William back to his obligations. Can they find a way to reduce the distance between them and discover a place where their souls can meet? The journey will require rough sailing, but the bright future at the end might be worth the choppy seas….Read More »
---
SECOND PLACE:

Reviewed by Kimberley & Caroline
TITLE: The Vampire and the M.D.
SERIES: The Vampire And…#3
AUTHOR: J.P. Bowie
PUBLISHER: MLR Press
LENGTH: 212 pages
RELEASE DATE: April 20, 2017
BLURB:
When Dr. Blake Farnon hits a shadowy figure with his car, he is astounded when the man almost instantaneously recovers from the accident. But Daniel Vale is no ordinary man, as Blake soon discovers. Daniel is Vampire, and not only that, works for the US government in a secret department of the FBI.
At first wary of the undeniably handsome vampire, Blake cannot resist Daniel's allure for long. From the moment Daniel shows up at Blake's apartment with a poisoned silver sword imbedded in his side, Blake is hurled into an adventure he never dreamed he would be a part of.
Demons, ancient gods and a vindictive goddess determined to tear apart the fragile fabric of world peace after the Middle East War, can only be stopped by other supernatural beings–vampires. And Blake finds himself caught up in the fight, whether he wants to be or not. Can his fledging relationship with Daniel possibly survive? He'd thought it crazy enough he'd fallen for a vampire, but the rest of it? What would his mother say?…Read More »
---
CONGRATULATIONS TO THE WINNERS!
Here is the final vote total: