It is final! The April 2017 Voter Chosen Audio Book of the Month!
We thank you all for participating in our poll!
---
FIRST PLACE: 
We are happy to announce the Winner of our Voter Chosen Audio Book of the Month is:
REVIEWED by Caroline
TITLE: Dare to Hope
SERIES: All Cocks #4
AUTHOR: TM Smith
NARRATOR: Joel Leslie
PUBLISHER: TTC Publishing
LENGTH: 6 Hours 13 Minutes
RELEASE DATE: 23 March, 2017
BLURB:
Dare to Hope
An All Cocks story book 4
Tristan is the second oldest of the Brennan brothers and the odd man out. Most of the Brennan men have careers in law enforcement, but as a psychiatrist, Tristan chooses to help people in a different way. Quiet and restrained, he is content to hover in the background of his more gregarious brothers. Then he meets two men, each broken and damaged from losses beyond their control.
Gabriel Simenson is mourning his lover's death. The random act of violence that took Gio's life has left everyone at All Cocks reeling. The only thing keeping Gabe from drowning in misery is the friendship he's forged with Micah, the newest model at All Cocks. He continues to struggle, and at the urging of his All Cocks family Gabe agrees to counseling with Tristan under one condition: Micah must go with him.
Micah Solo can relate to unbearable loss, having lost his leg and so much more in Iraq. The past two years he has been alone, adrift and vulnerable — the memories of war haunting his dreams, spilling over into his daily life. At All Cocks, Micah has found the acceptance he craves and the family he lost, but still he yearns for happiness and peace within.
The friendship between the three is instant, the mutual attraction evident. They circle each other, wanting more, yet unsure if it is truly possible. Is life the mundane reality they've each come to accept for themselves or do they dare to hope?
The All Cocks Stories is a series set within the world of online gay porn.
*Warning* Micah's PTSD is told in detail, including flashbacks to his time in Iraq…Read More.
---
SECOND PLACE: 
Reviewed by PizzyGirl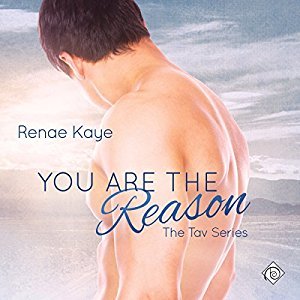 TITLE: You Are the Reason
SERIES: The Tav #2
AUTHOR: Renae Kaye
NARRATOR: Dave Gilles
PUBLISHER: Dreamspinner Press
LENGTH: 8 hours, 19 minutes
RELEASE DATE: March 1, 2017
BLURB:
A Novel in The Tav series
Davo's a pretty average guy. He has a decent job, owns his own home, and spends his weekends at the pub. He fully accepts that he's gay, but doesn't want to be one of those gays who are girly. He likes football and other masculine pursuits, and firmly avoids anything that could be seen as femme—including relationships that last beyond fifteen minutes.
Then Davo's friend and gay idol not only gets a boyfriend, but also adopts a baby girl. Davo is seriously spooked and scuttles down to the pub. That's where he meets Lee, cute from her cherry-red hair to her pretty little dress and pointy red shoes. Davo is charmed—but how is that possible? He's gay. Isn't he? Then Lee tells him he's actually a guy—he just likes to wear women's dresses occasionally. Thoroughly confused about an attraction that's out of character for him, Davo begins the long journey to where he can accept himself without caring what everyone else thinks…Read More.
---
Congratulations Authors & Narrators!
CLOSED POLL