IT IS THAT TIME AGAIN!
Welcome to our Book of the Month Poll for April 2017!
Here are your voter chosen top two from each week in no particular order.  Please vote for your favorites and you can vote for as many as you want, but as with our Book of the Week Poll you only get one visit, so make it count!  
Remember, the top two go through to the Book of the Year Poll!
POLL SCHEDULE:
This poll will remain open until at least 6PM, Amsterdam time next Friday. The actual closing time will vary depending on blog staff schedules…
---
Reviewed by PizzyGirl
TITLE: Dyed and Gone to Heaven
SERIES: Curl up and Dye #3
AUTHOR: Aimee Nicole Walker
PUBLISHER: Self- Published
LENGTH: 264 Pages
RELEASE DATE: March 7, 2017
BLURB:
Gabe and Josh's romantic dinner date to celebrate love and life takes a shocking twist when a man who's presumed dead enters the restaurant. What Gabe learns that night and the days that follow sends the homicide investigation down a road full of sharp twists and dangerous turns.
Josh is finally living the life he's always wanted. He has a man who loves him just the way he is and an exciting new career opportunity. All of that feels threatened when a mysterious neighbor moves into the neighborhood. Josh is convinced his presence is more than a coincidence and questions what fate has in store for the happy couple.
Can Gabe find the balance between work and love or will his focus on justice put their harmony in jeopardy? Can Josh continue to overcome his insecurities or will they overshadow the beautiful life he's building with the man he loves?
Dyed and Gone to Heaven is the third book in the Curl Up and Dye Mysteries series. These books were written to be read in order. They contain sexually explicit material and are intended for adults 18 and older….Read More »
---
Reviewed by Roberta
TITLE: Darkest Hour Before Dawn
SERIES: THIRDS #9
AUTHOR: Charlie Cochet
PUBLISHER: Dreamspinner Press
LENGTH: 224 Pages
RELEASE DATE: April 25, 2017
BLURB:
Sequel to Thick & Thin
THIRDS: Book Nine
THIRDS Team Leader Sebastian Hobbs and Chief Medical Examiner Hudson Colbourn are as much in love now as they were nearly seven years ago when a tragic event on the job destroyed their relationship. The two drift together only to be pulled apart time and time again. When Hudson draws the interest of dangerous enemies, both within and outside the organization, Seb wants nothing more than to protect the man who still means everything to him.
As life-and-death events, an uncertain future, and startling truths draw Hudson and Seb to each other yet again, they must make a choice: trust their love and take strength from what they share, or lose what matters most… for good this time…Read More »
---
Reviewed by Dan
TITLE: Child of Night and Day
SERIES: Champion of the Gods: Book Four
AUTHOR: Andrew Q. Gordon
PUBLISHER: DSP Publications
LENGTH: 390 Pages
RELEASE DATE:  April 11, 2017
BLURB:
Farrell's excitement at finding his legendary ancestor Kel is tempered by the knowledge it signals the beginning of the end of the war. As he and Kel race to recover the last two Gifts of the Gods, Meglar is not quiet. Fighting erupts around the world, and new allies reveal their hand. To complicate matters, Arritisa has refused Farrell's request for Her Gift.
Searching for answers, Farrell travels to Bowient, home to Falcron's main temple. While there, Farrell uncovers a plot to destroy the temple and the city. The attack fails, but Farrell kills Neldin's priestess in the fight. The death of His priestess prompts Neldin to visit Farrell. Despite Farrell's rejection, Neldin shows Farrell that he is more like his father than he'd like to admit.
Shaken by Neldin's visit, Farrell doubts himself and his abilities. In an attempt to prove loyalty to the Six and deny Neldin, Farrell secretly embarks on a risky mission he can't win. Kel rushes to find Farrell, but it might be too late. The seeds Neldin planted have found fertile ground. Even if Kel saves Farrell, can even a legend stop a god from claiming the son of Meglar for His cause?…Read More »
---
REVIEWED by Caroline
TITLE: Shelter the Sea
SERIES: The Roosevelt #2
AUTHOR: Heidi Cullinan
PUBLISHER: Self Published
LENGTH: 190 Pages
RELEASE DATE: March 18, 2017
BLURB:
Some heroes wear capes. Some prefer sensory sacks.
Emmet Washington has never let the world define him, even though he, his boyfriend, Jeremey, and his friends aren't considered "real" adults because of their disabilities. When the State of Iowa restructures its mental health system and puts the independent living facility where they live in jeopardy, Emmet refuses to be forced into substandard, privatized corporate care. With the help of Jeremey and their friends, he starts a local grassroots organization and fights every step of the way.
In addition to navigating his boyfriend's increased depression and anxiety, Emmet has to make his autistic tics acceptable to politicians and donors, and he wonders if they're raising awareness or putting their disabilities on display. When their campaign attracts the attention of the opposition's powerful corporate lobbyist, Emmet relies on his skill with calculations and predictions and trusts he can save the day—for himself, his friends, and everyone with disabilities.
He only hopes there isn't a variable in his formula he's failed to foresee....Read More »
---
Reviewed by Chris
TITLE:  Wake Up Call
SERIES:  Porthkennack #1
AUTHOR:  J.L. Merrow
PUBLISHER:  Riptide Publishing
LENGTH:  320 pages
RELEASE DATE:  April 17, 2017
BLURB:  
South London mechanic Devan Thompson has gone to Porthkennack to track down someone he's been waiting all his life to know. But Dev's distracted from his quest by Kyle, a broodingly handsome local of only a few months, who's already got a reputation as an alcoholic because of his strange behaviour–including a habit of collapsing in the street.
Kyle Anthony fled to Porthkennack to escape from the ruins of his life. Still raging against his diagnosis of narcolepsy–a condition that's cost him his job as a barrister, his lover, and all chance of normality–the last thing he wants is another relationship that's doomed to fail. But Dev's easygoing acceptance and adaptability, not to mention his good looks, have Kyle breaking all his self-imposed rules.
When disaster strikes Dev's adored little sister, Kyle steps up to the plate, and Dev sees a side of his lover he wasn't prepared for: competent, professional–and way out of Dev's league. With one man determined that they don't have a future and the other fearing it, life after Porthkennack is starting to look bleak for both of them.…Read More »
---
Reviewed by Amber
TITLE: Enemy Within
SERIES: The Executive Office #3
AUTHOR: Tal Bauer
PUBLISHER: Self Published
LENGTH: 485 pages
RELEASE DATE: March 28th, 2017
BLURB:
The White House, infiltrated.
The president, running for his life.
A traitorous general, intent on burning the world to the ground.
When everything falls apart, who do you trust?
President Jack Spiers fled Washington DC on the heels of a devastating attack on CIA headquarters, masterminded by one of America's own, former General Porter Madigan. While the world believes Jack was killed in the bombing, he embarks on a wild infiltration mission, smuggling himself into occupied Russia to rescue the love of his life: former Secret Service Agent and First Gentleman Ethan Reichenbach.
Reunited, Jack, Ethan, and deposed Russian president Sergey Puchkov, along with President Elizabeth Wall—the only person left in Washington DC who Jack trusts—must work together. They piece together a desperate plan, hunting Madigan to the ends of the earth and the bitter frigidity of the Arctic, where Madigan's world-shattering doomsday plan comes together.
Outnumbered, outmaneuvered, and outgunned, Jack, Ethan, Sergey, and the rest of the team struggle to put a stop to Madigan and his army. In the desolate extremes of the Arctic, their resolve, their strength, and even their love is tested, pushed to the absolute limits as choices must be made: choices that pit the fate of the world against the love in their hearts, and the loves of their life.
As the world crumbles around them, Jack and Ethan find themselves waging a war on two fronts—against an enemy they can see, and another, hiding within their ranks.
Who can be trusted when the enemy is within you?...Read More »
---
REVIEWED by Caroline
TITLE: Any Given Sunday
SERIES: Southern Scrimmage Book 6
AUTHOR: Mercy Celeste
PUBLISHER: Self Published
LENGTH: 68,000 Words
RELEASE DATE:  March 29, 2017
BLURB:
Mind the gap.
Any Given Sunday is the story that takes place in the gaps of Six Ways from Sunday.
Six Ways from Sunday was NEVER supposed to be part of a series.
Six Ways from Sunday was written in five days and was supposed to be a standalone short story.
As the Scrimmage series evolved and the story grew I realized that I needed to know Bo and Dylan's whole backstory.
Any Given Sunday started out as Sunday Schooled. It retells Bo and Dylan's story from the day they met until the ending of Six Ways from Sunday. Including the flashback scenes from Sidelined and certain aspects of Bootleg Diva from Bo's POV.
Any Given Sunday explores the time gaps in Six Ways from Sunday, in greater detail.
Any Given Sunday is a companion to the Scrimmage Series and can be read in any order.
Any Given Sunday is an original story, the scenes from Six Ways from Sunday are not repeated in this companion edition.
Certain details and characters from this expanded story will return in Blindsided.
Warning:
Readers sensitive to the perceived cheating in the original two books should avoid…Read More »
---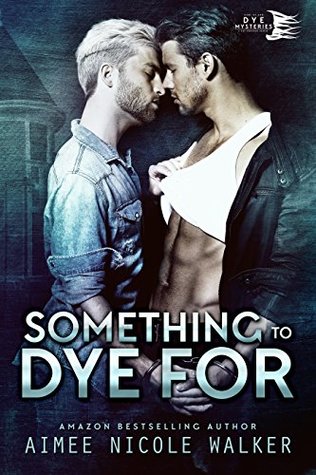 Reviewed by PizzyGirl
TITLE: Something to Dye For
SERIES: Curl Up and DYE Mysteries #2
AUTHOR: Aimee Nicole Walker
PUBLISHER: Self Published
LENGTH: 241 pages
RELEASE DATE: January 3, 2017
BLURB:
A phone call in the middle of the night forces Detective Gabriel Wyatt out of his warm bed and into the frigid night to identify the body of a murdered man whose wallet contains Gabe's business card instead of an ID. That night sets off a chain of events that chills Gabe to his bones when it appears that the killer has set his eyes on a new target – Josh Roman.
Josh comes face-to-face with a painful reminder of his past just when he's ready to acknowledge that his feelings for Gabe go way beyond liking the man. How can he trust that his feelings for Gabe are right when before he'd always been so wrong?
Will Josh and Gabe finally acknowledge that what they have is something to live for or will they allow danger and doubts to destroy their chance at something amazing?
Something to Dye For is book 2 in the Curl Up and Dye Mysteries series. These books are written to be read in order. They contain sexually explicit material and are intended for adults 18 and older….Read More »
---
Reviewed by Vicki (Tori)
TITLE: Skim Blood and Savage Verse
SERIES: Offbeat Crimes #3
AUTHOR: Angel Martinez
PUBLISHER: Pride Publishing
LENGTH: 137 pages
RELEASE DATE: April 4th, 2017
BLURB:
Words damage more than just feelings as Carrington hunts feral books menacing the city.
When a ferocious book attacks Carrington at his own birthday party, he believes it's an isolated incident. But similar books soon pop up all over town, menacing innocent people with harsh bits of poetry and blank verse that deliver damaging physical blows. It's a frustrating case with too many variables and not enough answers, and the stakes go up with each attack.
With the help of his misfit squad mates at the 77th and the public library's Rare Books Department, the missing pieces decrease but not Carrington's vexations. His commanding officer rakes him over the coals at the beginning of every shift. His police partner has lost patience with what she sees as his delusional relationship choices and his inability to pick the right man in a vast field of two. City Hall demands that the books be stopped immediately. It's enough to put a nutritionally challenged vampire off his skim blood….Read More »
---