Book of the Week Winners!
Here are the winners of this week's Book of the Week Poll.
Both will go through to the Book of the Month Poll!
---
The winners are:
FIRST PLACE: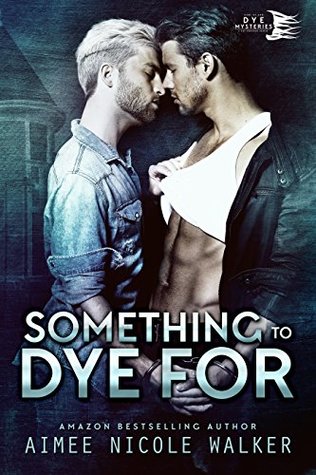 Reviewed by PizzyGirl
TITLE: Something to Dye For
SERIES: Curl Up and DYE Mysteries #2
AUTHOR: Aimee Nicole Walker
PUBLISHER: Self Published
LENGTH: 241 pages
RELEASE DATE: January 3, 2017
BLURB:
A phone call in the middle of the night forces Detective Gabriel Wyatt out of his warm bed and into the frigid night to identify the body of a murdered man whose wallet contains Gabe's business card instead of an ID. That night sets off a chain of events that chills Gabe to his bones when it appears that the killer has set his eyes on a new target – Josh Roman.
Josh comes face-to-face with a painful reminder of his past just when he's ready to acknowledge that his feelings for Gabe go way beyond liking the man. How can he trust that his feelings for Gabe are right when before he'd always been so wrong?
Will Josh and Gabe finally acknowledge that what they have is something to live for or will they allow danger and doubts to destroy their chance at something amazing?
Something to Dye For is book 2 in the Curl Up and Dye Mysteries series. These books are written to be read in order. They contain sexually explicit material and are intended for adults 18 and older….Read More »
---
SECOND PLACE:
Reviewed by Vicki (Tori)
TITLE: Skim Blood and Savage Verse
SERIES: Offbeat Crimes #3
AUTHOR: Angel Martinez
PUBLISHER: Pride Publishing
LENGTH: 137 pages
RELEASE DATE: April 4th, 2017
BLURB:
Words damage more than just feelings as Carrington hunts feral books menacing the city.
When a ferocious book attacks Carrington at his own birthday party, he believes it's an isolated incident. But similar books soon pop up all over town, menacing innocent people with harsh bits of poetry and blank verse that deliver damaging physical blows. It's a frustrating case with too many variables and not enough answers, and the stakes go up with each attack.
With the help of his misfit squad mates at the 77th and the public library's Rare Books Department, the missing pieces decrease but not Carrington's vexations. His commanding officer rakes him over the coals at the beginning of every shift. His police partner has lost patience with what she sees as his delusional relationship choices and his inability to pick the right man in a vast field of two. City Hall demands that the books be stopped immediately. It's enough to put a nutritionally challenged vampire off his skim blood….Read More »
---
CONGRATULATIONS TO THE WINNERS!
Here is the final vote total: