Reviewed by PizzyGirl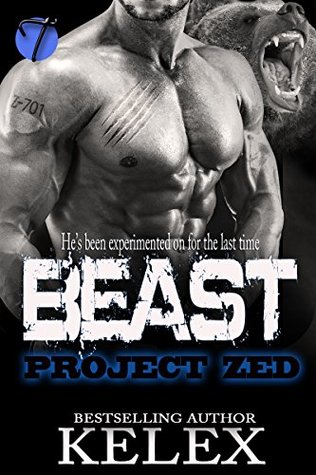 TITLE: Beast
SERIES: Project Zed #1
AUTHOR: Kelex
PUBLISHER: Twisted E Publishing LLC
LENGTH: 161 pages
RELEASE DATE: February 20, 2017
BLURB:
A shifter altered into a beast, transformed into a weapon…
Subject Z-701 has few memories. Kept in a drug-induced haze and controlled through neural transmitters, he's let out of his cage when death and destruction is what's desired.
Until an accident changes his fate.
Freedom beckons, but he finds himself in yet another cage. Without the drugs, the voices get louder, pushing him to the edge of his already precarious sanity.
If it wasn't for him, the one person able to calm the voices and keep him from teetering into the abyss.
Samuel…
Tossed between heaven and hell, he must forge a path toward Samuel or be lost forevermore.
Project Zed is a spin-off series from the Bear Mountain series. Readers do not need to have red Bear Mountain prior to reading this book, but it is highly recommended.
REVIEW:
NOTE: Project Zed is a spinoff of the author's popular Bear Mountain Series. Kelex was kind enough to include an introduction to that series in an effort for new readers, like me, to be able to understand what has previously occurred so that we can read this story without having read the 18 bear mountain books that have been published prior. That being said, I was able to follow along nicely but this book has made me eager to go back and catch up.
Kelex is usually my go to author for a quick story full of steamy tension with little else to get in the way of a good time. However, I am so glad to say that in this story, she gave me so much more than just porn on the page. Her characters had heart and their histories broke mine. Reading about what Samuel was forced to do and how he came into his powers tugged at my sympathy and my heartstrings. Reading about Cal's times at the hand of Project Zed had me in tears for the man. To have to witness him as his body was forced to do things all the while his mind and heart were crying out in pain, man this author brought me to my knees. This story was so much more than I anticipated.
I did struggle a bit with the romance part of the story even with it being a fated mates thing. I mostly struggled because these men were not really together often enough to show the reader that they were forming a deeper connection let alone that that connection had morphed into love. I understood the superficial connection of Samuel being able to calm Cal and the lust and attraction, but the romantic connection was not shown very clearly.
However, once I just rolled with it, these men were good together and their softness towards each other helped temper the aggression and evil of project Zed. I would love to see how these men do going forward as this was not a perfect ending. I would also love to see where this spinoff series is headed as I am so eager to learn more and see if these men can make an impact on others! I am ready for the next book!
RATING:
BUY LINKS: