Reviewed by PizzyGirl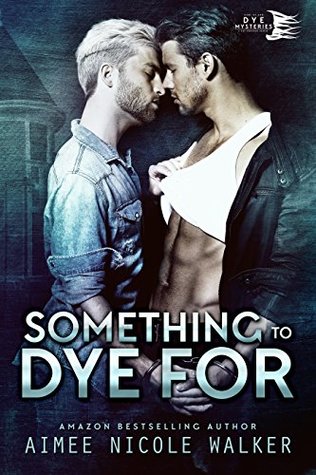 TITLE: Something to Dye For
SERIES: Curl Up and DYE Mysteries #2
AUTHOR: Aimee Nicole Walker
PUBLISHER: Self Published
LENGTH: 241 pages
RELEASE DATE: January 3, 2017
BLURB:
A phone call in the middle of the night forces Detective Gabriel Wyatt out of his warm bed and into the frigid night to identify the body of a murdered man whose wallet contains Gabe's business card instead of an ID. That night sets off a chain of events that chills Gabe to his bones when it appears that the killer has set his eyes on a new target – Josh Roman.
Josh comes face-to-face with a painful reminder of his past just when he's ready to acknowledge that his feelings for Gabe go way beyond liking the man. How can he trust that his feelings for Gabe are right when before he'd always been so wrong?
Will Josh and Gabe finally acknowledge that what they have is something to live for or will they allow danger and doubts to destroy their chance at something amazing?
Something to Dye For is book 2 in the Curl Up and Dye Mysteries series. These books are written to be read in order. They contain sexually explicit material and are intended for adults 18 and older.
REVIEW:
OK I am officially in love with this series. Book 2 was MUCH more cohesive than book 1 and while the editing still needed work, it was not near as noticeable as in the last story.
Curl Up and DYE may be a mystery series, but Josh and Gabe's relationship is the star of the show. These two men did some significant growing and adapting in this tale. I loved learning about their pasts and how they became the men they are today. I loved seeing them inside their heads as they learned more and made adjustments in their lives to accommodate the love blossoming between the two.
Josh was still so snarky that i laughed out loud, yet he really became a whole person to me in this story. The justification for his annoying habits were made real, so I understood them and him in turn. We finally got to see that while he was so very confident, he was also stuck in this pattern of self deprecation and low self esteem. It was wonderful to see him grow out of that. It was great to see Gabe start to learn Josh's patterns of avoidance because he was able to help Josh see what love could be if he let go.
At the same time it was really nice to see Gabe learn about himself and Josh and to adjust his expectations. To see him grow right alongside Josh made me finally see that they were good together and worthy of each other. I loved the characterization and relationship aspect of this story!
The mystery wasn't half bad either. It was engaging and left me thoroughly confused and wanting more. I loved constantly being left questioning who the bad guy was and I loved that I could tell that the author was keeping things secret. I never got annoyed that I could not figure things out or that this is yet another cliffhanger! Because the romance hit a great spot to pause so being left with questions about the mystery was not as annoying as I thought it would be.
I am so glad I have book three in my possession. I am eager to know who the baddie is and why and to know more about Gabe and Josh as they continue to grow as men and as a couple.  
RATING: 
BUY LINK: