Reviewed by Amber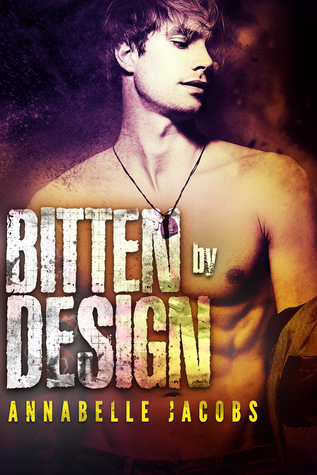 TITLE: Bitten By Design
SERIES: Regent's Park Pack #2
AUTHOR: Annabelle Jacobs
PUBLISHER: Self Published
LENGTH: 
RELEASE DATE: March 30th, 2017
BLURB:
When the last thing you want, is everything you need….
Seb Calloway isn't interested in shifters. After his best friend bonded with one, he avoids getting involved with them—no matter how hot they are—to prevent the same thing from happening to him. Why take the risk for a few hours of fun?
Tim Walters is the pack doctor. Considered to be mild-mannered and non-threatening by pack standards, he prides himself on being able to stay calm and maintain his control at all times. Desperate for a bond of his own, he knows his interest in Seb is an exercise in futility, but he can't seem to help himself.
When news emerges that threatens Seb's safety, he and Tim need to fake a relationship to keep Seb safe. Despite Seb's refusal to be anything other than friends with benefits, what starts out as pretend, quickly becomes more—for Tim at least. If Tim doesn't want to end up heartbroken, he needs to prove to Seb that loving a shifter doesn't mean losing himself.
REVIEW:
Whenever I'm in the mood for a good shifter story Annabelle Jacobs never lets me down. What I really like about these shifter stories is that they are so different than the traditional stories. I like how this group of "humans" doesn't just bow down to the shifters. I like how the relationship between the characters builds and it feels real. Annabelle Jacobs doesn't shy away from the gritty storylines either and I like that.
We meet Sebastian in book 1 and just like Jared he has an aversion to shifters and now that Jared is happily bonded with Nathan it only increases Seb's misgivings.
Tim Walters knew immediately that he should be so drawn to Seb. Seb makes it no secret that he wants nothing to do with shifters or lifetime bonds. But Tim can't help himself and when circumstances arise that bring Seb and Tim together; they both give in to the attraction.
Seb and Tim both set out to keep it casual but things quickly escalate as the situations that surround them become more and more dangerous.
Both men have inner battles. Tim trying so hard not to get hurt while Seb tries so hard to not let Tim mean more to him than he should.
It all comes to a head when danger strikes too close and both men and loved ones are put in harm's way. Tough decisions have to be made, decisions both men never thought they'd never have to face.  Both men are faced with, hold on or let go?
I'm thoroughly enjoying this series. I love the friends to fake boyfriend to friends with benefits to lover's plot line. Seriously, the way Annabelle Jacobs writes these stories is perfect and I can't wait for more from this world because really….Alec and Mark…?!??!?!!? Yes, please!!!
Recommend.
RATING: 
BUY LINK:
Annabelle Jacobs lives in the South West of England with three rowdy children, and two cats. An avid reader of fantasy herself for many years, Annabelle now spends her days writing her own stories. They're usually either fantasy or paranormal fiction, because she loves building worlds filled with magical creatures, and creating stories full of action and adventure. Her characters may have a tough time of it, fighting enemies and adversity, but they always find love in the end.
Twitter: https://twitter.com/AJacobs_fiction
Website: www.annabellejacobs.com
Email: ajacobsfiction@gmail.com
Facebook – https://www.facebook.com/ajacobsfiction
March 30 – The Novel Approach, Gay Book Reviews, Mikku-chan, Dirty Books Obsession
March 31 – Love Bytes
April 7 – Diverse Reader, Archaeolibrarian – I Dig Good Books, Scattered Thoughts & Rogue Words
April 10 – Love Bite & Silk Ties, The Way She Reads, My Fiction Nook, MM Good Book Reviews
April 12 – V's Reads, Making It Happen
April 14 – Dog-Eared Daydreams, Wicked Faerie's Tales & Reviews
April 19 – Lily G Blunt, Bella's Blog, Bayou Book Junkie, Book Lovers 4Ever, PNR Book Lover Reviews