Reviewed by Dan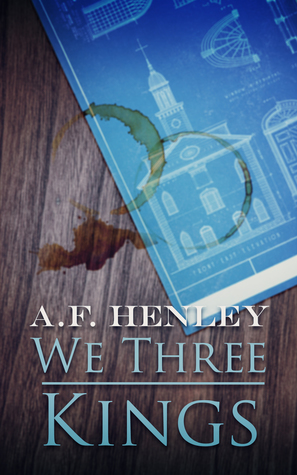 TITLE: We Three Kings
AUTHOR: A.F. Henley
PUBLISHER: Less Than Three Press, LLC
LENGTH: 117 Pages
RELEASE DATE:  February 28, 2017
BLURB:
Chicago 1982 is a goldmine for the construction industry, and Eric and his two business partners are thriving. Once nothing more than orphans in a Catholic boys' home, they've overcome poverty and abuse to obtain success. Now living the lives they once only dreamed of, they're sure of one thing: they will never look back.
Then the past returns, by way of a cheap polyester suit and a smile Eric has never forgotten—and all the dark memories come crashing back. Lucky for him, Jimmy has no idea who Eric is, or who Eric used to be…
REVIEW:
This was my first foray into the world of A.F. Henley, but it won't be my last. I really enjoyed this story. We Three Kings portrays a twist on the old bully/bullied relationship and what happens years later.
Eric is a successful land and construction developer who is in partnership with two other men who were raised with him in a Catholic orphanage. At the time, which appeared to be the 1960's mainly, the boys were confined to the home. Throughout the story there were shadowed references to sexual abuse of the boys in the home by the Fathers in charge of the home. All three boys were thrown out into the world when they turned sixteen. They spent some time on the rougher side of the streets, and then through a lot of hard work, they pulled themselves up in their early twenties. Along the way they decided to change their names to distance themselves from their upbringing and their time on the streets. Now they jointly own their own company and are hugely successful.
Eric remembers though how he and his friends bullied the other younger boys in the home. They weren't nice boys, and he has been ashamed of it ever since. Then one day a beautiful young man shows up at the men's company applying for a job. There is only one problem. Eric remembers Jimmy as one of the kids he picked on the worst.
When Eric hires him, it is clear that Jimmy doesn't recognize him. But the guilt is eating Eric up from within.
The author did a good job with the story. I liked the characters, especially the psychic homeless man that Eric shares his lunch with every day. Good details. My only slight complaint is that I would have loved it to have been further developed. I think there was more story to tell.
I recommend the book. If you're looking for a short, but good, read, pick it up.
RATING:
BUY LINKS: