Reviewed by Chris
TITLE:  Peter Darling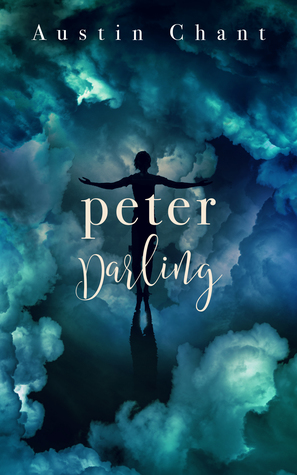 AUTHOR:  Austin Chant 
PUBLISHER:  Less Than Three Press
LENGTH:  164 pages
RELEASE DATE:  February 15, 2017
BLURB:  
Ten years ago, Peter Pan left Neverland to grow up, leaving behind his adolescent dreams of boyhood and resigning himself to life as Wendy Darling. Growing up, however, has only made him realize how inescapable his identity as a man is.
But when he returns to Neverland, everything has changed: the Lost Boys have become men, and the war games they once played are now real and deadly. Even more shocking is the attraction Peter never knew he could feel for his old rival, Captain Hook—and the realization that he no longer knows which of them is the real villain.
REVIEW:  
You all probably know the story of Peter Pan, boy who never wanted to grow up. But I bet you never heard his tale told quite like this. The basics are the same, flying boy, fighting pirates, the ever helpful Tinkerbell and the Lost Boys–but what if all is not as it seems? What if Peter is more than expected? What if Hook is as well? What happens if Peter were to return to Neverland, all grown up, but still as determined to be everything that is Youth and Fun? Can Neverland be the same…can Peter and Hook?
For reasons that I won't go into (damn you, adulting!) this has been one loonnnggg week. As I am writing this I am well past exhausted. So please pardon any ramblings to follow hereafter.
I can not put into words how much I enjoyed this story. It was everything I was hoping for and more. Peter was exactly how I remember him being, and yet Austin Chant did an awesome job of bringing a whole new twist to his story and his personality. I will admit, though, that it took much longer than it should have to stop imaging him as a young Robin Williams (damn you, childhood!).
I loved the way the transgender angle was handled in this story. It was so wonderfully layered into the story. And even though I am not a huge fan of flashbacks I really do think the way it was done here really added to the story and exactly the right moments.
And the romance….yes, please. Who knew what I really needed in my life about now was some James Hook/Peter Pan slashfic? But there you go, I'm totally down with it. And the relationship, from enemies to lovers was great. The change was gradual and filled with a lot of animosity (and sword fights!) but I totally bought it at every step.
I can't say enough good things about this book. It was a pleasure to read and I am entirely impressed with how Austin Chant has nailed pretty much every one of his books I have read so far. Totally recommended.
RATING:  
BUY LINKS: