It's that time of year again people. The time where we, the voracious and obsessive readers of LGBT romance, look back and reflect on what an amazing year of books it's been. If you're anything like us then you're already compiling your 2017 "To Read" list, but first, let's share some of our favourite books from the year just gone.
Over the two weeks we'll be posting our top reads of the year. Please feel free to tell us your own favourites, or simply comment on our choices.
There is a wonderful giveaway attached to these Best Of posts!
One winner will win a $25 DSP credit.
One winner will win a $10 Amazon giftcard
One winner wins a month of free advertising on Love Bytes (this prize is allowed to be gifted)
DANIELLE
Endings and Beginnings (Collars & cuffs #8) by Kc Wells & Parker Williams
This book is the perfect end to one hell of a fabulous series. Miss Wells and Mister Williams took all the readers of this series all the way to heaven and hell and summed it all more then brilliantly up in this final book. This is a series worth reading from book 1 to book 8.
First Down ( The Guardian Series #2) by Max Walker
When I got introduced to this new author hearing good words about this book 2 in a series my curiosity was spiked. So I started with book 1 which was a good read but this second book! That was awesome it trew the ball out of the stadion 😉 I absolutely love a good sport story and this hit that spot very well. The series is up to 4 books now with all different characters and professions , well worth to read the complete series.
Home is where You Are (The Alpha's Homestead #1) by Alex Jane
Up till this day I still don't know what made me pick up this book by new author Alex Jane. I am not a historical reader it is the one thing that I just dont get , I just don't have the feeling or affection with it ( despite knowing some more than awesome writers in this genre!) but I didn't know it was set in this time period when I started reading. This book is perhaps the book that most blew me away in 2016. I went straight to my best of reads before it was even close to the end of the year. I practically begged the author to write more in this verse and  I was lucky to have this book now signed here at home. Read it!
Fast Connection (Cyberlove #2) by Megan Erickson & Santino Hassell
Ooh boy the cyberlove series, what can I saw about that!! I could also have gone for book 1 but I choose book 2 but it doesn't really matter , they are both f-a-b-u-l-o-u-s. This is might be the best collaboration of 2016 Miss Erickson and Mister Hassell have really found each other in this series. They seem to be so insink to each other proving that with this series. Part 3 is coming in Feb and it is already marked on my calender since I found out. A must read this series and I am hoping for many more books in this series.
Garrett Leigh at their best! I fell hard and completely in love with both Zac and Liam. I could say more but I think when you pick up this book and you notice that you are hours further because you couldn't put it away , you will find out for yourself what I mean.
David Renewed by Diana Copland
This is one of those books I picked out just to have a nice read and the blurb spoke to me. It totally surprised me, I so enjoyed this book especially the promise it has in it! I am so curious for the books of the other man we were introduced too, I hope they will get their own books and that it will be a series with all man being around.
The Queen and the Home Jock King (At First Sight #2) by T.J Klune
This book made me laugh out loud which is rare tbh. When I read it in february I knew I would remember this read. I looked back on what I said and funny I already called it one of the best reads of this year by far. It seems I had a vision 😉 Tell Me It's Real ( book 1 in the series) was already a great read and Sandy's story is more than wonderful in this second book in the series.
The Weight of It All by N.R. Walker
N.R walkeris an author who you know will deliver in what she writes so many different books, so many different angles but still all so worth the read. With this one I was careful being overweight myself I was curious how it would be apporached but the author surprised me with an  realistic and courtious approach and when i  started reading their was no way I was stopping till i was finished . Definitely one of the best reads of the year.
Winter Heart (Seasons of Love #4) by B.G. Thomas
The feels in this book…. being the ending to a briljant series and finally reading Wyatt his book left me in awe. Especially the friendship between the Four and their lovers who joined them for their porch parties, the fabulous four plus. this whole series is author B.G. Thomas at his best , where I enjoy all of his books he really put himself to bigger heights with this one and with this final part of the Season of Love series. If you haven't read this yet , please do you won't regret meeting the Four.
The Crossroads series by Riley Hart
Crossroads was one of my favorite books of last year so iIwas seriously anxious for book 2 "Shifting Gears". Wondering if it would be just as goodwell it was , what a great read and not just this second one but also "Test Drive", book 3 and "Jumpstart", book 3.5. This complete series is a must read for anyone who loves a good contemporary , sexy and good written series with great characters.  And the covers………….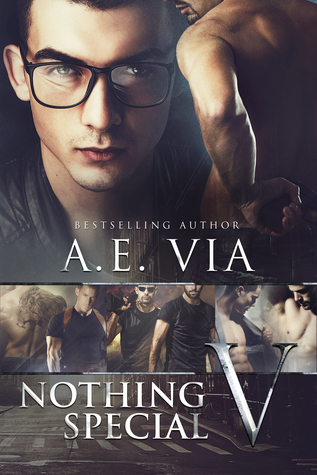 This book I could not , not mention in  my favorite list , This series is one of my favorites ( Yes I am a series lover 🙂 ). This new part is more then a surprise I didn't expect anything more after part 4 and with this one Miss Via touched all the right buttons because not only did we get a brand new love story but we also got God and Day and how could that not be more then perfect. So much love for this . ( I have to say the Bounty Hunters series is also more then recommended as I am waiting anxiously for a new release in that one too ! as well was her standalone release The Secrets in my Scowl.)
I read this series by accident at the end of 2016 and ooh what a treasure I went throughthe three books one after another and although Jamie's stories great , Blue's is more then awesome. But Jude ooh Jude he rocked me deep in my soul so therefor the cover of  book 3 Jumping Jude. I cannot wait for the next book and the next Marian brother to find his HEA.
Special Mention
It Was Always You Charity Anthology
This is I believe the best anthology I have read in a long long time. The authors of the m/m grind fb page stuck together to come up with this brillant peace of work for a good cause. I heard some of the stories in this will get their own releases or be expanded or will getting a follow up. I cannot wait!
A few authors have realease their story seperately so you can pick those up
I reviewed the complete anthology here