It's that time of year again people. The time where we, the voracious and obsessive readers of LGBT romance, look back and reflect on what an amazing year of books it's been. If you're anything like us then you're already compiling your 2017 "To Read" list, but first, let's share some of our favourite books from the year just gone.
Over the two weeks we'll be posting our top reads of the year. Please feel free to tell us your own favourites, or simply comment on our choices.
There is a wonderful giveaway attached to these Best Of posts!
One winner will win a $25 DSP credit.
One winner will win a $10 Amazon giftcard
One winner wins a month of free advertising on Love Bytes (this prize is allowed to be gifted)
KAT
This was an extremely daunting and difficult task. I have read so many books this year, both for the blog and for pleasure, over a couple hundred at least. Narrowing them down to the "Best of 2016" was difficult. Keeping at ten was impossible! So here is my list (in no particular order, they were all so fabulous) and yes, I broke the rules and went over…no surprise there! In the case of books in a series, I had a really tough time choosing which book in these series to single out since they were so fantastic and provided so many hours of enjoyment, but I tried to choose the one that made the most impact on me.
Protecting Braden (Custos Securities #2) by Luna David
I have read a lot of new authors doing these reviews but this brand new author blew me away. Her ability to write is amazing. You would never know she wasn't a very seasoned pro. This series grabbed hold of me and wouldn't let go. The last two chapters of this second book had me in tears! Good tears but big ugly ones! I love Braden and Cade and can't wait for more in this rich and intriguing series.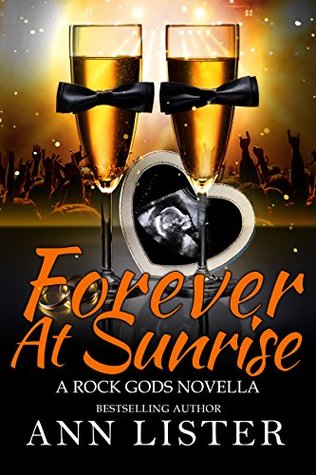 Forever at Sunset (The Rock Gods #8) by Ann Lister
When I was given the opportunity to take over reviewing The Rock Gods series I was literally jumping for joy. I had been following the series on KU. I am a huge Rock fan (I cut my teeth by attending my first concert at 8…The Beatles!) When I heard that Ann was being "pestered" by the boys to write more of their stories I was over joyed! Then I discovered that it was Rooster and Wheland, two of my favorites, and them finally cementing their HEA. Top that off with reading it while I was lazing on the beach in Hawaii and it was truly a perfect moment.
Farm Fresh (Naked Organics #1) by Posy Roberts
It really loved this book. It started the series, a series based in my hometown, Portland, Oregon. It even features the Farmer's Market that my DIL works at and we shop at. I keep looking for Hudson there but, alas, he is only there on paper. But that doesn't make him any less real. There are "Kaleidoscope" farms all around our area. They are sustainable and organic. They might not be as sexually free as KF but they produce the most amazing products. The author, Posy Roberts, really did her research. This book was a enjoyment to read and see many different types of people live in an environment that is both nurturing and freeing.
The Weight of it All by N. R. Walker
I admit it, I struggle with my weight, even more so since my mobility has been a challenge. I truly got this book! I am a HUGE fan of Henry's. whether he wanted to or not, he took the bull by the horns and went after what he needed. And he inspired me. I may not have a trainer like Reed, who was so amazing, but my friends saw my spark from this book and are encouraging me the way Reed did with Henry. I probably won't be running like them but am working my way up to walking almost a mile in one day, which for me is miraculous! Thank you Henry, Reed and N. R. Walker for your inspiration!
Mele Kalikimaka by B. G. Thomas and Noah Willoughby
The spirit of Aloha! This book truly embraced our island culture and traditions. I was in awe of how closely they picked up on the true ways of our island. When they wrote about the "Aunties at Savers" and the homeless Uncles, I knew that this book was a true winner. If you want a chance to know my home, Oahu, this is a great example of our life there. And yes, the apartments are that tiny! But so worth the cramped space!
Time: Wounds All Heal (The Teddy Bear Collection #4) by Princess S. O.
This book really made me rethink a lot of things before our recent election. Before I retired I had been elected to a national union Board of Directors and spent quite a bit of time in Washington D. C. meeting with our elected legislators. I could see many parallels in things within this book and real life. Then I got to all the footnotes and realized that the author had spent a huge amount of time in research for this book. Many of the incidents that happened in this book are true and that was the part that gripped me the most. I will warn you, there are some pretty graphic and ugly things that occur but life is that way. This book makes you look hard and question. That is the sign of an excellent book.
Reunion (Reunion #1) by J. J. Harper
This was another hard one to choose which one to pick from the series. I loved them all but this is the one that started it all for me. I love second-chance love and this is one of the best! Nico and Ryan had it so hard and I was overjoyed that they finally were back together. You never know what will happen at a class reunion!
Illuminate the Shadows ( Shatterproof Bonds #2) by Isobel Starling
If you want red hot, searing sex by two fabulous men who live in constant danger then this book is for you also. Declan and Sam are so scorching and I love them. The thick Scottish brogue may be a bit difficult to decipher but it is well worth the challenge. Secret Spies and a ruthless villain, this book and series has it all!!!
Shifting Gears (Crossroads #2) by Riley Hart
This is the series that launched my career as a reviewer and it is still one of my "go-to" series! It was very hard to pick which one to choose but Rod and Landon endeared themselves to me so much. Their story is filled with so much love. Love that both men need desperately! Rod's humor to protect himself is particularly endearing and fun.
First Down (The Guardian #2) by Max Walker
When I saw this book I grabbed it because it's football and I love football! I fell in love with this book and Sean and Connor. Closeted star quarterback and his body guard! I loved all the series but this is the one I loved the most. Without giving it away, the scenes in Hawaii (yes another Hawaii part but it's Hawaii!) and the ending just made it for me! It was really hard to choose between this book and Fire Flow but in the end, without this book there never could have been the other.
Slip and Slide (Death and Destruction #3) by Patricia Logan
I love Patrica Logan and her writing. It has so much going on that, at times, even I have a hard time keeping up. She has me riveted to her books and I can't set them down. This is especially true with her newest series, Death and Destruction. I don't know if there is any more ways to put Thayne and Jarrett in more danger but I am pretty darn sure that she will find a way. Those two guys have used up most of their nine lives in a darn short time! But it was pretty easy to pick my favorite this time. Slip and Slide brings Jarrett back home to the coal mines of West Virginia. His back story of estrangement from his family had me always curious and now a lot more of Jarrett makes sense. I really loved this book and the men getting to interact with his family.
Right One 4 Diesel (Dominion of Brothers #6) by Talon P. S. and Princess S. O.
I saved this one for last because it was my long-awaited book of the year. I am a HUGE fan of this series. These books are the reason I traveled all the way to Tampa the summer of 2015 to Rainbow Con. I had to meet the author of the series that cemented my love of both BDSM and gay romance. While at Rainbow Con, most of you know that I was "discovered" by fellow reviewer Dan. He and Princess each tried to convince that I needed a new career (I had only been retired for 6 weeks!) and that I could be a blog reviewer. After much "persuasion" by them I decided to give it a try. A year and a half later, and with going on almost two hundred reviews, I guess it is safe to say that they might have been right. RO4D is one of my most favorite ones in the series so far. It has my four most favorite characters, Trenton, Katianna, Diesel and Paris. And they do not disappoint you in all their interactions. This book is filled with love, blistering sex, intrigue, danger and suspense. It also leave you with one heck of a cliff hanger that I personally can't wait to be solved. Fabulous series by two gifted authors. I can't tell you how many times I have reread this series in my waiting for the next book!
Well that's it. I know I might have gone over on my allotment (a bakers dozen to be exact) and I had to eliminate so many from my original list (it may have been over 30 😳) but I love reading and this was very hard. Have a wonderful 2017 and good reading.