We will review the Dreamspinner Press advent calendar one review a day. At the end of the month THREE winners will be picked to receive some great prizes!
First prize is 10 books from your Dreamspinner wishlist .
Second prize is 5 books from your Dreamspinner wishlist.
Third prize is 3 books from your Dreamspinner wishlist.
December 29
Reviewed by Marieke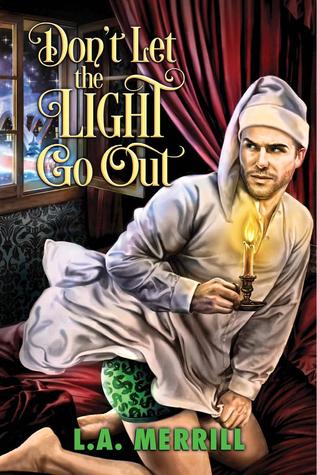 TITLE: Don't Let The Light Go Out
SERIES: Bah Humbug, 2016 Advent Calendar
AUTHOR: L.A. Merrill
PUBLISHER: Dreamspinner Press
LENGTH: 34 pages
RELEASE DATE: December 1, 2016
BLURB:
Ray Fine would like to forget Hanukkah even exists. The holiday holds too many sad memories for the young widower. When he's paired with new convert Josiah Wilson in a year-long welcoming program at his synagogue, he doesn't know how he'll get through eight days of celebration, let alone twelve months of guidance.
Josiah has enough on his plate—school, conversion, the holiday concert season—without becoming someone's shoulder to cry on. But when he discovers there's more to his new synagogue buddy's sadness than a case of the "Hanukkah Blues," he sets out to show Ray how much there is to live for.
The first blizzard of the season has other plans, though, and Hanukkah might be a lost cause if Ray and Josiah can't plow through the snow—and their differences. Determined not to lose Ray to his own darkness, Josiah plans to teach him a lesson about the real Miracle of Light—and love
REVIEW:
Ray Fine has been surviving instead of living his life ever since his partner passed away years ago. His Rabbi has 'forced' him to attend synagogue every week and came to visit him, unannounced, regularly so she could keep an eye on him. Ray knows she means well, but he rather just live in his bubble where nothing really touches him. That way he can't feel the pain as much.
But then his Rabi pairs him up with Josiah, a young man who has just converted to Judaism and needs guidance. Ray agrees but figures he can get away with sitting next to Josiah and chatting a bit with him when they attend synagogue. (Un)fortunately Josiah has other ideas. He's a bit pushier and direct than Ray is used to, which freaks him out at first. But after an incident where Ray rushes off without telling Josiah why, they start to hang out together. Hanging out leads to being friends, which leads to…more.
Most of the time I love Jewish stories. The religion is old and rich with tradition, but usually without a lot of the gay phobia you read in other stories about religions. I was eager to try this holiday story, especially with the idea of how Josiah would ease Ray's past hurt. But the further I got into the story, the less I liked it. The development of romance in extremely thin and when they finally do 'come together' is only just barely. It feels more like a friendship than anything more, which would've been fine if this wasn't supposed to be a holiday romance.
There are a few fun moments in there, where Josiah is very forward and surprises Ray with his actions, or when they use the old school bus. But otherwise this short story was more sad with a developing friendship than warm and romantic. Not what I was expecting and certainly not what I was hoping. Sorry Miss Merrill, but you could've made the development of feelings a bit more obvious, and build in a little more mutual attraction. I don't need sex, but attraction should be there and I have to feel it. That way it is way more clear that this is about two people falling in love and not falling in like. A bit disappointing, but not terrible.
RATING:
BUY LINKS: