Reviewed by Chris
TITLE:  Glass Tidings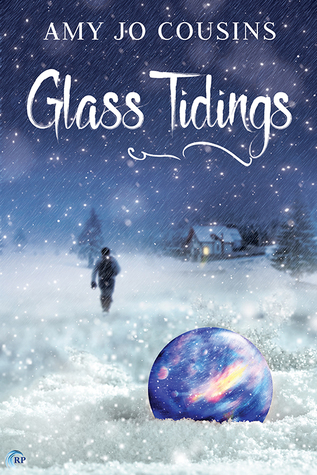 AUTHOR:  Amy Jo Cousins
PUBLISHER:  Riptide Publishing
LENGTH:  226 pages
RELEASE DATE:  December 5, 2016
BLURB:  
Eddie Rodrigues doesn't stay in one place long enough to get attached. The only time he broke that rule, things went south fast. Now he's on the road again, with barely enough cash in his pocket to hop a bus south after his (sort-of-stolen) car breaks down in the middle of nowhere, Midwest, USA.
He's fine. He'll manage. Until he watches that girl get hit by a car and left to die.
Local shop owner Grayson Croft isn't in the habit of doing people any favors. But even a recluse can't avoid everyone in a town as small as Clear Lake. And when the cop who played Juliet to your Romeo in the high school play asks you to put up her key witness for the night, you say yes.
Now Gray's got a grouchy glass artist stomping around his big, empty house, and it turns out that he . . . maybe . . . kind of . . . likes the company.
But Eddie Rodrigues never sticks around.
Unless a Christmas shop owner who hates the season can show an orphan what it means to have family for the holidays
REVIEW:  
When what was supposed to have been a special holiday treat away from the constant travel that comes with working the Ren Faire circuit turns out to be nothing more than smoke and mirrors (emphasis on the smoke) Eddie Rodrigues leaves his druggy ex and heads back towards Texas where a friend has agreed to put him up for the winter. Texas may not be where he had hoped to spend the holidays, but then again, where he had hoped to spend them was pretty damn disappointing, so it isn't that big of a loss. Then "his" car breaks down, he witnesses a hit-and-run, and gets stuck rooming with a grouchy recluse by order of the local constabulary who needs Eddie to stick around town till they can figure out who hit the young girl.
Grayson Croft is a bit of a conundrum for Eddie. Gray runs a seasonal holiday shop, yet doesn't have a single Christmas decoration on his house. He is clearly lonely, but does everything he can to push people away. He is also one of the most decent men Eddie has ever met…and boy does Eddie not get that at all. After all Eddie can get being nice in exchange for something, but deep down unselfish generosity–especially towards Eddie–is not something he knows how to handle. Not that it matters if he understands it or not, since he plans to leave town at his earliest opportunity. No matter how homey Gray's house is starting to seem.
From nearly the first page this book had me. Eddie is such a great character, perfectly balanced between self-doubt, self-awareness, strength, and hidden faults. You never really feel sorry for him, but you almost instantly sympathize with him. It doesn't hurt that I loved his glass-making parts of the story. You can really tell that it is a huge part of his life, just from a few scenes. Plus I just find the whole topic interesting, so that didn't hurt.
This was a pretty simple story, but had real heart. And some really great MCs. The secondary characters were not bad either–though they don't really get a lot of page time. The sections where Gray and Eddie are in Gray's shop are a lot of fun. Seeing how Eddie interacts with the customers showed us a lot about Eddie, while also making me kinda wanna go out and blow some of my cash on a few Christmas ornaments. Eddie and Gray just worked together so well both at home at in the shop. Eddie with all his doubts gave Grayson someone to take care of, and Eddie was able to bring some life back into Gray's life. As we learn more about their pasts is easy to see how well they can fit together for all that they had such varied backgrounds.
Mostly I just found this book to be a pleasure to escape into. It was sweet and fun, but also very real. A wonderful addition to the holiday season. Not that I think it wouldn't also be fun to read year 'round.
RATING:  
BUY LINKS: