Reviewed by Tammy
TITLE: Nothing Special V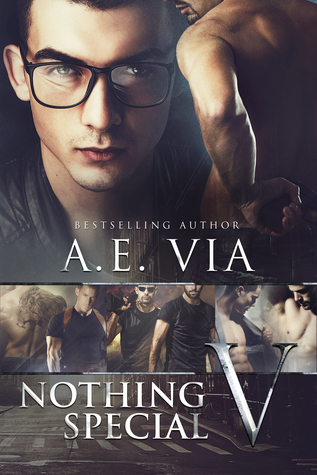 SERIES: Nothing Special, #5
AUTHOR: A.E. Via
PUBLISHER: Via Star Wings Publishing
LENGTH: 360 Pages           
RELEASE DATE: December 12, 2016
BLURB:
The boys are back and fiercer than ever! "We were a unit tonight, moving as one. Even apart, we are deadly, but when combined – we are f**kin' unstoppable." ~~ God ~~
Atlanta's notorious narcotics task force is at it again. They are stronger, bigger, and better than ever. Especially when a city councilman sends RECON Marine, Edwin Steele – who's been blacklisted from his Oakland department – to join the team. God and Day weren't recruiting. They have a lot on their plates, like the fact they're supposed to be getting married soon. They don't have the time or the patience to integrate a decorated war hero with a slight chip on his shoulder into their well-oiled machine.
A hothead that's uncontrollable and terrible with authority… but wasn't that their team motto?
Steele was ready to hang up his shield. He was done fighting with bigoted bastards that couldn't respect the job. He was good at fighting; he just needed the right team to fight with. When his uncle – City Councilman, Rasmus Steele – shows him a video of God's team in action, he knows right away, it's where his nephew belongs in order to restore his faith.
Steele pointed to the driver, a behemoth of a man wielding those massive firearms like a true beast… like a soldier. "And him. Who the hell is he?" "That's your new boss. Lieutenant Cashel Godfrey… they call him… God."
Steele was skeptical about his new placement, but when he meets God's technology specialist/computer genius, "Tech," he's willing to give it his all, and he definitely shows and proves. Tech is stunning. His sweater vest and khakis, a stark contrast to the blue-jeaned roughnecks he works with. A beautiful sheep amongst the wolves. Steel thinks there's no way the brilliant man would be interested in a hardhead like him, but Tech has a few badass hidden talents of his own and manages to fool him… fool all of them.
This story is a part of a series but can stand alone. It does not end on a cliff-hanger and has a HEA. There are no multiple pairings in this novel.
REVIEW:
OMG! Nothing Special V is the deepest, most emotionally intense book in the Nothing Special series!
There's so much happening in this book, there are two separate but intertwined storylines in this book. We start out with Day proposing to God, of course God accepted. Then you have Edwin Steele, former RECON Marine, blacklisted police officer formerly of Oakland, who's City Councilman Uncle, decides Steele is a perfect fit for God and Day's narcotics taskforce.
Months later, Day is trying to organize their wedding except God refuses to talk about wedding plans so that leaves Day in limbo. It's very confusing for everyone on the team as their normally in sync, totally in love captains are barely talking to each other, not to mention the constant tension between them, except for their sergeant Syn, who both Day and God have confided in though separately of course. Syn is trying to get either Day or God to explain to other exactly what the issue is, it's not easy when they won't listen!
From the moment, Steele walks into the bullpen to meet his new team he is immediately drawn to Detective Shawn Murphy, otherwise known as "Tech", for reasons Steele isn't sure of Tech's "geek look" does it for him! Unfortunately; their first meeting doesn't go exactly to plan. Tech tries to show off his information gathering skills but it backfires and Steele has a major meltdown when Tech starts reading about Steele's life as a top-secret Force Recon Marine and his black ops missions that are highly classified.
Whilst Tech and Steele are getting to know each other they have to date, start and maintain a relationship in front of their team. The confidence Tech gains from Steel and their relationship allows him to finally ask Syn if he would be able to transition from God and Day's technology specialist/computer genius to field agent. Unbeknownst to his team Tech has been training for the last three years for the opportunity to be in the field.
I'm going to finish my review there because I know I'll reveal too much and that I will not do! I strongly urge everyone who has read the "Nothing Special" series so far as well as anyone who wishes to fall in love with God and Day's narcotics taskforce team members.
Besides that, you have to find out if God and Day get married!
RATING: 
BUY LINKS: