Reviewed by Jen B.

TITLE: Enrapture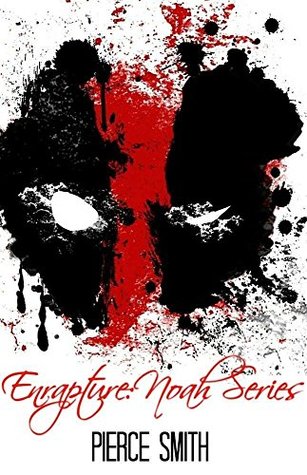 SERIES: Noah Series #1

AUTHOR: Pierce Smith

PUBLISHER: Self-Published

LENGTH: 73 pages 
RELEASE DATE: May 15, 2016 
BLURB: 
On their first Halloween eve together, things didn't quite go as planned for two very passionate and horny men. Noah waits anxiously and impatiently for Ethan to get home from work to start their night of sexy fun. Noah discovers a man is watching him through the window across the street. When Ethan phones to let him know he's caught in traffic, the fun starts with phone sex. Shortly after, a masked Ethan arrives for the Halloween night of fun. But a knock at the door later has left Noah wondering who he just made love to.
They find themselves dealing with more than they bargained for in this debut book of an erotic M/M series. It's a one-night tale with twists and turns, and lust wrapped in suspicion. A hot read that will have you begging for more!
 
REVIEW:
From the blurb, this sounds like a slightly kinky, sexy, but possibly spooky, Halloween story. That seems to be the basic gist of it, and you get the idea from the blurb. However, this starts with Noah home alone, but talking to himself, his reflection, his dick, etc. to the point that I had to frequently check back to see that he was still, indeed, alone. Noah is then watching a man across the street and proceeds to include him in his conversations, going so far as to give the man a show. In the middle of all of this, Ethan calls during his drive home and the sexy talk ensues, still somewhat including the mystery man across the street.
It is understandable to be confused by a story until things play out and details are revealed. Unfortunately, for me, that never really happened and, in fact, only worsened as the story went. I have a feeling this was done with a bit of a purpose, perhaps to keep the reader on his or her toes, but there were too many things that didn't add up, but then seemed to, but then didn't again, leaving me confused and frustrated.
This was a super fast read that felt like one long porn scene, the kind that have a little story to them. We get snippets of Noah and Ethan's relationship – it is their one-year anniversary, they love each other, etc. But, most of the story is about the sex. I was turning pages quickly because I really wanted to know what was what, beyond the sex. At the end, I thought I had things figured out again, but then they took a different turn. Is this contemporary, paranormal, or something else? I'm not sure. Maybe the next installment will clear some things up.
It is very possible this style just didn't click with me. So, if you're looking for a mysterious, dirty talking afternoon quickie, give this a try, you might just catch on quicker than I. 🙂
BUY LINK: