REVIEWED BY CINDY
TITLE: Timing 
SERIES: Timing (Book 1)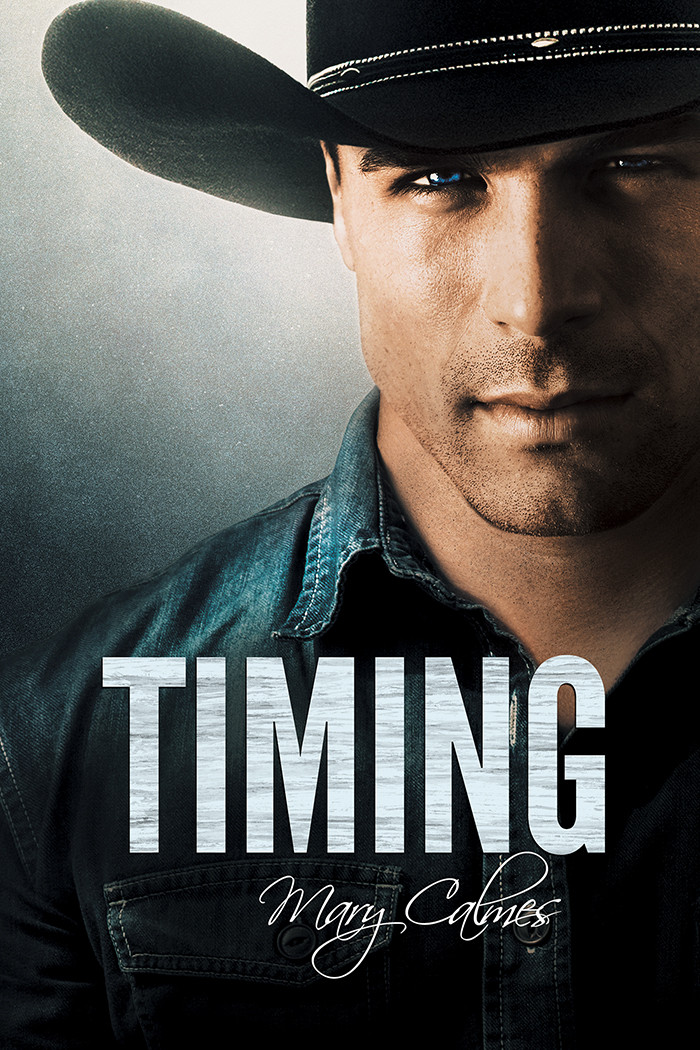 AUTHOR: Mary Calmes
PUBLISHER: Dreamspinner Press
LENGTH: 232 Pages
RELEASE DATE: October 19, 2016
Blurb:
Stefan Joss just can't win. Not only does he have to go to Texas in the middle of summer to be the man of honor in his best friend Charlotte's wedding, but he's expected to negotiate a million-dollar business deal at the same time. Worst of all, he's thrown for a loop when he arrives to see the one man Charlotte promised wouldn't be there: her brother, Rand Holloway.
Stefan and Rand have been mortal enemies since the day they met, so Stefan is shocked when a temporary cease-fire sees the usual hostility replaced by instant chemistry. Though leery of the unexpected feelings, Stefan is swayed by a sincere revelation from Rand, and he decides to give Rand a chance.
But their budding romance is threatened when Stefan's business deal goes wrong: the owner of the last ranch he needs to secure for the company is murdered. Stefan's in for the surprise of his life as he finds himself in danger as well.
Review:
I'm gonna come clean here and say that I read this story years ago when it was released the first time. This series stands as one of my very favorites and I jumped at the chance to offer my opinion on the re-release.
The character of Stefan Joss is one of those that stays with you for a long time. He's sweet and sexy and strong and I love the fact that there's nothing 'damsel in distress" about him. He doesn't need to be rescued, but he wants to be loved. His strength is something I admire about him a lot. He's got something to offer of himself to everyone, even his best friend's brother Rand. He just hasn't figure out what yet. Stefen thinks they hate each other but it's clear right from the beginning that they are both obsessed with each other.
Rand Holloway is a man who goes after what he wants with no holds barred. It's served him well in his ranch business but Stefan Joss stymies him at all turns. I love that he lets himself be vulnerable with Stef when he finally decides to let go. And once he's in? He's in with all his heart.
I love both of these men right from the beginning. They are both very different in looks and personality except for the fact that when the love, they love with their whole heart. Stefan's snark is his defense against his growing attraction to Rand, but once Rand admits that hate is the exact opposite of what he's feeling for Stefan, there's no turning back.
The side characters in the story are just as wonderful. They mostly consist of Rand's family, his mother, his uncle and various other relatives, but it's his sister Charlotte that steals the show. The interactions between her and Stefan are just as captivating as the ones between Stefan and Rand and it made me wish for a friendship like that.
Everything about this story just worked for me. The dialogue is smart and very well written and the banter between Stef and Rand is sometimes hilarious, sometimes hot as hell and when they finally get their heads out of their asses, they made me smile through the rest of the book.
So, strong characters, an interesting premise, just enough angst to make the sweet stuff all the better and it all adds up to a story that you can't put down once you start reading. I can't recommend it enough.
Rating: 
Buy Links: