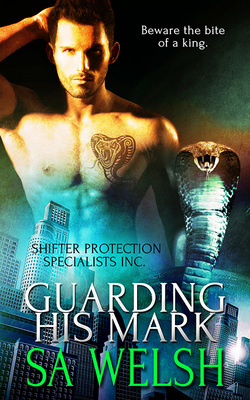 TITLE: Guarding his Mark
SERIES: Shifter Protection Specialists Inc. #3
AUTHOR: SA Welsh
PUBLISHER: Pride Publishing
LENGTH: 236 Pages
RELEASE DATE: October 11, 2016
BLURB:
Beware the bite of a king.
Khan is a king cobra shifter with a serious mistrust of anyone outside his brothers at SPSI—and he has good reason for it. As a teenager, he was subjected to the whims and experiments of a mad scientist. Since becoming part of a real family, he's thrived in his job as a close protection specialist.
One night, he meets a pretty human who interests him on a level he hasn't experienced before, but old fears and revelations force him to put distance between them. Unable to stay away, however, Khan creates the persona of a courier to deliver the venom Casey needs and find out exactly what the human will do.
Dr. Casey Jameson is working toward a deadline. He needs snake-shifter venom to continue his research and create a cure to save someone he loves. When he goes in search of a donor, he meets Khan, but he's confronted with the irresistible roughness of Khan and ends up taking the shifter home. However, when Khan finds out who and what he is, Khan leaves him high and dry.
The appearance of Roan, a courier, in his life is perfect timing, but Casey may get more than he bargains for and will soon have to think carefully about who he can trust if he wants to live long enough to complete his work.
When an old lover and boss becomes a real threat to Casey's safety, Khan must come clean and keep Casey safe before they both lose something precious.
KIM'S REVIEW 
This is the third book in this series which tells Khan's story. Khan is the king cobra shifter of the SPSI family. Khan is the more closed off emotionally of the group. You can tell he's had a traumatic childhood that was full of betrayal and experiments at the hands of a psychotic scientist. Trust doesn't come easily to Khan, his adoptive brothers at SPSI are the only ones who has his complete trust.
Khan meets Casey at a bar in what he thinks was just a chance meeting only to find out that not only was it not a chance meeting but that Casey's a scientist. Once that particular cat is let out of the bag, all bets are off as far as Khan's concerned. He's convinced that Casey is no better than the other human scientists that are up to no good. Khan walks away from Casey without a backward glance.
This story was a little odd for me because I am terrified of snakes. Reading about the slithering, scaly thing that is Khan squeaked me out a bit but the author did a nice job of writing Khan's shifts.
I liked Casey's character. He was smart, sweet compassionate but had terrible taste in men prior to meeting Khan. The storyline was driven by Khan having to protect Casey from Casey's his psychotic ex-lover and former boss.
I liked this story though not as much as the others in the series. This was only because Khan was a snake shifter. There was a fair amount of action, some of it a tiny bit over the top but it wasn't bad at all. There were a significant editing mishap that threw me completely out the story at that moment, so much so that I had to read it twice to ensure that I didn't miss anything. I didn't so yeah, that was a significant editing mishap. It was still an enjoyable read despite this hiccup in the story with a bittersweet ending that I thought made up for the editing mishap. Editing aside, the book wasn't bad at all.
The series is definitely a good read and worth getting into.
RATING: 
DONNA'S REVIEW
I read a lot of shifter stories, but for the most part I don't review them because I find many are too similar to really say much about. What drew me to review this one was the fact that Khan is a king cobra shifter. I'm sure there are other snake shifter books out there, but while I've experienced shifter sharks and even freakin spiders, I've yet to read one about a snake.
In book two of this series there was a very brief reference to Khan helping a doctor, but other than that the story of these two men starts here, and you really won't be missing anything if you choose to begin the series by reading this book first.
In some ways this was a very typical and predictable shifter story, despite the addition of Khan's snake, but that's not to say that I didn't enjoy the book. Just because you can guess what's going to happen doesn't mean you don't enjoy the story. The fact that Khan was a cobra was a big part of the story. It wasn't simply a catchy animal choice that was then ignored. While Khan as a man was a stereotypical alpha-shifter character, Khan as a snake was interesting to read about. I loved the character of Dr. Casey, a medical researcher who isn't in it for the money, he just wants to save lives and make the world a better place. And why not? To be honest, I think that that was one of the elements that stood out about this story. If you're going to write about a medical researcher, why not bloody well cure cancer in sick children? It's fiction anyway, so why not do something miraculous. And when a character does die (no spoilers but I can safely assure you that it's not a main character or a child), the way the author writes about the "body's resting place"…is that even a real thing? Cause it was brilliant so serious props to the author if she made it up, and if it's actually a thing, then I like that the author included it. It made the end of the book feel uplifting rather than weighted with sorrow over a death.
The battle scene at the end was very well written, kind of Harry Potter meets Die Hard, and I thought that the sex scenes, especially the first one, had plenty of heat.
Like I said, no real need to read these books in order. I read number one, then three, then two and they made perfect sense. I can't wait to see who number four will be about. There are so many options for the author to choose from.
RATING: 
BUY LINKS: