Reviewed by Tammy
TITLE: Slave For Two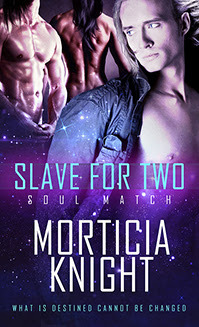 SERIES: Soul Match, #1
AUTHOR: Morticia Knight
PUBLISHER: Pride Publishing
LENGTH: 182 Pages           
RELEASE DATE: September 20, 2016
BLURB:
What is destined cannot be changed.
Chris has had a monumentally bad month. First, an aggressive band of aliens invaded the Earth, conquered the world, and now he's fighting for survival in the mountains with his family and the neighborhood bigot. Just because he's barely out of his teens and a bit on the scrawny side doesn't mean he can't watch out for his mom, sisters and younger cousin. Chris keeps searching for the brighter side of things, but his humor is wearing thin. Fear can do that to a guy.
Lasar and Nary are a soul matched pair of warriors from Alashar. Lasar is Nary's Ahna, the one who dominates him, and Nary is the Nasha, or submissive, to Lasar. Every Alasharian, regardless of orientation, needs the balance of the power exchange to exist peacefully within their lifelong soul match bond. When Lasar is awarded a war prize, he sends Nary to look over the recent arrivals.
Chris and his cousin Morgan are captured and sent to the slave cages where they discover from the other imprisoned young men that they are destined to be sex toys for alien pairs. When one of those aliens saves Chris and his cousin from being abused by the slave master, Chris hopes that the seemingly kind alien won't be too horrible an owner.
Lasar and Nary are finally alone together with their new sex slave, ready to enjoy their reward. However, in the middle of their playtime a shocking event occurs that not only disrupts Chris' world even more than it already has been, but also challenges everything that Lasar and Nary have always held dear. As Lasar searches for answers, he begins to question the reasons behind the Earth invasion and where his loyalties should really lie. As their Ahna, he must be the one who decides whether they will all be safer together, or apart.
Glossary of Terms   
Planet Name: Alashar.  What a sub is to them: Nasha. Means treasured and protected.   What a Dom is: Ahna. Means protector who leads his Nasha.                    High Commander: Rahna Commander: Arn   Warrior: Saran  The Soul Healer: Sha Sha Ar    Slave: Orshana    Slave Merchant: Orshana Rah                        Love (as in soul match love): Shar   Love (non-soul match): Sharna    Cock: Haro    Supreme Commander (king): Nall   Consort (male or female): Sahn  Good: Shano   A large songbird native to Alashar: Sharlon  The Alasharians' most precious metal: Nor                                                                                                        A bison-like animal that their leather products are made from: Basha   A tree with deep red blooms: Rya
REVIEW:
Earth has been invaded by aliens from Alashar. The planet Alashar has been destroyed by a void, thus the reason for invading earth Once the invasion starts it doesn't take the aliens long to decimate the world as we know it.
One month after the first alien attack and Chris along with his mother, sisters, cousin and neighbors are hiding out in the mountains trying to survive any way they can. Chris ends up in a fight with homophobic bigoted neighbor and they agree to part ways. Chris and his cousin Morgan travel further up the mountain on a mission to get food and supplies for their family when they're captured by the aliens. When Chris wakes up he discovers they've been taken to the slave cages. They've been stripped naked and now they must have a shower, not that that's a bad thing!
Alasharians have always had a "Soul Match" they are either matched with a man or woman, it doesn't make any difference to them. These matches always consist of an Ahna – a Dom and a Nasha – a submissive, Lasar and Nary have been Soul Matched for many years, Lasar is an Ahna and Nary is a Nasha. When Nary is tasked by Lasar to go to the slave market and choose a sex-slave for them he discovers that the slave he wants (Chris) is being dragged off by the slave merchant. Nary gets him to release Chris and then Nary makes the decision to take Morgan as well. Nary is almost beside himself with fear because he has disobeyed his Ahna, his Dom and he knows that he's going to be punished when Lasar gets home.
Lasar gets a shock when he meets Chris and discovers that everything they had been told about humans is nothing like what he is experiencing with his Orshana – slave. Lasar is horrified when the moment he touches Chris he starts to feel the same as he feels for Nary, this is not supposed to happen. As they work through the differences between Alasharians and humans and Lasar talks with his Nall – King, his brother-in-law and discovers that they have all been lied to. Lasar then has to try to work out what is happening to both him and Nary and the fact that there has never been a triad Soul Match for Alasharians before.
As the first book in a new series Slave For Two is a very good start! If there was anything negative about this book it would be that the story ended far too soon. I'm now going to be haunting Morticia to find out when the next instalment is ready to be published! You really need to read this book!!
RATING: 
BUY LINKS: 
ARe