Reviewed by Sarina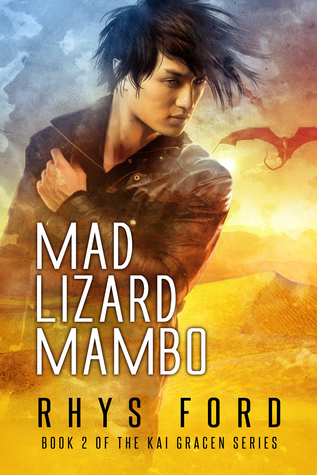 TITLE: Mad Lizard Mambo
SERIES: Kai Gracen #2
AUTHOR: Rhys Ford
PUBLISHER: DSP Publications
LENGTH: 220 pages
RELEASE DATE: September 13, 2016
BLURB:
Kai Gracen has no intention of being anyone's pawn. A pity Fate and SoCalGov have a different opinion on the matter.
Licensed Stalkers make their living hunting down monsters and dangerous criminals… and their lives are usually brief, brutal, and thankless. Despite being elfin and cursed with a nearly immortal lifespan, Kai didn't expect to be any different. Then Ryder, the High Lord of the Southern Rise Court, arrived in San Diego, Kai's not-so-mundane life went from mild mayhem to full-throttle chaos.
Now an official liaison between the growing Sidhe Court and the human populace, Kai is at Ryder's beck and call for anything a High Lord might need a Stalker to do. Unfortunately for Kai, this means chasing down a flimsy rumor about an ancient lost Court somewhere in the Nevada desert—a court with powerful magics that might save Ryder—and Kai's—people from becoming a bloody memory in their Merged world's violent history.
The race for the elfin people's salvation opens unwelcome windows into Kai's murky past, and it could also slam the door on any future he might have with his own kind and Ryder.
REVIEW:
Its been years since I was first introduced to the sheer badassery that is Kai Gracen and I just don't have the words to express how excited and thrilled I was to be able to finally continue his story.  I'd never really read much in the way of Urban Fantasy before but with one book, Black Dog Blues, Ms. Ford opened my eyes to just how amazing it could be.  In Mad Lizard Mambo, Kai's story continues and I was just as glued to the pages with this book as I was with the first.
Continuing not too long after the previous book ended, Kai is continuing his work as a Stalker, someone who makes their living off of hunting down, and for, various creatures.  After the events from a few months ago, all he really wants is to do his job, work on fixing his car and to avoid Ryder as much as possible.  Those plans go out the window when Ryder shows up with a job to hunt down an abandoned and forgotten Sidhe city in search of a way to help the elfin people's declining birth rates.
Let me just start by saying that this story was awesome and totally worth the wait!  I was sucked right back into this world and with these characters so quickly it felt as if there had been no time at all between when I read the first book and this sequel.  I love Kai!  He is most definitely one of my absolute favorite characters of all time and I'm not sure I'll ever really get enough of him.  The creativity that went into him and his backstory just can't be adequately put into words.  Seriously guys.  All of the characters are unique and interesting but Kai will always be my favorite.  😀 The world building is also practically a work of art; I've never found another series of books that has enthralled me quite this much.
From start to finish this book was completely amazing; I loved everything about it!  After the previous book I didn't think I could be surprised by anything more in regards to Kai and Ryder but I was totally wrong and I couldn't be happier about that.  I really just can't rave about this book enough, lol.  If you've read Rhys Ford before but haven't picked up the Kai Gracen books I have to ask, what are you waiting for? They're flat out amazing and if you like Ms. Ford or are a fan of Urban Fantasy, I urge you to go out and get this book right now!  This isn't a standalone book, however, so make sure you read Black Dog Blues first; I promise you, you won't regret that one either!
RATING:
BUY LINKS: