Reviewed by Susan
TITLE: Lord of a Thousand Steps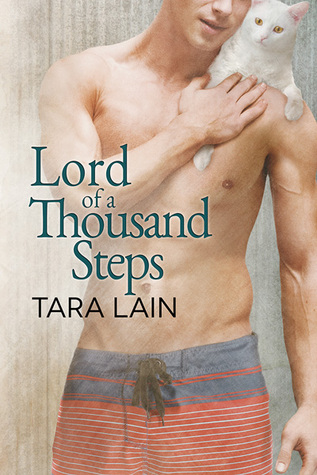 SERIES: Love in Laguna #4
AUTHOR: Tara Lain
PUBLISHER: Dreamspinner Press
LENGTH: 240 pages
RELEASE DATE: August 31, 2016
BLURB:
To architecture student Ian Carney, family means everything. Taken in by his brother, Jim, when his father threw him out at eighteen for being gay, Ian yearns to create his own family with his boyfriend, Rico. But Rico's in Mexico caring for a sick father, Ian hasn't had sex in a month and a half, and his gorgeous boss, Braden Lord, CEO of the architectural firm Ian interns for, is looking better and better.
Braden's life is chaos. Just out of the closet and going through an ugly divorce from his wife of fifteen years who's trying to take custody of his two children, he desperately resolves not to succumb to a completely inappropriate attraction to Ian—even though his kids adore both the man and his crazy cat.
When Rico proves to be a snake in the grass and Ian exercises his powers of seduction, what starts as a "friends with benefits" fling turns into real life real fast. Can Ian give up his romantic dreams for an "old guy" who didn't come out until he carried a mountain of baggage? It'll only take a thousand steps.
REVIEW:
Lord of a Thousand Steps is the fourth book in the Love in Laguna series and it continues the themes and feel good romance of the first three books. This story features Ian, who we first met in book two – Knave of Broken Hearts, and Brayden the owner of the architectural firm that Ian has his internship at.
When we last saw Ian, he was happy and in love with his boyfriend Rico. But their relationship takes a turn when Rico is called back to Mexico because his father is ill. Ian is one of those characters that everyone loves. He is just adorable. And his biggest wish in life is to settle down into the happily ever after that his brother Jim has found with his fiancé Ken. But fate, and Rico have other plans and Ian finds his heart broken…..or is it? Every time Ian is in the same room as Brayden the sparks fly and when Ian is befriended by Brayden's children, their lives become more and more intertwined.
Brayden's life is very complicated. He stayed in the closet too long and ended up married with children. He is torn by the mistakes he has made, but would not change having his children for anything in the world. He is currently in the middle of a messy divorce and is trying to balance building a new life as an out gay man with gaining custody of his children.
No. Nothing complicated here!
This story is a nice blend of humour and angst. It made me cry more than once. Ian and Bray match up together so well, despite their age and life experience differences. I liked how the comparison between an older man with no gay experience was contrasted with a younger man with quite a bit more experience.
The family theme was constant throughout the story as each man appreciated the family that they had and the family that they could become together. Add in the drama of the divorce and the intrigue of office politics and you have a very engaging story that keeps you glued to it until the end.
RATING: 
BUY LINKS: