Split Decision Duo Review
 by Kat & Dan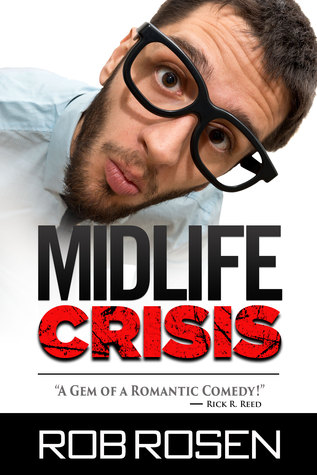 TITLE: Midlife Crisis 
AUTHOR: Rob Rosen 
PUBLISHER: Fierce Publishing 
LENGTH: 182 pages 
RELEASE DATE: August 20, 2016 
BLURB: 
Jack is thirty-five and single once again. He is not, as he as quick to point out, going through a midlife crisis. Still, it would be nice to have a partner. And so he sets out on an adventure to find the one-time love of his life, Bing, a man he hasn't set eyes on in more than fifteen years, a man who has seemingly vanished off the face of the planet. With the help of his family and friends—plus the family dog and, of all people, his high school bully—he goes searching for Bing, only to unearth an ages-old mystery that puts them all in grave danger. In this hysterically funny tale of romance and self-discovery, the question remains right on up to the surprise ending: can we return to our past in order to better our future?
---
KAT'S REVIEW:
I'm not sure if I have ever read a book like this before. Combining humor, missing persons and danger seemed like a unique/odd mix up, in my opinion.
Jack is a thirty-five-year-old college professor in San Francisco who is breaking up with his newest boyfriend of around six months. He wants what his best friend, Monroe and his husband have, a nice married life with the love of their life. Jack is looking through his picture album with Monroe trying to figure out why all his relationships have gone bad. He lights on the thought that he never really ended his first one with his high school true love, Bing. "Midlife Crisis" is the tale of Jack going home to his parent's house for the summer in search of his first true love…who seems to be missing.
First and foremost, I have to agree with Jack…thirty-five is definitely not middle age! It's when you are finally getting settled in to adult life but are still young enough to enjoy it. Jack is an odd one to describe. He seems self confident yet he goes off on this hair-brained tangent to find his first love. This book should reinforce that past memories should remain that…in the past. That you can't go back for a redo. As I mentioned, Jack is searching for Bing. Yes, that really that is his name and he has fiery red hair and freckles. While searching, Jack comes in contact with one of his Facebook friends Dave. Dave is the former captain of his high school football team / school bully, and he looks a lot like Bradley Cooper. Dave has come out of the closet; is now a hospital nurse in his hometown; is sincerely regretful for his past bullying; and has his eyes set on his former high school fantasy, Jack.
Although I did laugh a bit at the high jinxes in the book, this just seemed so highly implausible and out there. Some of the scenes towards the end of the book were just plain unbelievable. It did keep me wondering who did what and I didn't see some of it coming at all, which is pretty unusual for me. I really enjoyed Jack's mom. She was crazy but so supportive of her son. And Dave, I adored him. He was just so sweet and patient.
All in all, a pretty funny book for the most part, considering it's kind of a suspense/thriller but in a goofy, childish way. A completely different style of writing than most.
KAT'S RATING:
---
DAN'S REVIEW:
I enjoyed this humorous mystery, whodunit, search for first love, and whatever else was blended into the mix. Mr. Rosen brings us a tale of a man's midlife crisis. Although the man, Jack, is only thirty-five, so it obviously (at least to him) can't be a midlife crisis.  Can I start by saying that Jack irritated me at some points in this book. I really wanted to reach in and grab him and give him a good shake. I'll be interested if other reader's do as well!
Jack has just gotten out of his latest relationship. Six months with a man down the hall in his condo building. He is not sure how he thought that would last anyway, since it was so close to home. He is down in the dumps and decides to go look for the first boy he ever dated, had sex with and fell in love with. The only problem? He hasn't seen this guy since he was eighteen and they both left for college. Jack decides to go back to his small hometown of Ono, California to see if he can track him down.
But something is odd. No one in town wants to talk about his friend Bing's family. No one will make eye contact with Jack, his mom or his dad when they ask questions, so Jack turns to a Facebook friend for help. The Facebook friend is none other than his high school bully. Funny how that happens. Real life story, one of my childhood bullies sent me a Facebook request and I accepted him, so I personally understood Jack's acceptance of Dave as an online friend.
Turns out Dave might be looking for a little more though, since he has come out of the closet since high school. But Jack is totally focused on Bing (which is part of what irritated me about Jack.) Jack, his mother, his father and Dave are all drawn into the underlying murder mystery. What is up with Bing and his family? Where is Bing, and what happened to Bing's father? Will Jack find Bing? Will it be everything he imagined?
I have to disagree with my fellow reviewer on the story being too "out there". I enjoyed it.  I liked the blend of catty comments, humor, mystery and the underlying whodunit in this story. The whodunit mystery wasn't solved until the very end and it wasn't who I thought it would be. The only thing I figured out before I read it was the surprise final event, and only because I remembered something about the pictures. No spoilers on that though.
I recommend the book for anyone wanting a fairly fast read mystery/whodunit with some catty humor, and a guy waffling back and forth between two big muscle bound hotties.
DAN'S RATING 
---
BUY LINK: