Reviewed by Michele
TITLE:   Blue Moon III: Call of the Alpha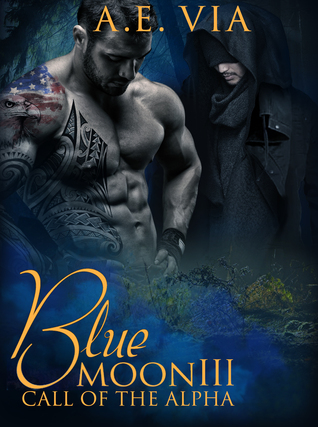 SERIES:  Blue Moon #3
AUTHOR:  A.E. Via
PUBLISHER:  Via Star Wings Publishing
LENGTH:  244 pages
RELEASE DATE:  July 30, 2016
BLURB:
It's been a couple years since Commander John Marion – the US Navy's most decorated SEAL – hung up his dog tags, choosing his cherished Alpha over war.
Call and Alpha have settled comfortably into their carefree lives nestled in the mountains of South Carolina. No more combat for the Commander and no more ordered killings for the deadliest assassin in the world.
However, nothing stays peaceful forever.
When Alpha's brother Omega comes to their secluded home with a distressing message from their Order, Alpha has to answer the call. But what neither of them expect is for the Order to send them a new assassin, one just as deadly as both of them, to seek their counsel and bring them back Persia.
Lion's commanding presence was not at all what any of them anticipated. Especially Omega. Lion realizes what Omega is to him right away, but the stubborn man fights his every advance. Lion knows he and Omega have to connect if they're going to be victorious. He was sent to bring back an army but if he can't get his cherished to yield to him, they are sure to fail.
Call refuses to let Alpha fight a gang of rebel assassins without him. Omega will fight by his brother's side, no matter what… and Hawk saw them coming for his help before anyone else. Together they'll fight the toughest opponents they've ever faced. As always… these badass warriors are up for the challenge.
REVIEW:
First let me begin by saying that if you have not read the previous books in this series, well I suggest you do. Our wonderful author does give you some background info on the characters so if this is your first exposure to them you are not completely lost. But you definitely need to read book 2 prior to this one in order to understand the relationships and the dynamic between these magnificent men. I have waited for a while for this book and all I can say is, it was worth the wait. She did it again.
This story starts with Call and Alpha a couple years after the last book and they have both retired and are living peacefully in their secluded home. Happily enjoying their life together. Then Omega and Lion show up with news of corruption in the Order. Well, there's no question that Alpha has to go back and set things right as the Order was where he and Omega grew up. As soon as that decision is made, Call made the immediate decision that he was going as well and he would need a couple of his men. Then, they were off to Hawk and Pierce's home to form a plan and wait for Viper the last of Call's Beastmaster's.
I liked how the relationships between the characters took center stage more so than fighting this corrupted group of rebellious assassins. While at the home of Hawk and Pierce, Lion determined that Omega was his cherished, his special person, but Omega was not hearing any of that. He was like 'no one was going to have him holed up in some boring village, playing house, and living out their days staring at each other longingly'. He wanted to continue to fight for justice. Actually there was a point where Omega had his head so far up his own ass that he was getting on my last nerve. Then he finally got over himself, and the story finally moved on.
Another wonderfully written book and I loved the way she ended their story. I hated the thought of this series ending as I will miss the Beastmasters. This book has everything…hot sex, betrayal, love and respect. And oh the fight scenes…from a chic that loves action movies they were simply brilliant.
A must read. Well done as always.
RATING:  
BUY LINKS: