Reviewed by Sarina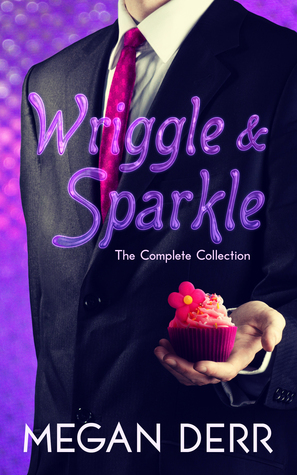 TITLE:  Wriggle & Sparkle
AUTHOR:  Megan Derr
PUBLISHER: Less Than Three Press
LENGTH:   296 pages
RELEASE DATE:  August 10, 2016
BLURB:
Lynn is a kraken shifter in every way: detailed, tenacious, resilient, and hard-working. Also possessive, vain, arrogant, and demanding. It makes him an excellent agent for the Federal Bureau of Paranormal Security and Investigation—and impossible to work with, as the long list of partners who have transferred away from him will attest.
His newest partner is a unicorn, possibly the worst type of paranormal for work that often turns ugly and violent. Everyone knows unicorns are too delicate for such things. Then Anderson proves to be a unicorn like no other, the kind of partner Lynn has always wanted—the kind of partner he wishes was more. But if there's one thing he's learned, it's that the only thing harder to keep than a partner is a lover.
Warning: Contains tentacle porn
Publisher's note: This was originally published as a serial at Yaoifix. It has been edited and revised for release with LT3, but nothing significant has changed.
REVIEW:
Megan Derr has officially managed something I never thought would be possible: she took the concept of tentacle porn and she made it amazing.  I shit you not.  This book brings together the most unlikely of pairings, a kraken and a unicorn, and leaves a highly entertaining, action packed bundle of awesomeness that I was in no way prepared for.  I'm fairly certain I was in love from the moment Lynn opened his mouth and unleashed his inner, not in any way secret, snarkiness.
Originally released in installments, this book brings together five complete stories and an epilogue and let me tell you, they were all unbelievably good.  Over the course of the stories you get to see Lynn and Anderson's relationship develop from their first meeting all the way through to their happily ever after.  In between all of that there are cases, mysteries, angst, kidnappings and sex.  We mustn't forget the sex.  😀  Now, before you break out the case of 'tentacle porn, Eww!' that I know a lot of people have sitting around, hear me out.  There isn't any full on kraken on unicorn sex, and Lynn is, at most, half way shifted and there are plenty of man bits to go around.  All in all I found the encounters between Lynn and Anderson to be hot and tastefully done.  (If you've read tentacle porn before you'll be able to see a difference here, at least from what I've seen before.)
Aside from the stellar, well developed characters, the stories and the world building as a whole were excellent.  While the main characters are both shifters, the way shifting works here is completely different than what I'm used to seeing and I loved how Lynn's shifting in particular was so versatile.  Lynn does have the ability to not only change shape but gender which was kind of awesome in my opinion.  This does also mean there are also some girlie bits at times but they weren't overwhelmingly done and the versatility this gave his character was fantastic.
I loved it!  Hands down this is one of my top reads for this year and that really surprised the hell out of me.  If you've read Megan Derr's works before but don't like anything with tentacles and plan on skipping this one, I'm still going to recommend you check this out.  You can totally skip the sex if you want but the characters and stories were so good that even if I hated tentacle porn I'd have buckled down and read this one.
RATING:
BUY LINKS: 
ARe