Reviewed by Vicki
TITLE: Fight the Tide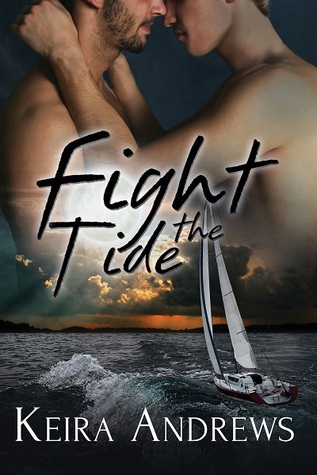 SERIES: Kick at the Darkness #2
AUTHOR: Keira Andrews
PUBLISHER: KA Books
LENGTH: 250 pages
RELEASE DATE: July 26th, 2016
BLURB:
Adrift in a post-apocalyptic world, they only have each other. Is it enough?
A virus that turns the infected into zombie-like killers spreads through a burning world thrown into lawless chaos. Lovers Parker and Adam have escaped to the open sea when they hear a message over the airwaves from a place called Salvation Island—a supposed safe haven.
Orphaned as a child, werewolf Adam has always longed for a pack. He's eager to investigate the island, but Parker doesn't think for a nanosecond that the voice on the radio can be believed. He doesn't trust anyone but Adam and is determined to keep it that way. They don't need anyone else complicating their struggle to survive. Or do they?
Danger on the high seas can surface in a heartbeat, and if Parker and Adam aren't careful, the current will drag them under.
This gay romance is a dystopian adventure featuring a werewolf, his boyfriend, and their struggle to find a place to call home.
REVIEW:
Oh yes! I LOVED Kick at the Darkness, and it totally felt like the story could continue. I'm so happy that Keira Andrews felt that way too!
I did a quick reread of Kick at the Darkness just so I'd have it fresh in my mind, and was reminded why I loved it so much. Kick at the Darkness is basically a story of two men, one human, one werewolf, as they fight to survive in a world gone crazy. The two met at a college in California, on the day the world ended. Adam has no family, but Parker does, and hoped to find them alive in Massachusetts, so the pair travel across the country fighting creepers, humans, and even another werewolf. Unfortunately there is no sign of Parker's family, so the two decide the best course of action is to head south in a boat. The creepers don't like water, so this seems like a safe bet. The two grab a sailboat, Parker having learned to sail from his father, stash Adam's motorcycle on board, and head south. Fight the Tide picks up shortly after the end of Kick at the Darkness.
So there is obviously a lot going on in this story. The relationship between Parker and Adam, their struggle to survive, their interaction with other people both good and bad, and the questions of what has happened to their world.
The two began their relationship as enemies, Adam having given Parker a less than stellar grade way back in a college class the day before the shit hit the fan. The two progress from enemies to cohorts, then to friends, lovers, and beloved, as the first book gets them across the country. Now they are committed, in love, and almost a bit overly attached. There was a bad moment in Colorado that lead to Adam being hurt physically and Parker being hurt emotionally. That emotional unrest is still an issue in this story. Parker has become quite fearful of other people, unfortunately an incident at the beginning of this book further damages his trust, and convinces him that all people are horrible. Even when the pair come across a family in need, Parker is very reluctant to get involved. This has caused a bit of an over-attachment to Adam, who is physically stronger and able to keep Parker safe. This emotional need drives Parker closer and closer to Adam. Their sex scenes are amazing, emotionally and physically. Adam has some issues going on as well, and a need to be closer to Parker, that leads to a really hot fisting scene… So emotionally and physically the two are very well matched and very close.
We see the two struggle to accept people as they go along. As I said, Parker has a bad experience in this book with some bad people, and he's not happy about being around anyone. They hear a message over the radio offering a home to survivors and Parker is not willing to even consider it, even though Adam wants to. They do rescue a family and are drawn to them, much to Parkers annoyance. And eventually they have to seriously consider Sanctuary…
Then there is the cluster fuck their world has become. There are hints floating around about what caused this catastrophe, but no one knows anything. They see burning cities and lots of bodies both dead and not quite dead. There are few survivors, and lots of creepers. It's a scary place. I am a big fan of The Walking Dead, and I couldn't help but compare these two books to that show. In some ways it's similar, but really, how different can stories be when you are talking about a zombie apocalypse? So I didn't have an issue with any comparisons between this and other books, movies, or TWD. The werewolf thing makes it totally unique anyway!
This is just the perfect example of a post-apocalyptic book. It's dark and scary, like I wanted it to be, with bad people and good people, as I would expect there would be. It has moments of hope and love, as well as darkness and death. Underneath the struggle to survive is the love between Parker and Adam. I'm trying to be careful and avoid spoilers, even though I said there is a lot going on, it's all details. The plot is pretty basic, people just trying to survive and get to someplace safe. the good stuff is all in the little things that happen… You just need to read it for yourself!
I am a big fan of Keira Andrews, and this book is right up there with her best books. Her writing is perfect, no editing issues, the plot is interesting, the characters are well-developed, and the sex is plentiful, creative and hot! I loved it! It's not a stand-alone book though, you need to read Kick at the Darkness first. It's totally worth it, I promise! If you aren't in to zombie stories, I'd give this series a try anyway, you might like it!
RATING: 
BUY LINKS: