Reviewed by Sarina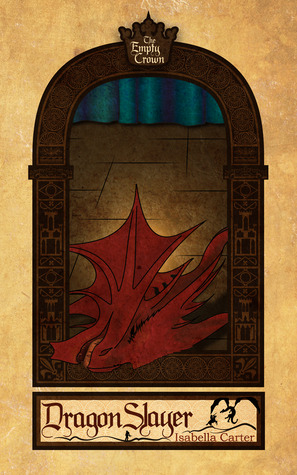 TITLE:  Dragon Slayer
SERIES:  The Empty Crown #1
AUTHOR:  Isabella Carter
PUBLISHER: Less Than Three Press
LENGTH:   208 pages
RELEASE DATE:  June 19, 2013
BLURB:
Ingram is a coward and weakling—at least according to his father, the king, and the royal court. He cannot use a sword, he faints at the sight of blood, and even his brilliant abilities as a strategist are not enough to overcome his failings. When his father loses a bet to the notorious Lord Mallory over the matter of a dragon slaying, he pays his debt by ordering Ingram to marry him.
Then his father reveals that he is putting Ingram to a greater purpose, giving Ingram one last chance to prove he is not worthless. All it requires is betraying his new husband.
REVIEW:
All Ingram has ever wanted was to make his father proud yet no matter what he does, it is never enough.  Helping to take out the latest threat to the kingdom wasn't even good enough to gain the faintest of praise from the man and with Ingram's refusal to take up the sword, it seems he's destined to a life of insults and rejection.  Being told he's only good enough for a political marriage he doesn't want is just the icing on an already burnt cake.  When his father loses a bet to the gruff looking Lord Mallory, however, Ingram finds himself being shuffled from one potential spouse to another only this one comes with an order: find evidence of betrayal against the crown or else lose everything he's ever known.  With time ticking down, and a greater threat on the horizon, Ingram will have to decide for himself whether to obey the orders of his king or to be branded a traitor and follow his heart.
All in all this was a pretty nice little fantasy story.  Things progressed about as I had expected for the first half of the book; you get to see Ingram and Mallory slowly getting to know one another while Ingram is attempting to follow the orders his father laid down for him before his wedding.  I enjoyed the slower pace as it allowed for you to really see each of the main characters as individuals and you got to know them as they got to know each other.  Past that point in the book things begin to pick up and a greater threat than just the talk of rebellion is discovered along with some surprising information about Ingram's mother and father.  I loved the second part of the book; it was great seeing Ingram stand up to his father and fight to prevent the war that he keeps aiming to start.  It was also really nice seeing the connection between him and Mallory change from the near strangers they were in the beginning.
While I hadn't been expecting a lot of the things that happened before the end, I found I really enjoyed the story quite a bit.  Things ended on a solid happy for now and I'm really hoping that the author will continue this series at some point; I find myself really interested in the world she's built and I'd love the opportunity to watch the relationship between Ingram and Mallory develop further.  This was a nice fantasy story with a sweet, slow burn romance that had me hooked and feeling good at the end; if you enjoy fantasy, dragons and/or marriage of convenience type stories, you may want to consider giving this one a try.
RATING:
BUY LINKS: