Reviewed by Sarina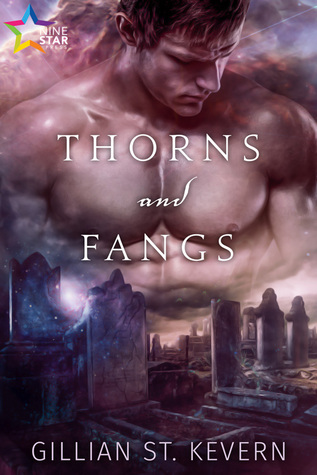 TITLE:  Thorns and Fangs
SERIES:  Thorns and Fangs #1
AUTHOR:  Gillian St. Kevern
PUBLISHER: NineStar Press
LENGTH:   372 pages
RELEASE DATE:  January 18, 2016
BLURB:
Nate is caught between two dangerously hot vampires who can compel people to do whatever they want and a ruthless necromancer who wants Nate for all the wrong reasons—and that's only the start of his problems.
Escort Nate prides himself on two things: his ability to please his clients and his normality – living in the monster capital of the world, ordinary is rare. Hunter, a darkly charming vampire with more charisma than is good for him, decides Nate is just what he needs. Nate's sympathetic nature and skill in the bedroom are put to the ultimate test. But Hunter wants Nate for someone else – his brother, Ben. Nate is immediately attracted by the control with which Ben holds his sensitive nature in force. Too afraid of becoming a monster to allow himself to feel, Ben struggles to resist Nate's generosity of emotion. As a vindictive necromancer makes Ben his target of revenge, Nate discovers that making people feel good doesn't compare to making Ben feel. As Nate's normal world crumbles around him, and he desperately searches for a way to save Ben, Nate is unable to escape becoming the necromancer's latest victim.
But Nate's death is only the beginning. Coming back to life in the bathroom of Gunn, a Department Seven officer who hates the vampire family that Ben and Hunter belong to, Nate doesn't know who to trust or even what he is. As the necromancer's trap pulls tighter around himself and Ben, Nate is forced to let go of normal and embrace powers he doesn't fully understand. In defiance of Ben's vampire sire and hunted by Department Seven, Nate and Ben finally learn to trust and rely on each other. But when the necromancer succeeds in capturing Ben, Nate alone can come to his rescue.
REVIEW:
So, I had a few mixed feelings when I first started this one.  Normally I don't read books dealing with anyone working in the sex industry; I don't have anything against them, per se, I just don't usually enjoy them that much.  Much to my surprise, I found I didn't mind it in this book all that much; there's no stigma attached to working that way and there are a lot of safety measures taken to ensure the workers aren't mistreated.  I liked that a great deal.  Since Nate is working as an escort, there is quite a bit of sex in the book (though its mostly in the first half) but none of the scenes were so long that I got bored with them or ended up skimming through so that was a plus.  There's also a ménage scene but the book's romance is between Ben and Nate so if you don't like ménage stories, don't worry, you won't have more than the one scene.
Now, while I did have a bit of trouble staying focused on the story in the beginning, I found I had no problems getting into the book once the mystery really starts up about half way through.  There are a wide variety of paranormal creatures (some I was totally unfamiliar with, which was great!) and I found the story at this point really entertaining.  I loved the interactions between Ben and Nate, especially since Ben was so determined not to give into his nature, and it was really nice getting to see not only sexual interactions between them; there were unexpected moments of sweetness that were great to see, as well.
Overall I did enjoy the book, much more than I had expected to actually; things are left on a happy for now and I'm looking forward to seeing where the author takes the series.  There are some unanswered questions about Nate that I'm hoping will be addressed and I'm really interested to learn more about the world created here.  If you like paranormal and/or looking for a new author to read, I'd suggest giving this one a try.  I'm glad I did!
RATING:
BUY LINKS: