Reviewed by Amber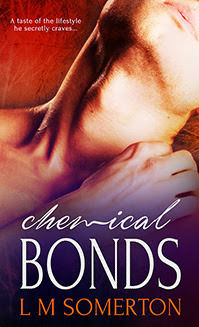 TITLE: Chemical Bonds
AUTHOR: L.M. Somerton
PUBLISHER: Pride Publishing
LENGTH: 141 pages
RELEASE DATE: May 17th, 2016
BLURB:
Even the best-planned experiment can have unpredictable consequences.
Max Allenby loves his job as a chemist with Armacom, developing new protective materials. He harbours a secret crush for the CEO, the stern and distant Blake Winters, which makes dealing with his harridan of a boss, Dr. Ella Preston, bearable.
Blake Winters is a lifestyle Dom. He spotted Max when he first joined Armacom, but has kept his distance from the talented, young scientist. When his Head of Security, who also happens to be Max's older brother, tells him about Max's feelings, Blake decides its time to make the pretty young man his.
Blake proposes a dating experiment to Max. For three hours a night over five nights, Max will give Blake his complete submission. Max is conflicted but decides to take the plunge and get a taste of a lifestyle he secretly craves.
Each date night introduces Max to a new level of submission. He loves every minute but is also conflicted—unable to believe a man like Blake wants him as anything more than a temporary plaything.
Blake understands that experiments do not always turn out as expected. He takes steps to convince Max of his feelings and to reassure him that his submissive streak is a strength, not a weakness.
REVIEW:
I don't know. This just didn't really work for me. The first part wasn't bad at all. But the 2nd half was just over the top. It just seemed like these two men knew nothing about each other, aside from the fact that they found each other attractive then BOOM instalove plus D/s relationship. I just wish that there was more of a buildup, I guess. I didn't really believe the instalove aspect. I also, usually like books with BDSM storylines. This one just sort of fell flat for me I think it's because I really didn't care for the characters so their lives in a D/s relationship just made me feel blah.
Max has worked for Blake's company for a couple of years. Harboring a huge crush on his boss, Max stays to himself believing his boss could never return his feelings.
Unbeknownst to Max, Blake has wanted him since the first time he laid eyes on him. Assuming Max is innocent to the kink Blake is into he takes his time in approaching Max so as not to scare him off.
Circumstances arise that push Max and Blake together. Blake is a lifestyle Dom so he eases Max into that lifestyle picking up on submissive tendencies that Max has been giving out.  They quickly mold their lives together both personally and professionally.
Like I mentioned this story wasn't for me. I will add that the writing isn't bad. This author is talented I just didn't care for this particular story.
RATING: 
BUY LINK: