Reviewed by Amber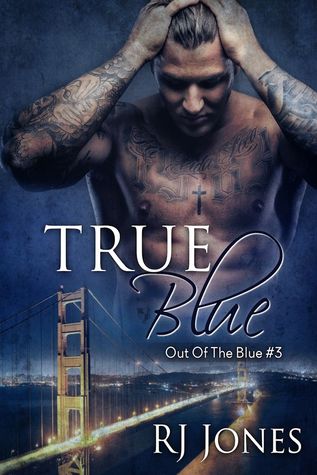 TITLE: True Blue
SERIES: Out of the Blue #3
AUTHOR: R.J. Jones
PUBLISHER: Vivid Blue Press
LENGTH: 184 pages
RELEASE DATE: May 13th, 2016
BLURB:
When being true to yourself means denial is no longer an option.
On the heels of a tragedy, Brandon White shaved his hair, adorned his body with tattoos, and concentrated on his attraction to the opposite sex. Fifteen years later, Brandon is a protective son and a loyal and respected member of the San Francisco Fire Department, bedding anything in a skirt that promises not to stick around afterward.
When his past and present collide in his dreams—including his best friend and fellow fireman, Mason—Brandon knows things are never going to be the same again. He starts to recall that fateful day years before, and the long-forgotten feelings that preceded it. The most important thing he remembers—he's not as straight as he'd thought.
With help, Brandon learns to accept who he was always meant to be. But when tragedy strikes again, Brandon must reconcile his past and present and deal with his grief if he is to ever be true, not only to himself, but to Mason as well.
REVIEW:
I really enjoy this authors writing style. I've noticed that I gravitate towards the more painful story lines. I don't know why this is but that's just what I seem to like. With this author, she's able to take really horrific things, make them significant without drowning the story in sorrow plus add lighthearted sweet things all at the same time. It's just a really good balance of gut wrenching and heartwarming…and I enjoy how it all plays out.
Subconsciously, Brandon detached from a part of himself after witnessing his best friend die tragically at a very young age. Never wanting to seem helpless and weak he works his body relentlessly and becomes a firefighter. A ladies man he's very confused about the attraction that is arising towards his best friend, Mason.
Mason has always been attracted to Brandon but knowing he's straight he's kept his distance but lately Brandon been getting more physical and he's finding it hard to keep his hands to himself.
When Brandon opens that part of himself that's been locked away his relationship with Mason progresses fairly quick, these guys know how to communicate with each other so miscommunications are very infrequent. There's bottled up sexual tension so it's pretty hot and explosive when it's released.
There's no real super angsty situations, these guys communicate pretty well, like I mentioned. Once they are in, they are ALL in and they don't beat around the bush with their feelings.
This was a great addition to the series. I truly love these characters and these stories. I'm looking forward to book 4…
RATING: 
BUY LINKS: